The Chicago Marathon streaks through the city's streets this weekend, bringing runners from all over the world and an even larger horde of spectators who will line the sidewalks. Whether you're a seasoned veteran or hitting the streets to cheer on waves of runners for the first time, we've assembled some tips for watching the Chicago Marathon all along the route.
RECOMMENDED: Our guide to the Chicago Marathon
1. Head to Boystown to catch boisterous cheerleaders. You'll see some serious spirit on display all along the route, but the rowdiest celebration takes place in Boystown where cheerleaders in drag welcome runners to Chicago's vibrant LGBT community.
2. Find a brunch spot along the route and make a reservation now. It might already be too late to grab a table at your favorite restaurant on the marathon route (but you should double check). Tables are in high demand, but you shouldn't feel too guilty about indulging in mimosas while thousands of people put their bodies through 26.2 miles of hell.
3. Head for Pilsen if you want to dance. The residents of Pilsen throw a party on 18th Street during the marathon, showing up in colorful traditional clothes and filling the streets with Latin music. Last year giant puppets greeted the runners—we look forward to seeing what kind of spectacle is in store for this year.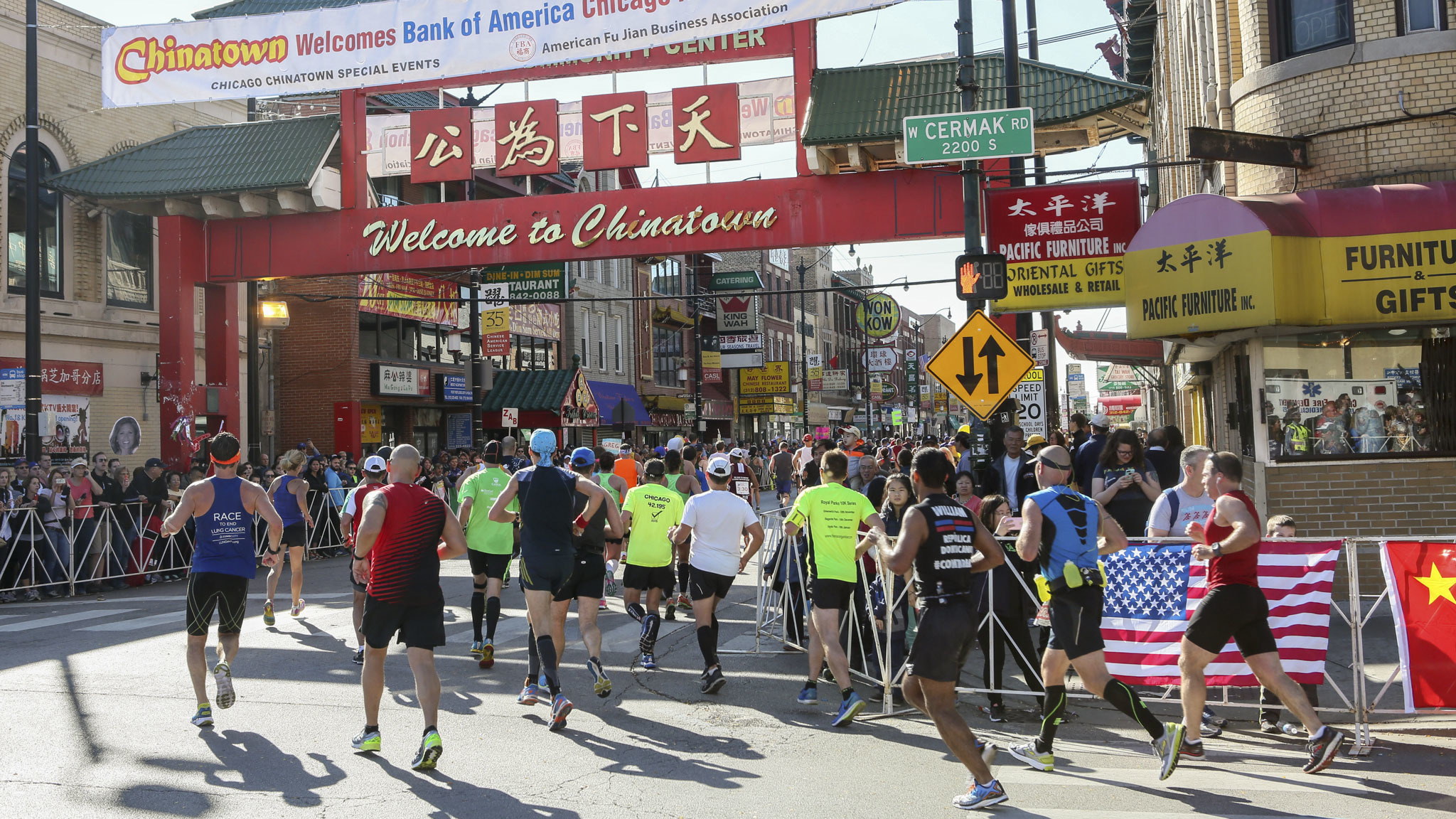 4. Hang out with dragons in Chinatown. The marathon's stop in Chinatown is a celebration of epic proportions, complete with music, dragon dancers and clanging cowbells. Plus, there's plenty of great cuisine nearby if you get hungry after cheering for a few hours.
5. Wake up early to catch the elite runners. You might never be able to run a marathon in less than three hours, but you can wake up early enough to witness the people who can achieve that feat. The elite runners hit the streets at 7:30am—it's worth waking up at 5am to catch a fleeting glimpse of humans who are faster than you'll ever be.
6. Stake out a less populated neighborhood and be the champion supporter. Plenty of people are heading to Boystown, Chinatown, Pilsen and the Loop, but runners need some encouragement all along the route. Find a spot in a less popular area (like the Illinois Medical District or Park West) and provide some encouragement when it's needed the most.
7. Make a sign, even if you don't know anyone running the race. It's nice to have a little reading material while you're pounding the pavement, which is why making a sign is one of the nicest things you can do to support runners. Make it heartfelt, make it hilarious or a bit of both. If you need some inspiration, check out 2015's crop of signs.
8. Watch the bibs for runners' names. Go ahead and put a name to those faces that are streaking by. Nothing helps give a boost quite like a total stranger cheering you on at mile 25. Plus, you'll feel good too!
9. Stand clear of the water stations. Temperatures will be in the 60s on Sunday, but runners will be eager to rehydrate. If you don't want to get drenched, stay away from the water stations along the route because those cups will come a-flyin'!
10. Get close to the start or finish line. As in past years, the start and finish line in Grant Park is closed to the general public, but you can still get pretty close if you want to see runners beginning or ending their 26.2 mile journey. You can watch runners near the start of the race on Grand Avenue, between Columbus Drive and State State. To see runners finishing, go to the 26 mile cheer zone located at Michigan Avenue and Roosevelt Road.
11. Cut loose at a block party. Thousands of runners complete the Chicago Marathon to raise money for charity, and you can cheer them on (and support their various causes) by showing up for a block party, which takes place at Adams Street and Loomis Street near Whitney Young High School.
12. Follow the race remotely. If you can't actually make it out to the race, you can follow the live broadcast on NBC-5 from 7am to 11am or tune into the live stream on nbcchicago.com between 7am and 2:30pm. Feel free to open a window and scream some encouragement for the runners—every little bit helps!
Want more? Sign up here to stay in the know.