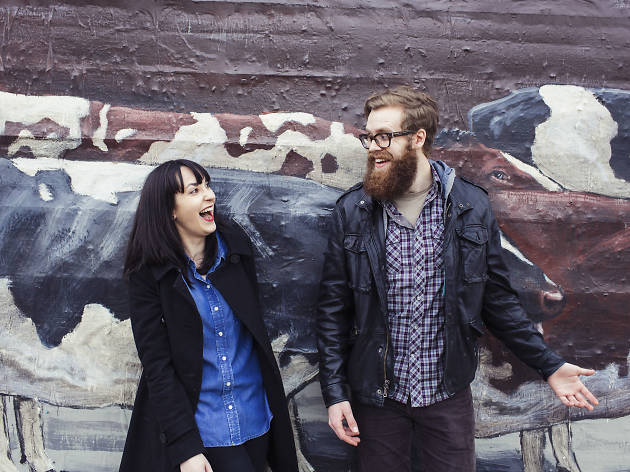 15 reasons dating in Chicago is better than dating in NYC
Posted: Friday July 14 2017, 4:15pm
We get it, New York, you're pretty awesome. But when it comes to finding love, Chicago reigns supreme to the Big Apple. We've got an endless supply of romantic date ideas, plenty of dimly lit bars and restaurants and first date recommendations galore. Chicago is second to none—particularly when it comes to getting laid. Here are 15 reasons we'd pick dating in Chicago over dating in NYC any day of the week.
1. Hot dog stands > hot dog carts. Going out for hot dogs is a totally legit date activity in Chicago.
2. Commitment is actually a thing here. New Yorkers tend to freak out at the words "define the relationship." Chicagoans, not so much.
3. Chicago is way cheaper than New York. You can grab drinks with a new date every night of the week and not go broke. And on that note…
4. Chicagoans can actually afford to live alone. That means no roommate coming home at the absolute worst moments.
5. It's geographically feasible to date someone who lives in a different neighborhood than you. Don't let Subway lines define your love life!
6. The whole "limitless options" thing in New York totally backfires when it comes to dating. There's always something better out there, right?
7. You can recreate the Obama's first date in Hyde Park. Which bodes extremely well for you.
8. Fewer Wall Street bros. More brewery bros.
9. You can immediately tell what kind of person your date is simply by ordering a round of Malört shots. Can't find Malört in NYC.
10. There's always something new happening on the Riverwalk. More amazing bars keep popping up down there—can't say the same for the Hudson or East Rivers.
11. Fewer people = more access. Unlike New York, you can actually get into Chicago's swanky rooftop bars.
12. Chicagoans are living their best lives during the summer—a.k.a, more people stick around to date. New Yorkers are all just itching to escape the city. And at the same time…
13. Winter in Chicago is cute AF. New York winters = city sludge.
14. So. Much. Craft. Beer. If you're not super jazzed about dating, just think of it as a way to taste all the incredible craft breweries in Chicago.
15. "Midwestern Nice" is a real thing! Seriously, the people here are just nicer, which makes dating so much easier.
Want more? Sign up here to stay in the know.
Share the story