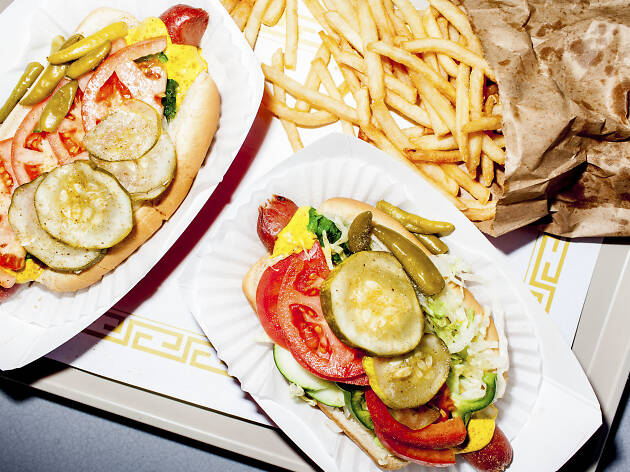 The 14 best Chicago hot dog restaurants
From Chicago dogs to perfectly crisp fries, here are the best Chicago hot dog stands—just hold the ketchup
There's no denying that the hot dog is a major food group in Chicago, right next to Chicago deep dish pizza. The best Chicago hot dog restaurants crank out red hots topped with mustard, onions, relish, pickle spears, tomato, sport peppers and celery salt. (If you didn't already know, those are the key ingredients in a true Chicago-style dog.) Of course, there's room for creativity, and many of the top Chicago hot dog restaurants also experiment with toppings like foie gras, kimchi and even—gasp!—ketchup. Lucky for you and your wallet, these sausages are among the best cheap eats in Chicago—even more reason to scarf down a red hot while checking out classic Chicago attractions. Scope out the best Chicago hot dog restaurants and don't forget that mustard is the best condiment and that fries are always encouraged.
RECOMMENDED: Full guide to the best restaurants in Chicago
Best of the city under one roof
Every restaurant has a dish that takes on a life of its own, and for the Duck Inn in Bridgeport, it's their namesake hot dog. To be fair, calling it a "hot dog" doesn't quite do it justice. The sausage—a decadent blend of all-natural beef and duck fat—is grilled and topped with elevated Chicago-style ingredients: house-made relish, beer mustard, pickled serrano chilies, a fat pickle, garden-fresh tomatoes, raw onions and a dash of celery salt. For his debut spin-off concept at Time Out Market Chicago, chef Kevin Hickey unleashes a full menu of dogs that are topped with everything from blood-orange mustard and foie gras mousse to Tajin lime crema.
Best Chicago hot dog restaurants