The best Chicago hot dog stands
From Chicago dogs to perfectly crisp fries, here are the best Chicago hot dog stands—just hold the ketchup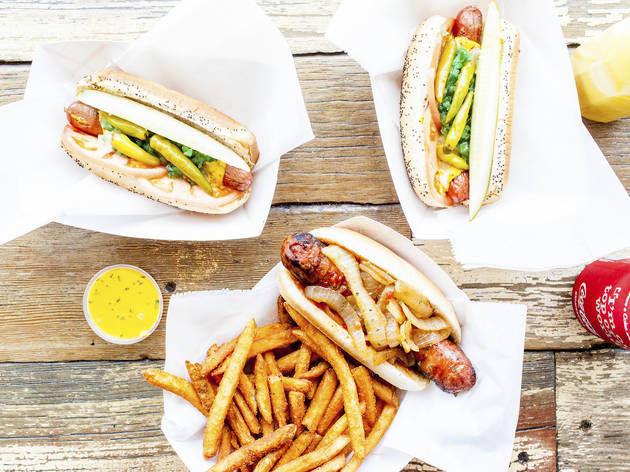 Chicagoans take hot dogs very seriously, and for good reason—you can't get 'em better in any other city. And while Chicago's best restaurants may try their hand at an upscale, creative twist, nothing beats an old-school hot dog stand. If you've craving a Chicago-style dog (with no, ahem, you-know-what on it), these stands are your best bet. And yes, you should always get the side of French fries.
RECOMMENDED: Full list of the best hot dogs in Chicago
Best Chicago hot dog stands
Do not ask for ketchup when you order one of the legendary slender, snappy hot dogs that come topped with a fistful of fries at this standing room only institution that's been serving 'em up since 1946. The surly types behind the counter don't go for sissy stuff like that. Claim your place at the end of the perpetually long line and entertain yourself by watching potatoes being cut and fried into perfect greasy strips while you wait. Once it's your turn, order your dog with everything, then count your blessings for the wax paper–wrapped bliss that lies before you.
Read more
For a Chicago dog that's as by the books as it can be, look no further than Chicago's Dog House. The heart of this Lincoln Park shop serves up all the classics and a few dogs with cheeky names (the Blagojevich dog—a Chicago dog with added ketchup, and the Tourist—a plain hot dog with ketchup). There's specialty and gourmet hot dogs a la the infamous, now closed Hot Doug's (but not quite), but it's a perfect standby if you haven't made it to one of Dog Sohn's pop-ups.
Read more
This über-efficient local chain, begun in Villa Park in 1963, is mostly found in the suburbs. But at the two city Portillo's, in River North and South Loop, out-of-towners flock in search of an authentic Chicago dog. The thick, nicely juicy dog comes on a poppy seed bun steamed to perfect softness and with a generous helping of thick-cut tomatoes, onions and a hefty pickle slice.
Read more
The sassy girls behind the counter at this classic roadside shack have had enough of drunk yuppies' crap. So much so that they've developed their own brand of smack-talking that's now synonymous with a late-night dog run here. Get your Chicago red hot with the traditional fixings—mustard, onion, neon-green relish, pickle spear, tomato, celery salt and sport peppers—an order of thick-cut fries and a big, fat lemonade.
Read more
You can't walk a dozen blocks in this town without bumping into a Chicago-style hot dog, so what's so special about this one? We think it's owner Jim Murphy, who takes a lot of pride in greeting regulars and walking new customers through their orders—this man clearly loves his job. Polish sausages and Italian beef are on offer, but we keep it sweet and simple with a red hot, grilled and dragged through the garden, with a side of hand-cut, skin-on fries, dropped in bubbling oil only when you order them to ensure freshness.
Read more
This seasonal South Side hot dog is just begging for a Sox home game and a warm day. Here you'll find some flawless, fully loaded hot dogs, but consider those just the tip of the jam-packed menu. Sure, you can go for a Polish or a hamburger, but don't skip some of the other oddball creations, like the A1-drenched charbroiled strip steak sandwich.
Read more
Despite a renovation in 1999, this hot dog drive-in is still as old-fashioned as ever, with uniformed servers bringing your order directly to your car window. Apparently scared of copycats, the owners have trademarked almost every dish, the main draw being the "Superdawg," an all-beef frank so plump it's hard to remove it from its cartoon-covered box. After a meal of hot dogs, fries, burgers (try the delicious, double-decker "Whoopercheesie") and "Supershakes" (actually not very super), expect to literally roll yourself home.
Read more
Sometimes you'll see a couple of locals stroll up to the counter and try to place an order here. "Got burgers?" they'll ask. "Tacos?" The answer is no and no. Whatever used to inhabit this stand-alone shack on Western clearly excelled in variety, but the current dive, Redhot Ranch, is taking a different tactic: minimal selection, flawless execution. Juicy Depression Dogs are served with fresh-cut fries that are crisp on the outside and pillowy inside; shrimp, available by the half or full pound, are entirely greaseless. And it's all served until 4am during the week and 5am on weekends.
Read more
This "last stand" serves Fatsos (burgers) and Welch's grape juice (sure?) until 4am on weekends, in a room where the main decor element is hundreds of the stand's business cards glued to a wall. Though this place opened in 2012, it has the soul of a classic, and anything that goes in a fryer—crispy-on-the-outside French fries, sweet shrimp coated with crunchy panko-like breading—comes out damn near perfect. The char dogs, which you can also get with cheddar, are ideal versions of the form.
Read more
Show more