Whether you're showing up for colorful parades or to admire the architecture, this near West Side neighborhood is full of surprises. Some of the most authentic Mexican food in the city can be found in the taquerias and restaurants lining 18th Street—a product of the area's predominantly Hispanic population. It's a very special place and, as such, it has some telltale signs to remind you that you're in Pilsen.
RECOMMENDED: Our complete guide to Pilsen
1. You're full. You definitely won't go hungry in Pilsen. Whether you're looking for a great tamale or a fruit cup, you won't have to look for long—there's almost definitely a food cart in your future.
2. Most restaurants are cash only. Forget about your credit and debit cards—you'll need need to exchange cold, hard cash for those tacos.
3. Street art and murals are everywhere. Pilsen is almost like an outdoor art gallery, from the murals that adorn buildings on 18th Street, to the street art that lines the embankments of the nearby train tracks.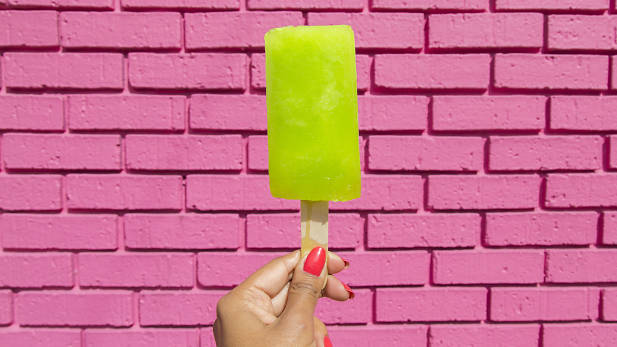 Photograph: Jaclyn Rivas
4. You hear magical bells. That's the sound of the paleta man coming to supply you with a cold frozen treat in a variety of citrus flavors.
5. And you see massive sticks of cotton candy. Who's that cotton candy man, and how does he always know where to be just when you need a little something sweet?
6. The smell of carnitas. As soon as you get off the Pink Line at 18th Street, you're hit with the scent of carnitas from Carnitas Uruapan. Walk a little further into the neighborhood and you'll also smell house-made tortillas—what's not to love?
Photograph: Clayton Hauck
7. You can hear music from Thalia Hall. Ever since this historic opera house reopened its doors as a concert hall, you can frequently hear the muffled thump of drums on 18th Street.
8. Colorful housefronts. Few neighborhoods boast residences that are as bright and cheerful as the ones that line Pilsen's streets, including vibrant shades of pink, blue and red.
9. An uptick in pickup trucks. Don't be surprised to encounter men driving pickups loaded with fresh fruit.
10. Someone's quinceañera is happening. Not a day goes by when some lucky 15-year-old girl isn't all dolled up in a frilly dress in her backyard surrounded by friends and family and a band playing tunes throughout the neighborhood.
Photograph: Jaclyn Rivas
11. You find a good deal. Vintage shops and thrift stores abound. Comet Vintage, Knee Deep Vintage, Market Supply Co., Very Best Vintage—you're sure to find something you just gotta have if you look in Pilsen.
12. A punk house show with art kids. One black concert tee—then two, then three—then there's a whole crowd of rattails and book bags pouring out of a backyard because a punk show just let out.
13. There's a panaderia (that's a Mexican bakery) on practically every block. Everyone has a favorite, but in case yours happens to be closed for the night, you know you can grab a concha (sweet bread) from practically anywhere.
14. You've arrived at ground zero for dibs. Pilsen doesn't mess around when it comes to parking dibs—they're proud of it. Anything from toys to lawn furniture can save a spot. Whatever you do, don't disrespect the dibs.
15. You'll pass a surprising number of hair salons and other beauty shops. The ladies of Pilsen know how to look good, from perfectly coiffed 'dos to mani/pedis.