When he's not working as an arts educator at a public school on the West Side, Bridgeport artist Alex Nall creates zines—self-published books and magazines—filled with autobiographical comics about his day job. He's been drawing cartoons since he was a kid and became obsessed with underground comics and zines after discovering Harvey Pekar's series American Splendor, which inspired Nall's latest book, Teaching Comics: Volume One. "I had no interest in superhero stuff," says Nall. "I wanted to write about walking down the street and what my thoughts were."
The desire to make art that is personal, often esoteric and decidedly outside of the mainstream is the driving force behind Chicago Zine Fest, an annual gathering of hundreds of zine creators and fans who keep copy shops in business. Nall is one of five co-organizers who plan the two-day event, which celebrates the freedom and inclusivity of the self-published medium; attendees find everything from magazines that cover DIY musicians to comics about painfully awkward sexual experiences.
Since it was founded in 2010, Zine Fest has invited local zinesters and creators from across the country to speak about their work and sell their wares. Nall is quick to admit that the weekend has become "a big slumber party" for participants. This year, the free festival begins on Friday, May 5 at Co-Prosperity Sphere in Bridgeport, where a panel entitled "Tools of Survival: Using Zines for Self-Care," kicks off at 6:30pm. On Saturday, May 6 from 11am to 6pm, more than 250 artists and writers will gather at Plumbers Union Hall, creating a bazaar filled with photocopied drawings and stapled booklets.
Handmade publications aren't the only attraction at Zine Fest: Eventgoers can make their own pins with the help of Logan Square's Busy Beaver Button Co., take in discussions with zine creators and listen to a youth reading of poems and stories by K–12 students. Zine Fest sets itself apart from giant comics and book conventions by being an event where everyone can participate. "Last year one of our workshops was led by a second-grade girl; [it was called] How to Draw Your Funny Animal," says Nall.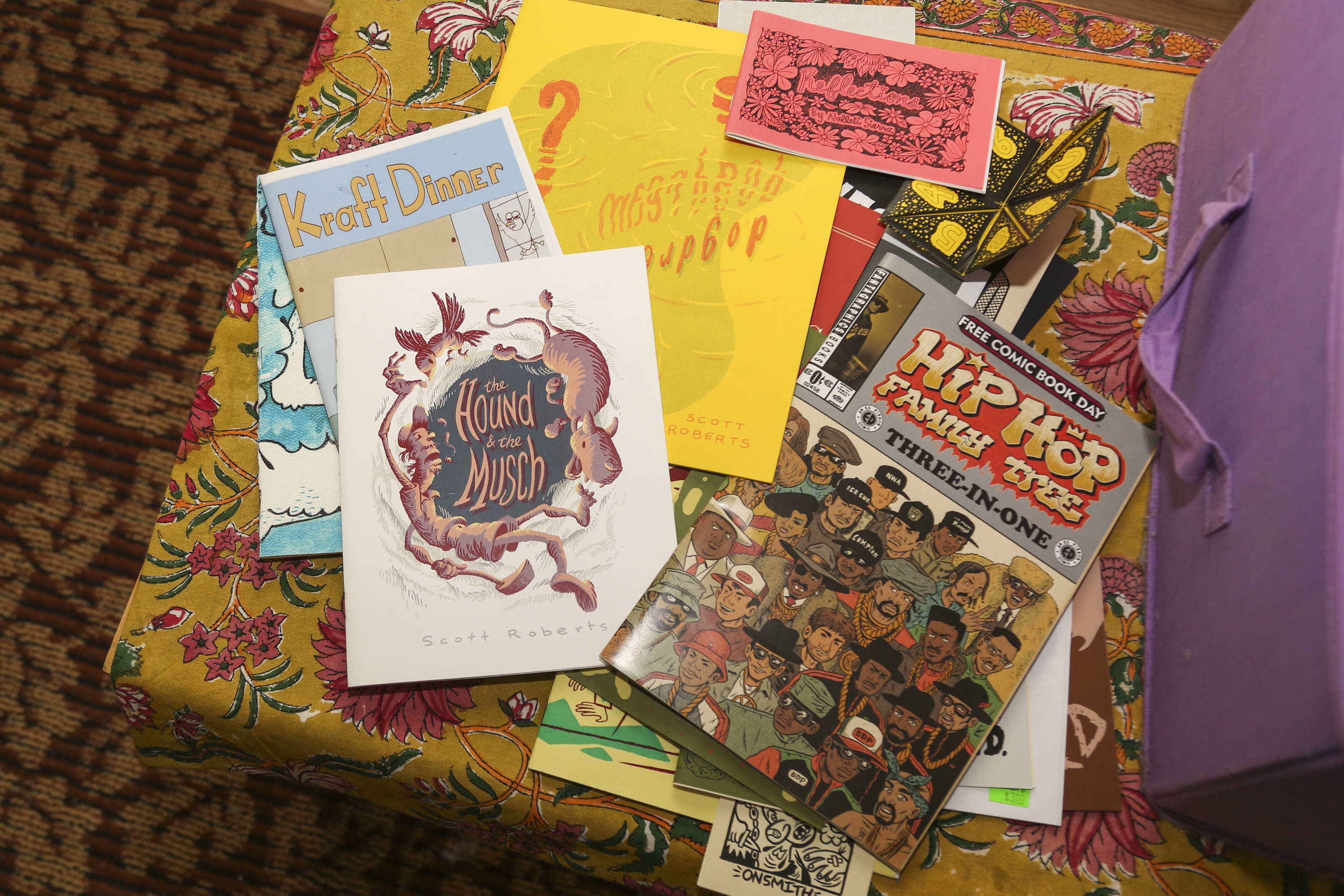 Other programming on the schedule includes a panel that will explore the 25-year history of Wicker Park zine emporium Quimby's, a conversation about "experimental drawing techniques" and a patch printing workshop led by the founders of Chicago's own Fata Morgana Press, which will divulge "cheap and easy methods for printing patches at home." After Zine Fest closes its doors at 6pm, the celebration moves to the Learning Machine (3145 S Morgan St) for a karaoke afterparty from 8 to 11pm.
Noting that self-published books and comics offer an independent outlet for underrepresented groups, such as the LGBTQ community and persons of color, Nall says, "Now more than ever, we need a place for disenfranchised voices to speak out and tell their stories." That acceptance and inclusivity also extends to Zine Fest attendees. "If this event can be your introduction to the community, then you've struck gold."
Chicago Zine Fest occurs at Co-Prosperity Sphere on May 5 from 6:30 to 9:30pm and at Plumbers Union Hall on May 6 from 11am to 6pm. Admission to all events is free.
Want more? Sign up here to stay in the know.