What if you could go back in time and live your parents' lives in their 20s? That's what Danny Pudi got to do in his starring role in The Tiger Hunter, a script that fell into his lap but rings startlingly true to his upbringing. Pudi plays Sami Malik, who moves to Chicago from India in the 1970s in search of a new life—just like Pudi's father did, and his mother did from Poland. In The Tiger Hunter (also featuring Rizwan Maji, Jon Heder, Karen David and more), first-time feature film director Lena Khan tells a deeply American story of immigrant optimism. It gives faces and narratives to the folks whose lives are regularly batted around the political arena on every level. And it'll bring a big smile to your face.
Pudi is a native Chicagoan (of Brighton Park and Jefferson Park), a Second City alum, and an avid marathon runner—but you probably know him as pop culture–obsessed Abed on NBC's Community. The skilled improviser endears audiences with his gawky approachability, with his characters always anchored in warmth and humanity. With the cancellation of his recent Vanessa Hudgens–led sitcom, Powerless, the release of indie rom-com The Tiger Hunter has the potential to transition Pudi into a new phase of his career: the leading man.
As someone who grew up in Chicago as the son of two immigrants, you must have such a personal connection with your character, Sami.
When I first read the script, I was surprised—there were so many elements to the script that were personal to me. I thought someone had just been kind of following my life, I thought it was a prank from some college buddies! When I met with Lena [Khan], I told her I really connected to the story, because my dad immigrated from India to Chicago in the '70s, just like the main character, Sami. I also told her I related to it because I ride a Vespa—in the opening scene, Sami's riding a scooter through his village. So, as an immigrant story about Chicago, it was very personal to me. It was a chance for me to tell the story of my parents, in some ways.
At the same time, the other exciting thing was the opportunity for me to play a lead character in an indie film for the first time. From an acting point of view, as an artist, I was very excited.
What did that personal connection allow you to bring to the character? Did you channel your parents in any specific ways?
It's interesting. My dad's from India and immigrated to Chicago in the 1970s. My mom's from Poland, and she immigrated to Chicago in the 1970s. Both, obviously, from completely different perspectives, but they're both immigrants. [The Tiger Hunter] is an immigrant story, which was something I could connect to in a very deep way. My whole childhood was spent in this very colorful world where we were constantly driving to O'Hare to pick up relatives that I may not have ever known before. Our house was the first house in Chicago for our family, so we were frequently bringing in relatives who were sponsored, to use our home as a crash pad before they would go on to build their own lives.
In researching the film, I spoke with my mom a lot about her journey here. For instance, there's a scene in the film where I'm saying goodbye to my mom in India, telling her I have to go and pursue my dream to become this great engineer and live up to my father's legacy. It's a really sweet scene. Before that scene, I talked to my mom quite a bit about what it was like to leave her family in Poland. She had to say goodbye to her siblings and her dad, and didn't necessarily know if she was ever going to come back. This was before email and Snapchat and instant connectivity, so it was different—when you were saying goodbye, the goodbye was more loaded. I didn't know what that was like. That was the first time really talking to my mom about what that was like, and it was obviously really hard for her. That scene meant a lot to me. It was a chance for me to talk to my mom and my family, and learn more about their goodbyes.
Tell me more about working with Lena Khan—this was the first feature she's directed. What did her fresh perspective on filmmaking bring to the process?
I didn't know Lena before this, I just knew she wrote the script that my agent sent to me. I was really excited by her excitability. The script is personal to her, too, since she's Indian-American. In talking to her, I didn't realize how much of the stories were based on true immigrant stories—she'd conducted a number of interviews with immigrants.
From Day 1, it was very clear she was doing things differently. Our first meeting, for our table read, before we had even introduced ourselves she made us drop our scripts. We had an acting coach lead us through a bunch of exercises for team building and chemistry—that included Lena, and our director of photography, Patrice [Lucien Cochet], and the entire cast, which I'd never done before. Sometimes you'll get a chance to rehearse ahead of time with the director, but it's rare. At least, for me. This was the first time I was literally doing chemistry-building workshops, trying to establish a common language and vocabulary for the film with the director, the DP and my castmates. It was incredible.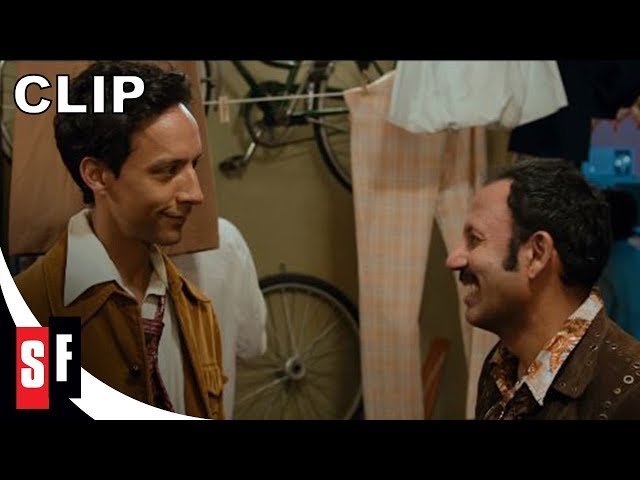 Was this the first project you've been on with a cast that's majority people of color?
Yes. It was incredible. That was one of the things I was immediately drawn to—I'd never read a script with a leading guy and girl who were both people of color, and was also written by an Indian-American, produced by an Indian-American. There was diversity behind the camera and in front of it, which was tremendously exciting.
On set, it was really cool. Because we were telling a story that a lot of us connected to, it became this fun environment where each of us were telling stories about our families, and elements that our parents connected to or didn't. I'd never had that experience. There were people from everywhere [in the cast], which felt really special.
The Tiger Hunter's a very personal, family-based story, but immigration is a highly-debated political topic today. What do you think is the significance of telling stories like The Tiger Hunter in 2017?
I think representation matters. This is a movie with diversity in front of the camera and behind it—that, to me, is huge. Growing up, I always felt there was a lack of people I could connect to on screen, or even just going to the theater. I never saw people who looked like me doing something I wanted to do. I hope this inspires other diverse storytellers—whether they're actors, directors, writers. It's an exciting time. There's an openness to hear some of these alternative stories that many of us grew up with and took for granted.
When we're faced with so much divisiveness, it helps to see a story that gives you a look at the people we've welcomed to this country, who exist in this country, and who have contributed to this country. It's a small story, but I think it's a chance to paint more clear of a picture of the people who are here. For me, it's a universal story. At the root of it, it's a story about the crazy things people do for love, and what to do when your father's a legend.
I'm hopeful people can really look at the humanity of the people around us now. The Tiger Hunter is a story about the people who are here and the journeys they've taken and how they've contributed to our society.
What restaurants or bars do you need to go to when you're back in Chicago?
I miss bread. Chicago bread is very important to me—the yeast is some of the best yeast in America! I'm a big pizza guy, but I'm not a huge deep dish guy. Last time I was there we did Moretti's. In terms of bars, I've always loved Hopleaf. But I always try to eat my mom's home-cooked meals. My buddy opened a restaurant called Giant in Logan Square, and I know he opened a new restaurant in the Ace Hotel—I've gotta get there.
The Tiger Hunter opens September 22 at select Chicago-area theaters including AMC River East 21.