Filled with tie-dyed beanbag chairs, balls covered in silver spray-painted macaroni and papier-mâché sculptures, the studio of 30-year-old artist Tegan Brace looks like a cross between a '70s teenager's basement hangout and a grade school art class. It's a space that exudes playfulness, which should give you a sense of her slightly mischievous approach to art. Brace has become one of Chicago's most sought-after emerging artists, and she will present no less than two exhibitions this spring.
There's a deft blend of the kitsch and the surreal captured in the work that fills Brace's West Side studio. Take, for example, a piece she calls "Hair Fan." It features a wig attached to a box fan and approximates the theatrical trick of windswept hair with a deadpan sense of humor. "I call it 'inexpensive magic,'" she says.
"Hair Fan"Photograph: Tegan Brace
Hailing from the small town of Wabash, Indiana, Brace's burgeoning interest in art led her to Appalachian State University in North Carolina, where she earned a BFA in metalsmithing and jewelry design. "I was never the best at making something look meticulously made and wonderfully finished," she says. "My brain wouldn't settle down."
She next moved to Chicago and, a few years later, enrolled at the School of the Art Institute, where she specialized in fiber and material studies. She gravitated toward less-respected methods and materials, like papier-mâché, tie-dye and spray foam, processes that she says "allow me to make things really quickly."
Brace's attraction to swift and flashy art gives her a unique perspective on how her work is presented. "Let's be honest: No one is going to a gallery opening to see the art," she says. "Even if they are, all these bodies are constantly in the way of it." Her solution to this dilemma is to display her work in places where it becomes part of a preexisting social experience, from DIY venues to neighborhood bars.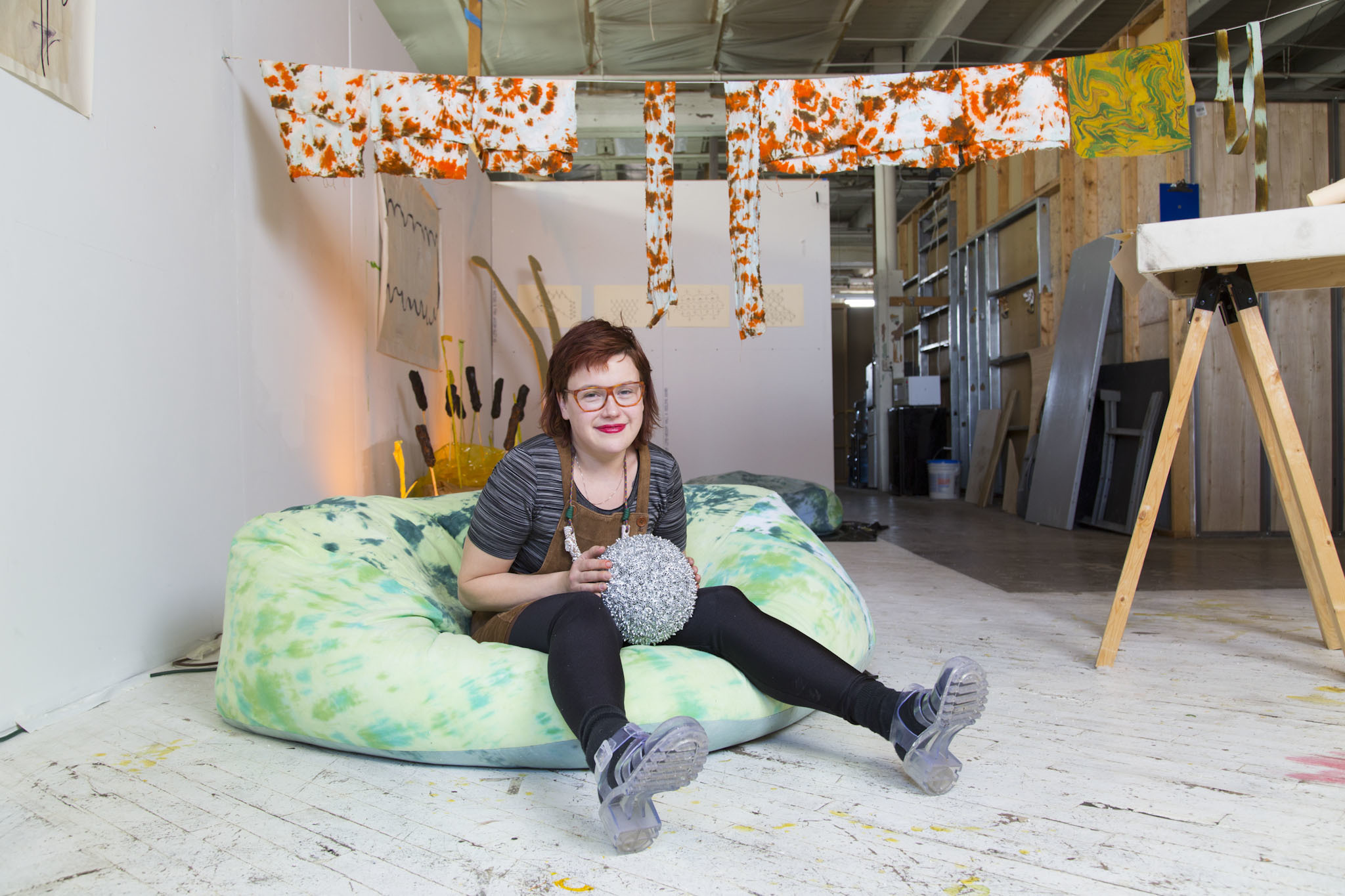 Tegan Brace in her studioPhotograph: Jaclyn Rivas
A pair of upcoming collaborative shows continues Brace's exploration of themes like relaxation, party culture and psychedelia. Both shows take place in more traditional galleries, but Brace is crafting items that visitors can get in touch with, physically. "Anything that someone can put their butt on," she says. "Even if it's just a beanbag chair."
To friends, Brace's work seems to channel the rebellious spirit of "bad painting," a term coined by New York art critic Marcia Tucker that refers to works by skilled artists that are intentionally tasteless or tacky. She takes these comparisons in stride, but insists that her intentions are more altruistic. "There's a lot of power in less expensive objects that can inspire wonder."
"Locking people out of art is silly and confusing to me," says Brace, arguing that her methodology comes from her desire to make her work—and art in general—more accessible. "I'm interested in all sorts of people enjoying what I'm making, even if they're really confused [by it]. The nuttiness, the playfulness, the sarcasm and sometimes the crassness all exist to bring people in."
Tegan Brace will show work in "Perspiration Glitz" at Roots & Culture Contemporary Art Center Mar 10–Apr 9 and "The fool who knows more than the hero, dragonfruit image belies content" at Comfort Station Apr 30–May 29.