Chicago's second Shake Shack restaurant opened up a few weeks ago in the beautiful Chicago Athletic Association, tempting visitors to nearby Millennium Park with a menu of burgers, hot dogs, fries and shakes. Just like the Shake Shack in River North, the Michigan Avenue location boasts a handful of exclusive menu items—in this case, it's a trio of concretes that use locally-sourced ingredients to produce some truly decadent frozen treats. We sat down on the patio and sampled each of the new custard creations.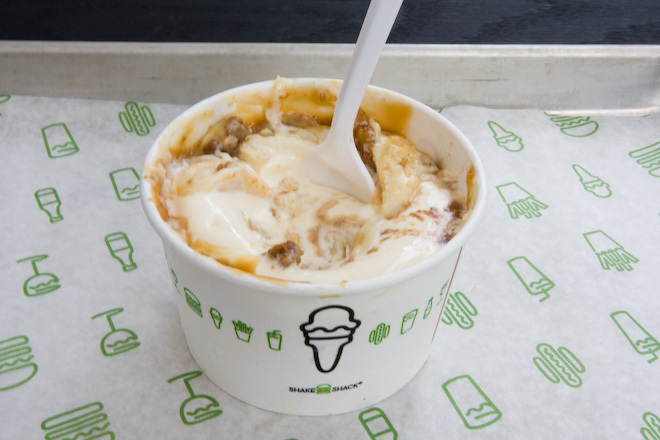 The recipe for the Bang Bang Pie Oh My concrete is fairly simple: It's a slice of Bang Bang Pie's banana cream pie submerged in vanilla custard and topped with a generous dollop of caramel sauce. It's like an intensely creamy version of bananas foster, with some crumbly graham cracker crust thrown in for good measure. If you only try one of these concretes, this is our recommendation.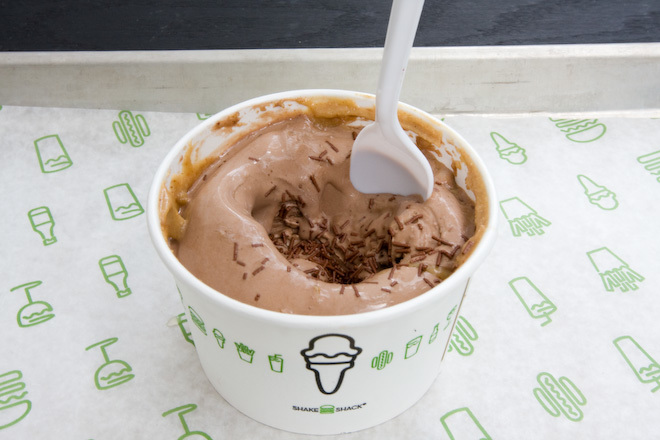 The Penthouse Sweet is a very appropriate name for this overly rich combination of chocolate custard, Vosges pecan-walnut caramel toffee chunks, peanut butter sauce and chocolate sprinkles. With so many sticky ingredients, it's the kind of dessert that makes you think about your next visit to the dentist. If you're looking for a serious sugar rush, this is the one to get (but you should probably bring a friend to share it with).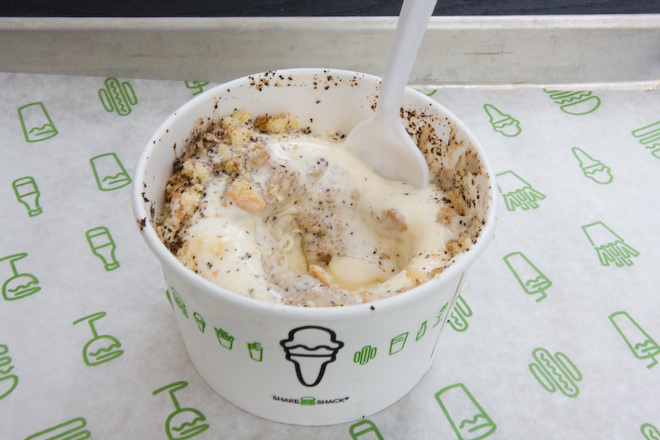 Attempting to recreate the flavor of doughnuts and coffee, the Millennium Perk blends vanilla custard with Intelligentsia coffee bean flakes, pieces of a Glazed & Infused old-fashioned doughnut and marshmallow sauce. Unfortunately, the coffee beans left a slightly burnt taste in our mouths that overwhelmed the other ingredients. In our opinion, you'd be better off walking down the street for a real cup of joe.