It may not be Thanksgiving quite yet, but the holiday season has officially begun in Chicago. As of this morning at 11am, Christkindlmarket has returned in Daley Plaza for the season. The German market, one of our favorite things to do in Chicago during the holidays, has entered its 21st season of bringing European goodies to the Midwest. Swing by during your lunch break, for post-work Glühwein with friends or to find a unique gift for that hard-to-shop-for person on your gift list. We swooped into the beloved Yuletide bazaar to check out exactly what bites, drinks and trinkets are worth your money.
RECOMMENDED: Our complete guide to Christkindlmarket
Check this handy-dandy Christkindlmarket vendor map for exactly where to find each goody listed.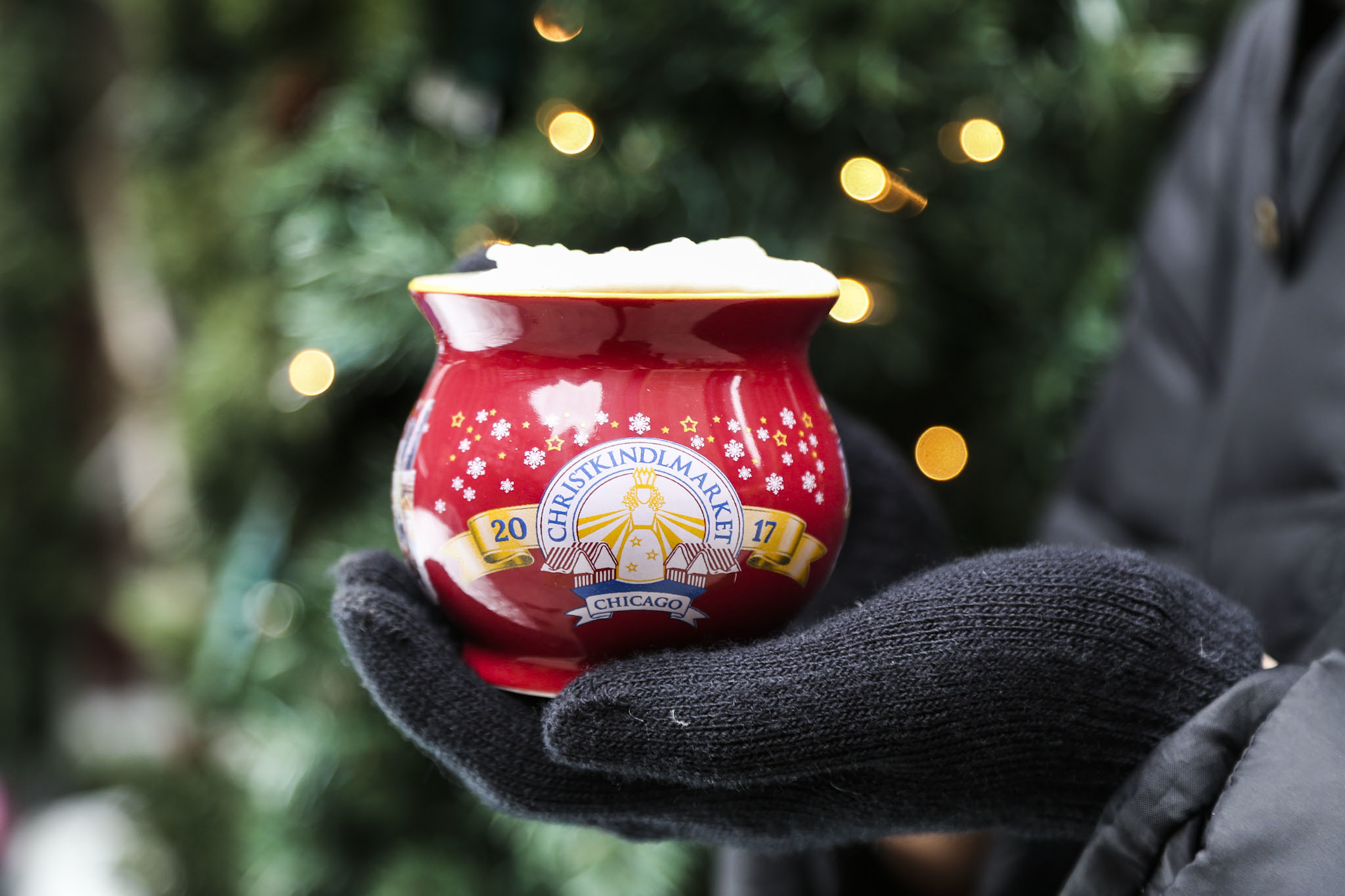 Bob's Belgian Hot Chocolate ($9 with mug) at the pop-up vendor booth (#26)
This ain't Nestlé hot chocolate. Rich and creamy, topped with gobs of fluffy whipped cream, this hot chocolate will fill you up. However, it's in the rotating vendor stand, so you can only get it November 17–21, 27 and 28.
DönerMen Box ($11) at DönerMen (booth #3)
The popular food truck (and proprietors of Avondale's DMen Tap) have an expanded two-booth setup at Christkindlmarket. Nosh on the Döner Kebab with spit-roasted chicken, or do a curry wurst box with spicy fries.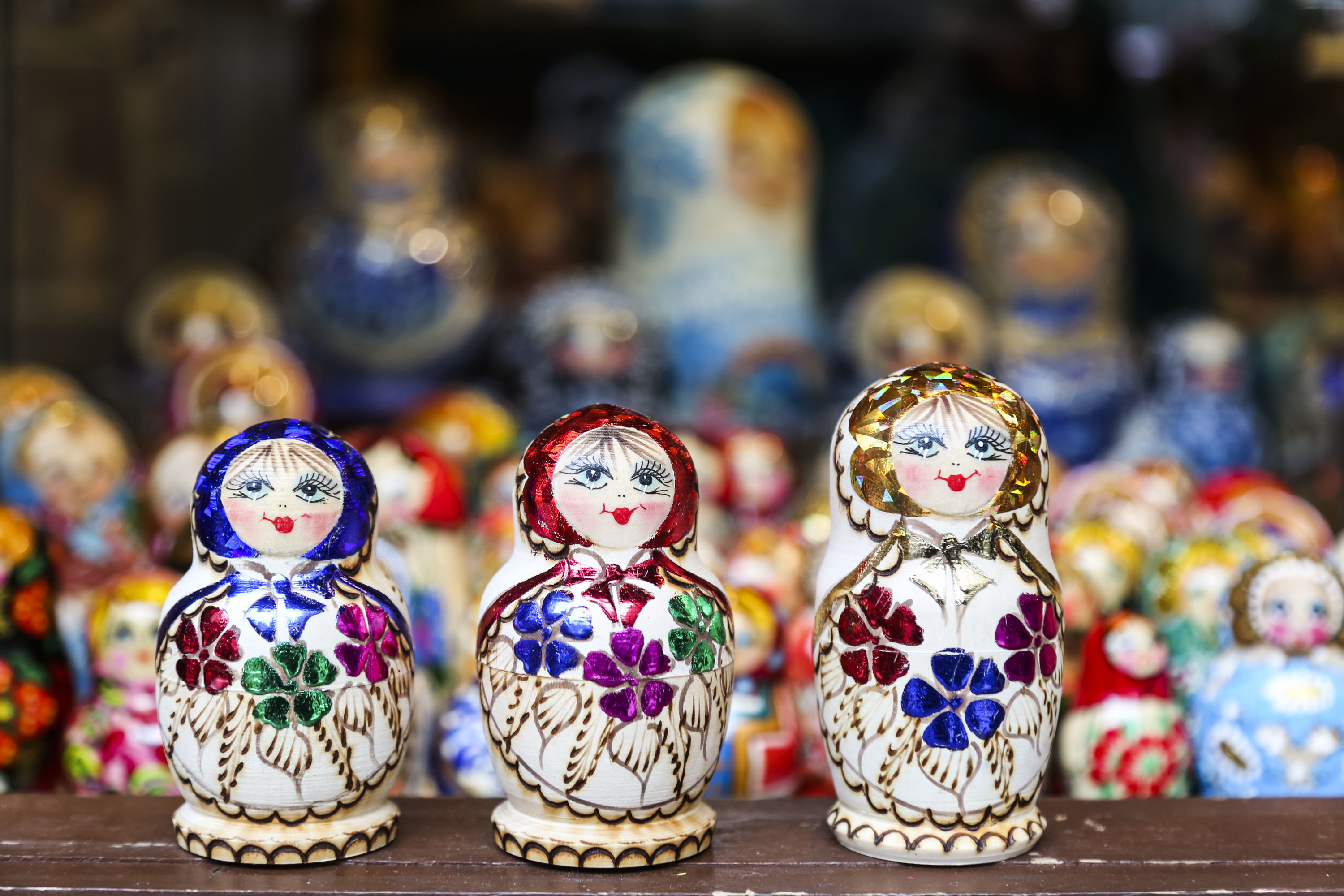 Russian nesting dolls ($30 and up) from Gifts from Eastern Europe (booth #23)
We may be at Christkindlmarket, but it wouldn't be an authentic Chicago experience without some eastern European traditions sprinkled in, too. These wooden figurines, also called Matryoshka or babushka dolls, are painted with intricate designs and depict a series of characters nested within one another.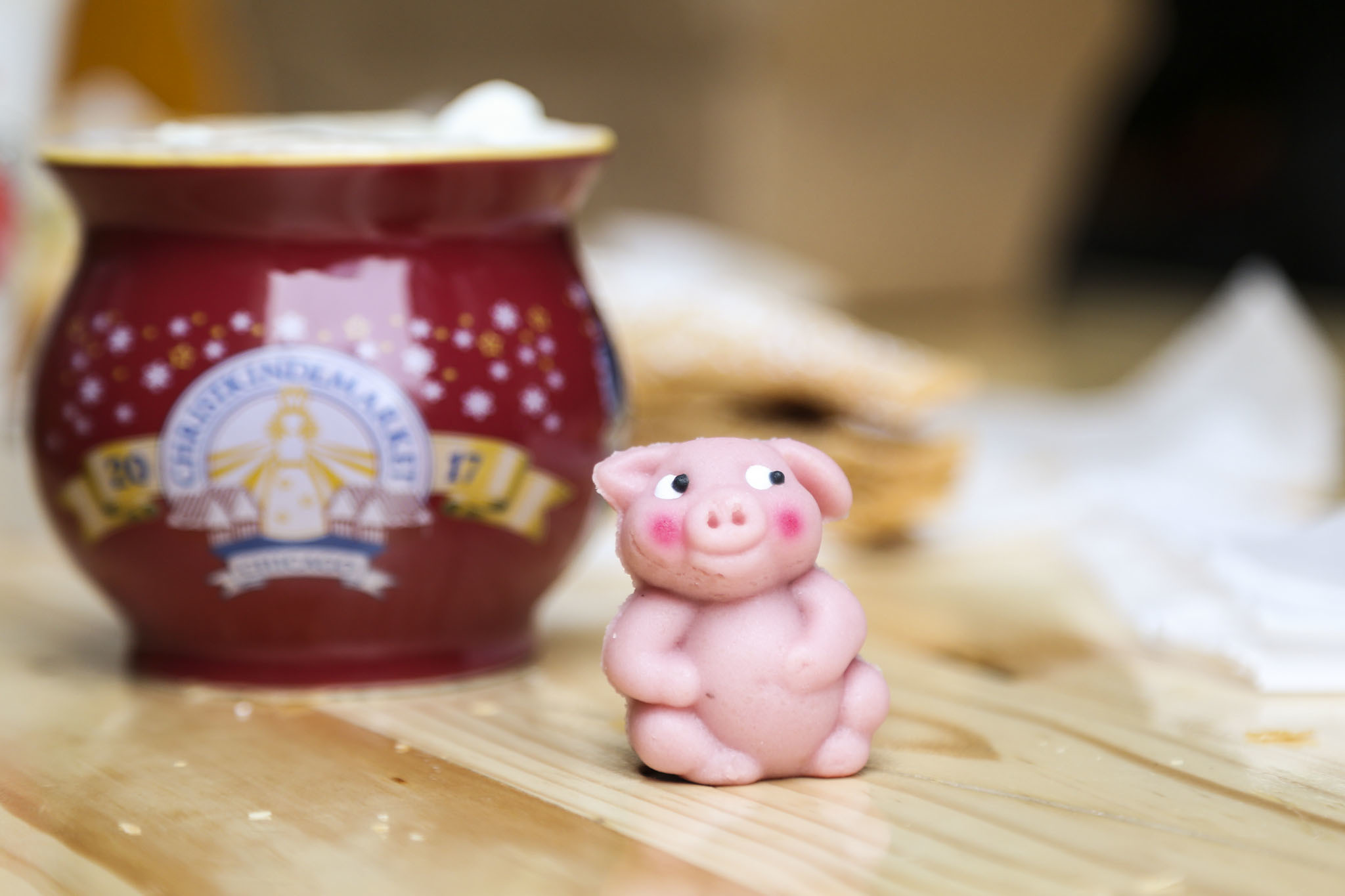 Pig candy ($4) at Chocolate Covered Treats & Baked Apples (booth #20)
This marzipan candy pig is as cute as it is useful—the little guy is a good luck charm in Germany. Unfortunately, you do have to snap his head off to eat him, but such is life.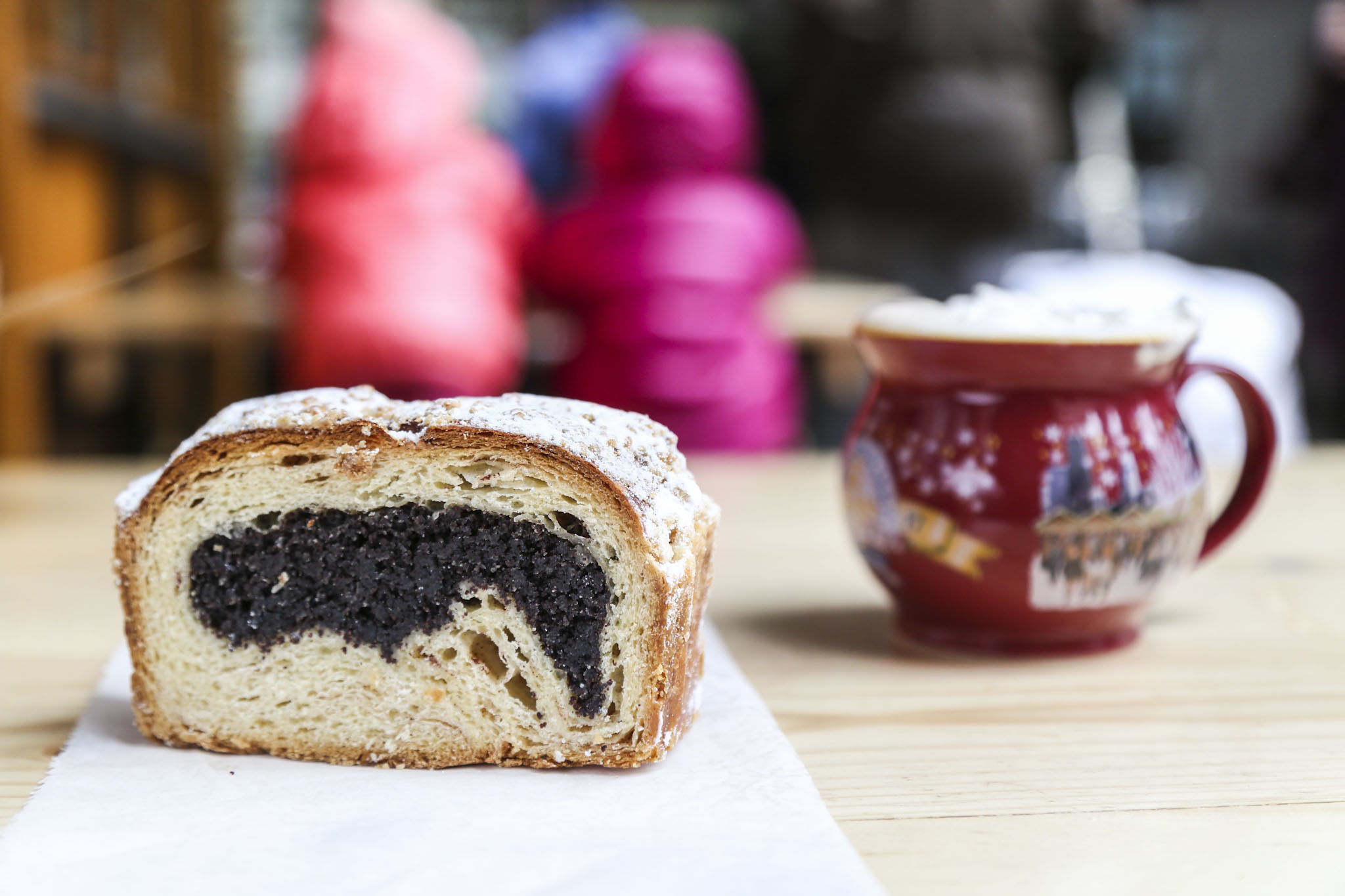 Poppy strudel ($4) at Dinkel's (booth #10)
You'll be pleasantly surprised by this treat from Chicago's own Lincoln Avenue bakery. Packed with sweet poppy seeds, a slice of this strudel isn't overly-saccharine. It's the perfect mid-morning snack.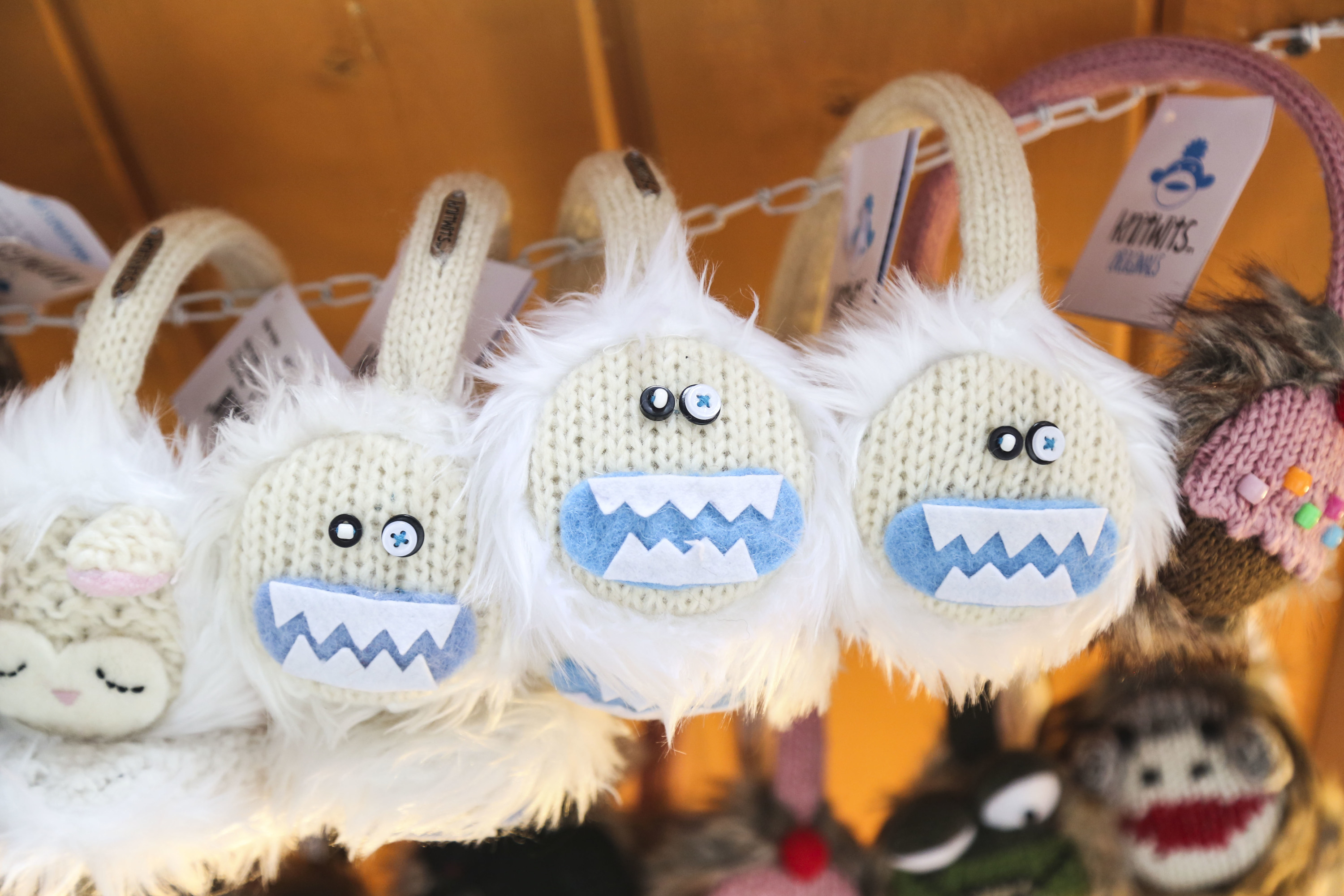 Earmuffs ($19.95) from BearHands & Buddies (booth #41)
This monstrously cute head apparel is a perfect gift for the kids on your holiday list. We're partial to these yetis, but this booth boasts all kinds of animal earmuffs.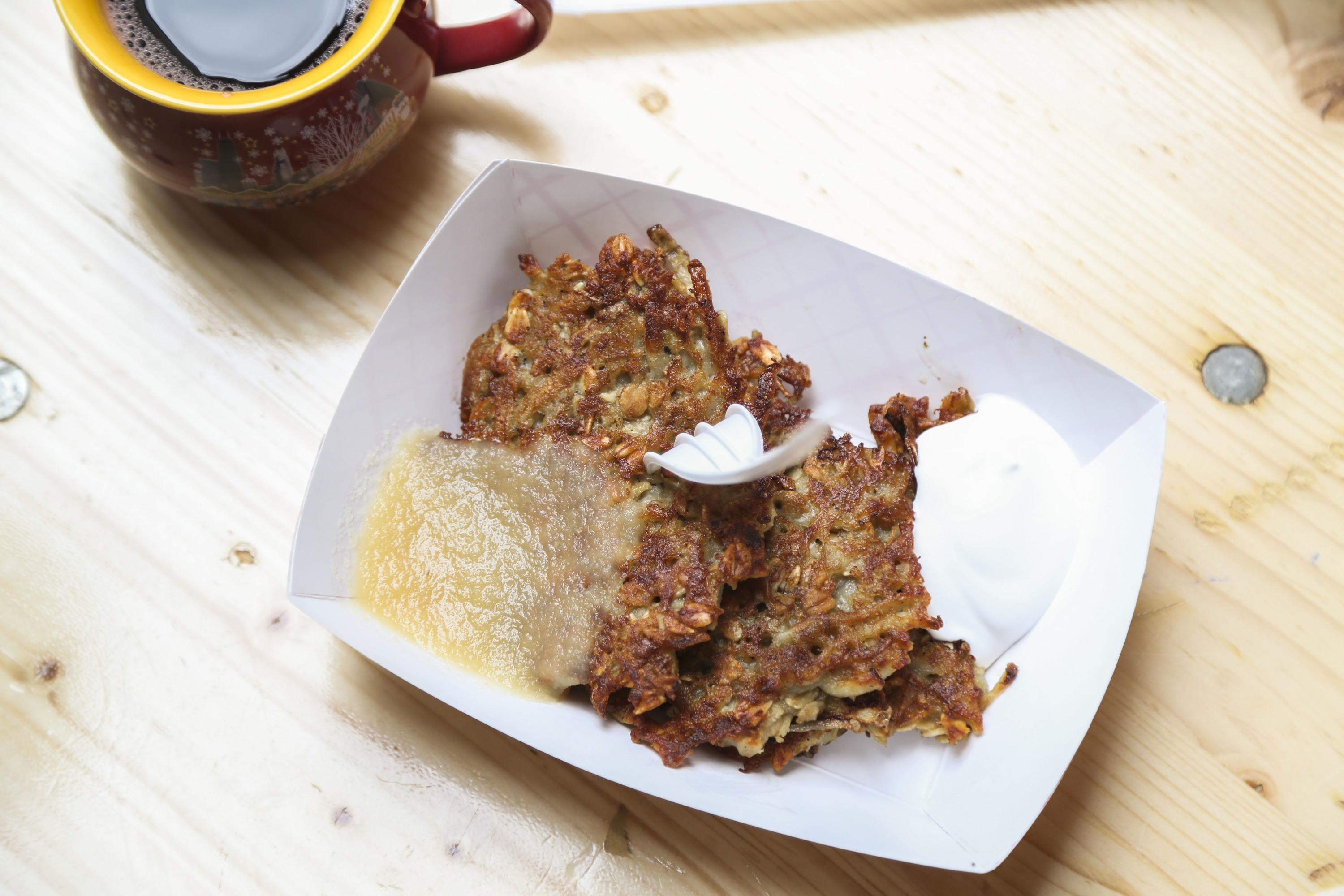 Potato pancakes ($7) at Schnitzel House (booth #29)
Nothing hits the spot quite like fried potato pancakes. Load these suckers up with applesauce, sour cream or both.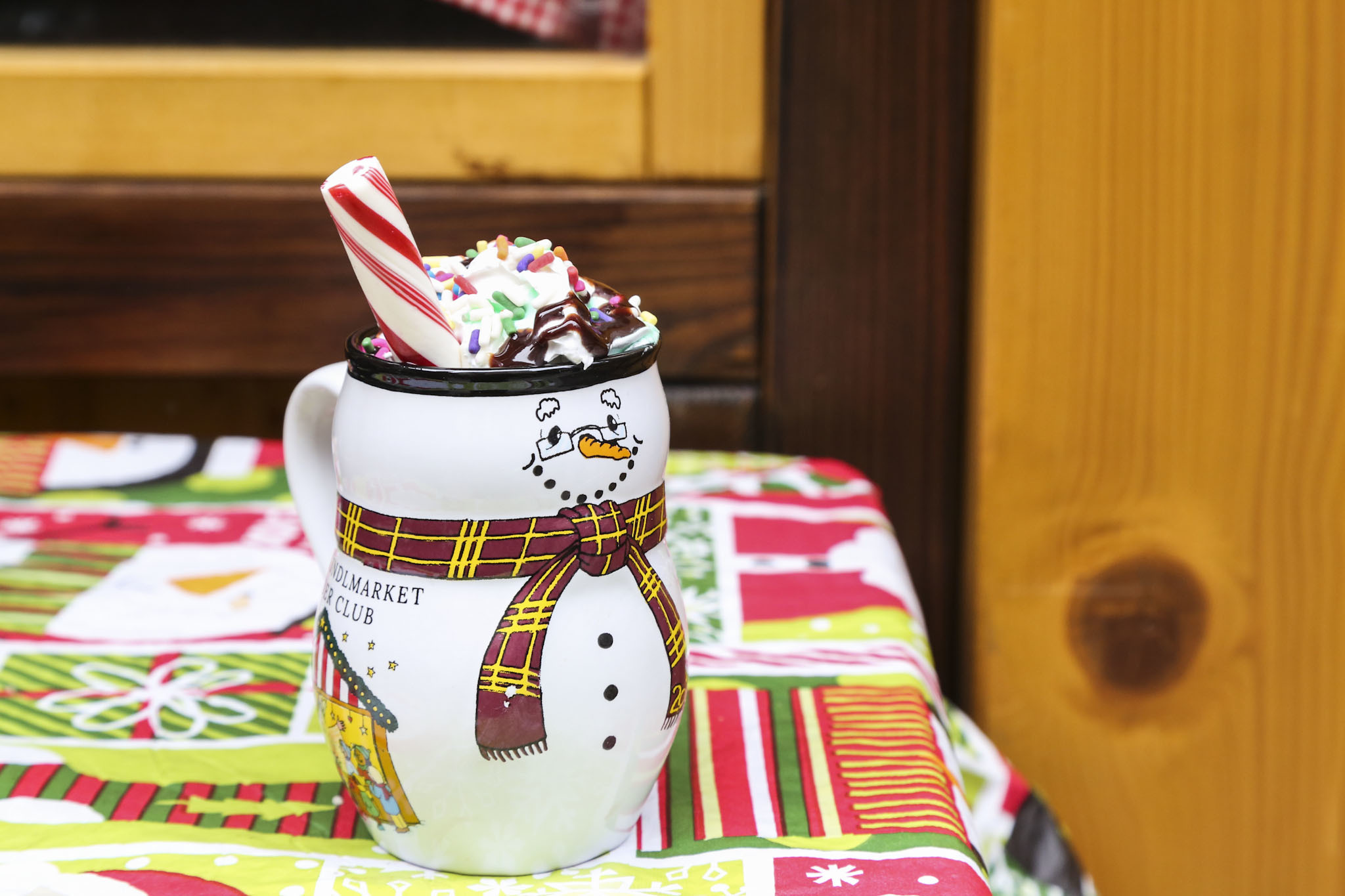 Hot chocolate ($10) at DönerMen (booth #3)
DönerMan is getting into the holiday spirit with its own (steeply priced) hot chocolate that the little ones will love. Its version of the steaming beverage is topped with whipped cream, chocolate sauce, sprinkles and a peppermint stick.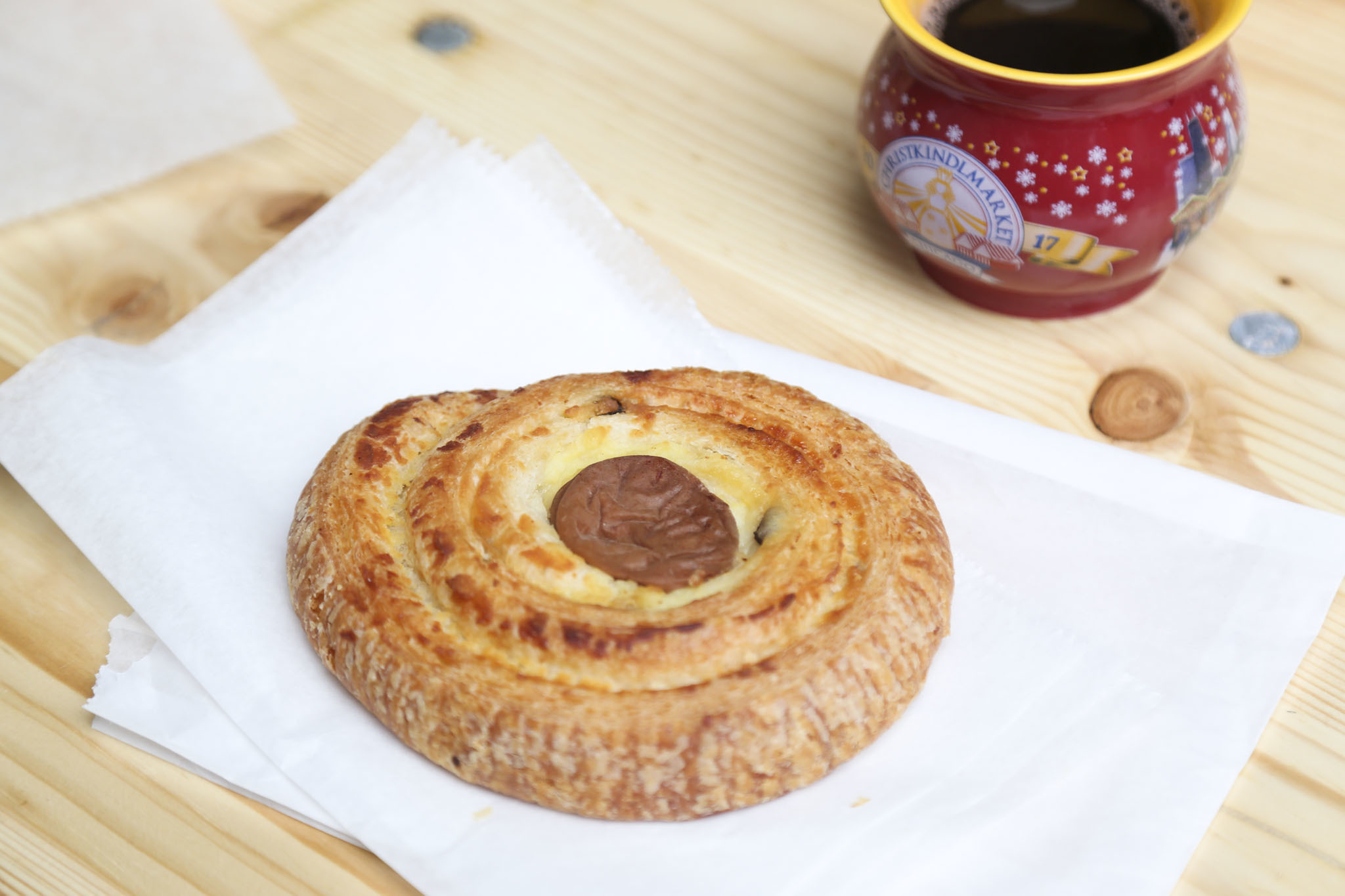 Apricot pastry ($3.70) at St. Roger Abbey French Patisserie (booth #34)
We loved this super soft pastry, dotted with raisins and with a big ol' apricot in the center. It's kept under little heat lamps in the booth, so it's warm and gooey when you get your paws on it.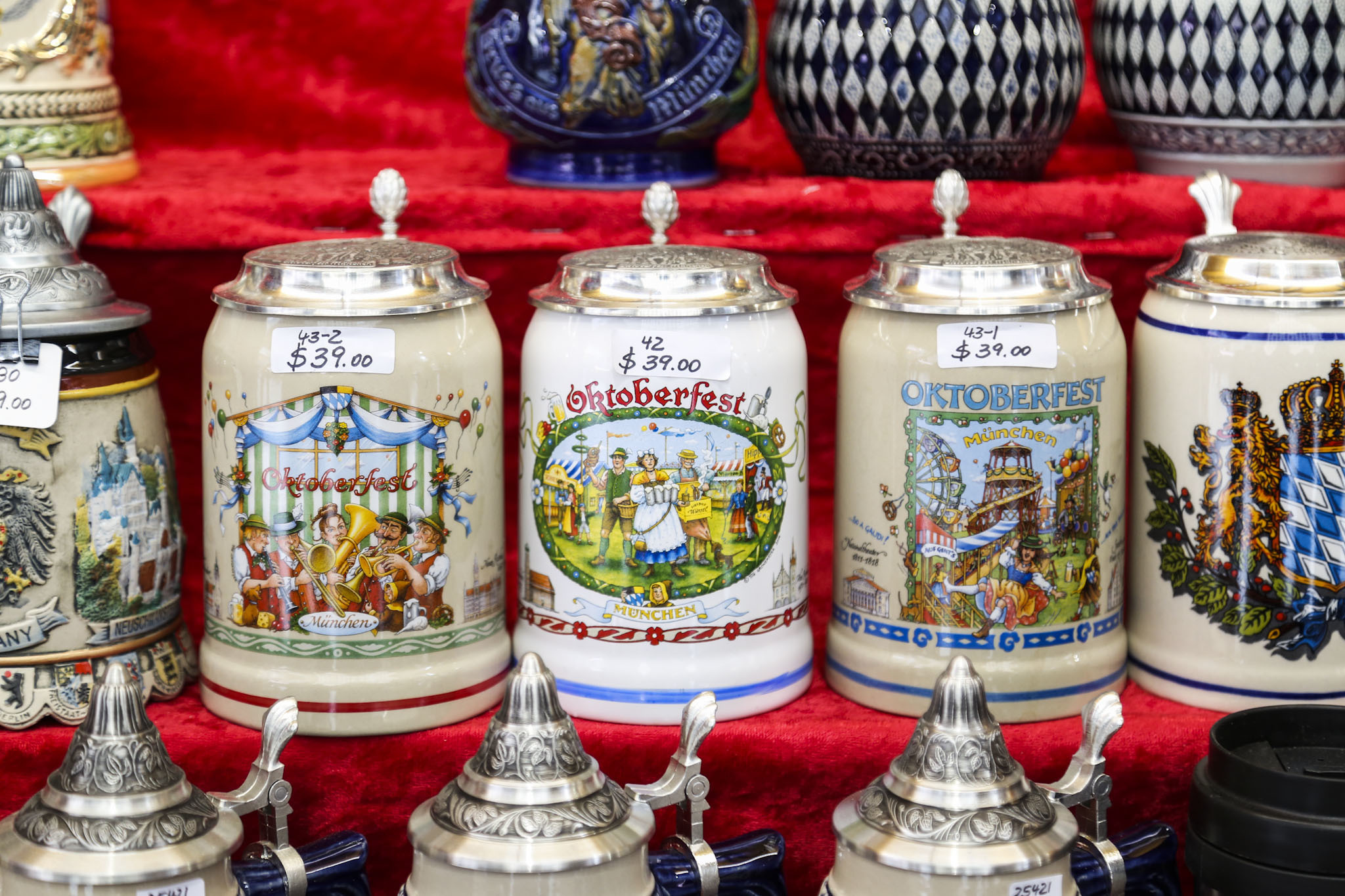 Beer steins ($30 and up) from German Steins & Souvenirs (booth #20)
Oktoberfest may be over for 2017, but that doesn't mean you can't don your lederhosen and glug down beer in one of these ornate vessels. The half-liter or full-liter stone mugs are available in dozens of elaborate designs.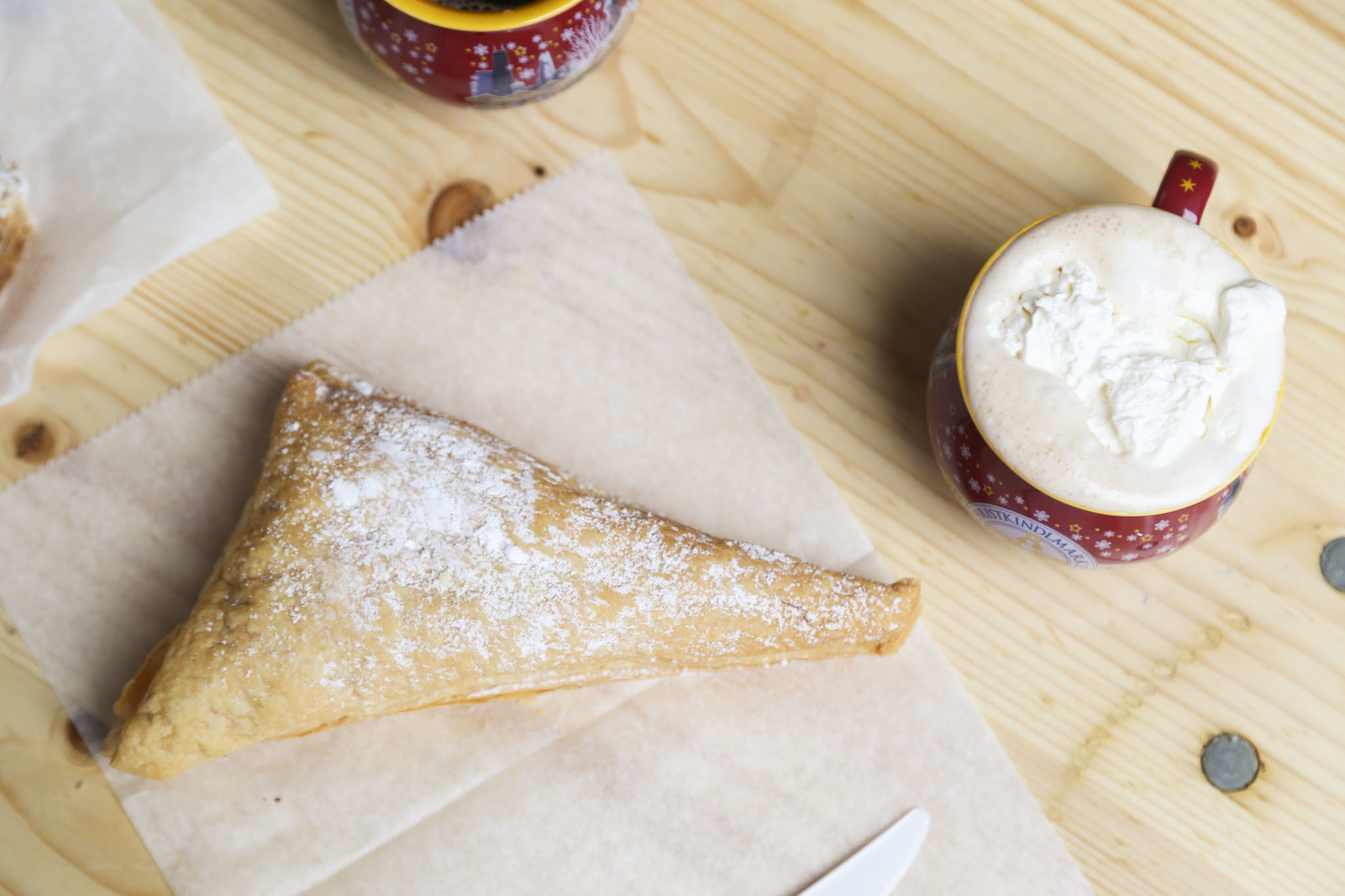 Nutella puff ($6) from Helmut's Original Austrian Strudel (booth #7)
Who can say no to Nutella? Pack the oozy, chocolate hazelnut spread into a flakey puff pastry and we're totally on board.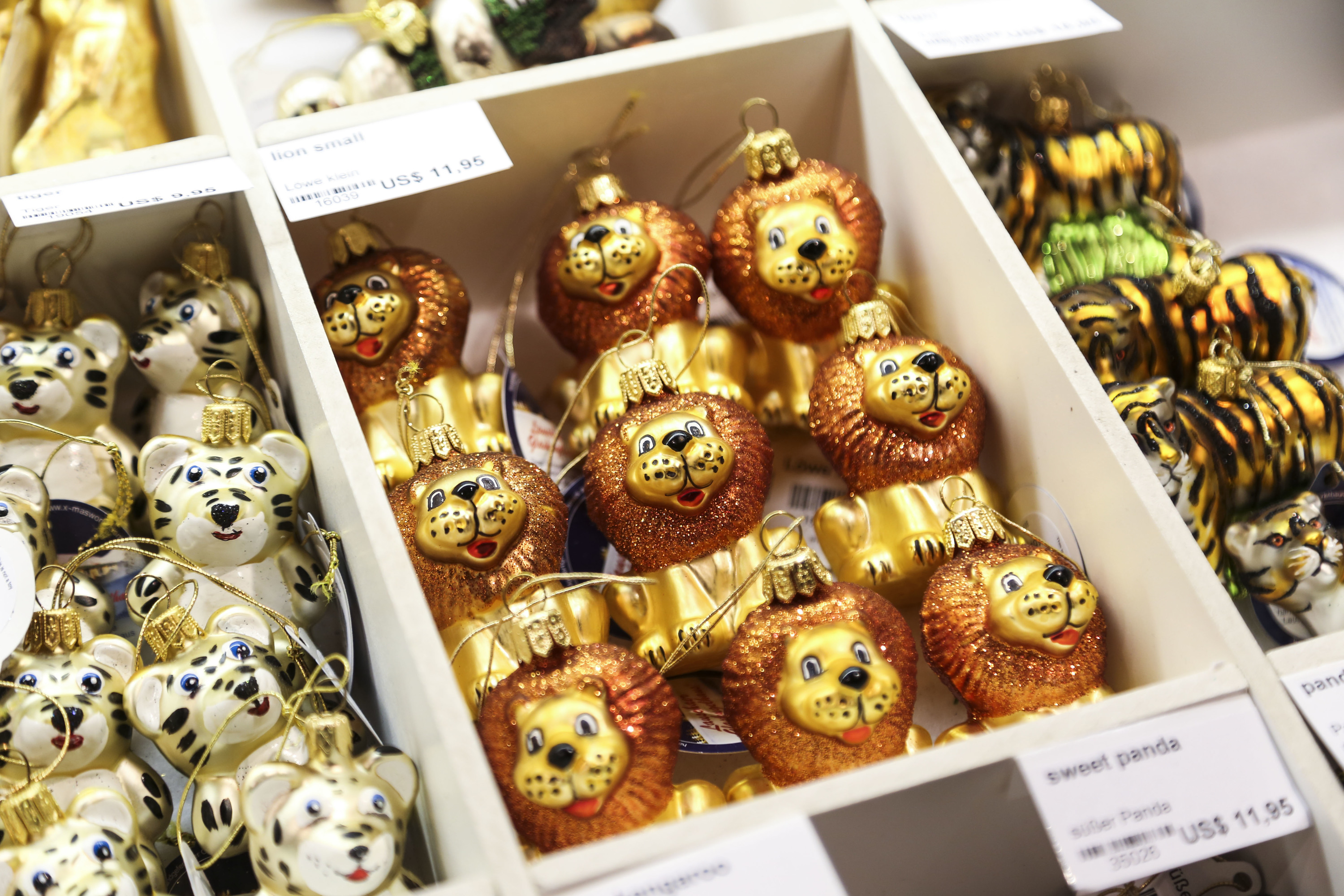 Animal ornaments ($9.95 and up) from Wildlife Ornaments (booth #18)
This cabin has dozens of ornate animal decorations, from mice to iguanas to humpback whales to specific breeds of dog. We're dying to build our own zoo-on-a-Christmas-tree out of the spectacular ornaments here.
Bratwurst ($8) from German Grill Company (booths #6, #12, #13)
With a good snap and a thick, fluffy bun, this brat is a perfect grab-and-go snack. Throw some sauerkraut, mustard and/or ketchup (we won't tell anyone) and continue strolling around the plaza, sausage in hand.