Experience holiday magic at Christkindlmarket Chicago
Grab a mug of Glühwein, peruse the handmade gifts and get acquainted with Chicago's favorite holiday market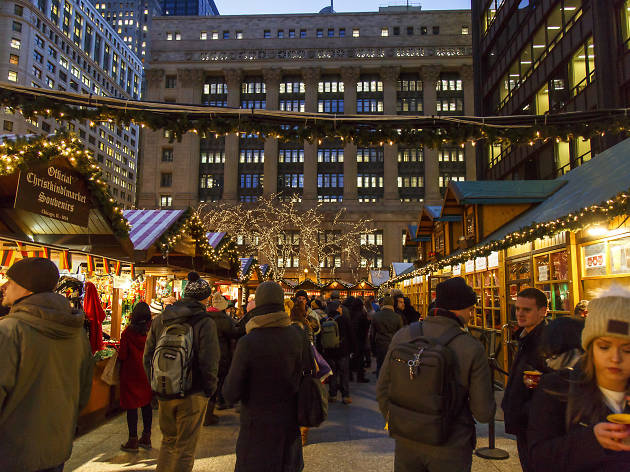 No matter how many twinkling lights or decorated trees you encounter, the holidays in Chicago don't really start until Christkindlmarket arrives. The annual holiday market draws inspiration from winter festivals in Germany and fills Daley Plaza with a village of huts that house vendors selling food, handmade gifts, clothing, ornaments and more. Attendees flock to the Loop to sip Glühwein (served in a souveneir mug), do holiday shopping and sample German food like konckwurst and potato pancakes. Get ready to browse, eat and drink your way through the beloved seasonal event with our guide to Christkindlemarket Chicago.
RECOMMENDED: Our complete guide to Christmas in Chicago
When is Christkindlmarket Chicago?
Christkindlmarket runs from November 16 to December 24, 2018. The market is open Sunday through Thursday 11am–8pm, Friday and Saturday 11am–9pm.
Where is Christkindlmarket Chicago?
Chirstkindlmarket takes over nearly the entirety of Daley Plaza, under the gaze of the Picasso sculpture. If you're traveling by train, just take the Blue Line to Washington or the Red Line to Lake.