Christkindlmarket Chicago 2020: Everything you need to know
The holiday tradition has been canceled for 2020, moving its festive wares online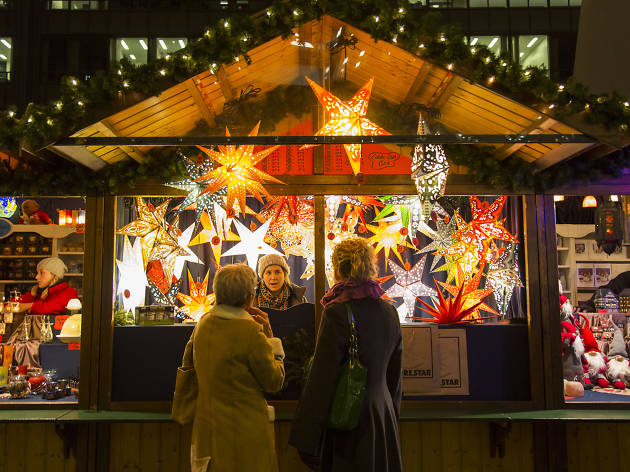 You'll have to make hot spiced wine and schnitzel at home this year, as Christkindlmarket Chicago has been canceled for the 2020 season. Instead, organizers are transforming the yuletide event into a virtual shopping experience beginning November 1 and running through December 31.
"This year, people from all around the nation will be able to enjoy the beloved tradition from the comfort and safety of their homes through the first-ever virtual Christkindlmarket 'Home for the Holidays,' featuring an online marketplace, family-friendly events, and fun interactive activities," organizers announced in October.
Keep an eye on the Christkindlmarket website for more information about this year's festivities, including shoppable wares from around the world, festive eats and at-home activities for the whole family.
RECOMMENDED: Our complete guide to Christmas in Chicago
When is Christkindlmarket Chicago?
The beloved event typically kicks off the holiday season in the Loop and Wrigleyville in mid-November. In lieu of in-person programming for 2020, Christkindlmarket Chicago will offer a virtual marketplace starting on November 1 and running through December 31.
Where is Christkindlmarket Chicago?
Daley Plaza won't get the Christkindlmarket treatment this year. All of the festivities will be hosted online via the Christkindlmarket website, which will offer a virtual shopping bazaar, family-friendly events and more—all of which can be enjoyed from the comfort of your home.
How much does Christkindlmarket Chicago cost?
The virtual programming is free to check out online, but you'll need to pull out a credit card if you're planning to shop twinkling ornaments, beer cheese dip, handmade winter accessories and festive glassware.
Christkindlmarket Chicago 2020
A look back at Christkindlmarket
Archive Christkindlmarket stories