Thanksgiving mostly means stuffing your face, partying and fighting over discounted Christmas gifts, but there is a little bit honest giving of thanks in there, too. So when you sit down at the table on Thursday, be sure to feel gratitude for these small Chicago pleasures.
What did we miss? Tell us what you are thankful for in the comments below.
RECOMMENDED: More on living in Chicago
Chicagoans should be thankful…
1. When our Ventra card works after just two taps.
2. That doing anything after 4:30pm in the winter counts as "nightlife."
3. When the Red Line doesn't smell like urine and there aren't chicken bones on the floor.
4. For the Blackhawks. Hey, at least one local team is winning something!
5. For that magical moment when you need to transfer to another train and it's waiting for you at the station.
6. For Uber. No more trying to hail a cab in the cold at 3am.
7. We can walk around the Loop via the Pedway in winter without going outside.
8. We had a soul-crushing polar vortex early this year, so this sudden dip in temperature seems tropical in comparison.
9. For that one week of spring and/or fall we get each year.
10. For the 26 miles of lakefront path.
11. When the CTA holiday train unexpectedly shows up at the station. It's like riding a unicorn home from work.
12. It is so hard to get into a factory tour at Vienna Beef. We don't want to see how the sausage is made.
13. For the baby sea otter at the Shedd Aquarium. It was just the cuteness injection Chicago needed.
14. A grocery store finally opened in Logan Square, Fresh MarketPlace.
15. For trains that go right to the airports. And mostly do not derail.
16. Our beer scene just keeps getting better and better.
17. Some cocktail bars still serve great drinks for less than $10.
18. For the multiple Frontera locations at the O'Hare when we're stuck in the airport for hours.
19. Our signature liqueur is so bitter we seem like total badasses for liking it (or at least choking it down).
20. Everyone is in line at Shake Shack so we can walk right up to M Burger.
21. Meat-heavy dishes are going out of fashion in favor of vegetarian plates.
22. Our winters are so cold that no tourists visit. You can get in to any restaurant!
23. That party island will probably never happen.
24. Shoveling your car out of a snow drift is a great workout for the triceps.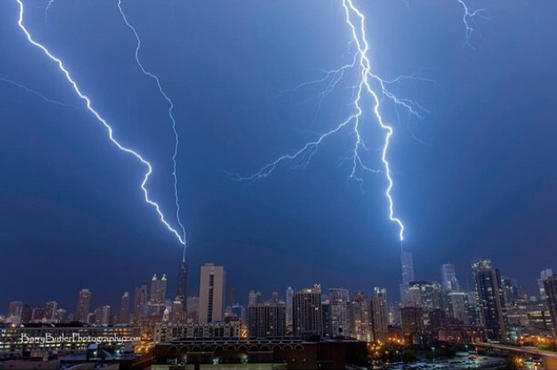 25. Our bonkers apocalyptic weather at least leads to gorgeous pictures on Instagram.
26. For the proliferation of local coffee roasters.
27. We don't have to claim Kanye as one of our own anymore. He's all yours, Paris!
28. For that decade of having to wait just an hour in line at Hot Doug's, not eight hours.
29. Every new restaurant seems to open in Logan Square. (Note: This only applies if you live in Logan Square.)
30. You can eat a great brunch in pretty much every neighborhood.
31. You can save time working on your hair in the winter—you'll just get hat head or the wind will destroy it anyway.
32. That if HalloStorm is any indication, maybe Navy Pier will sink or drift away to Michigan.
33. We have at least two more years of the Smokin' Jay Cutler meme. (Silver lining, folks.)