Back in May, the Chicago Riverwalk celebrated the start of its 2017 season with a daylong festival that included boat tours, live music and parades. The highlight of the day's festivities was a brief, one-minute firework display entitled "Pyrotechnic Waterfall," which sent sparks cascading down from the Clark and LaSalle Street bridges, while aerial fireworks burst overhead.
The spectacular display will return to the Riverwalk in August, as part of the city's Second Tuesdays program, which offers special discounts from Riverwalk vendors on the second Tuesday of each month. On August 8, a band will perform on a tiki boat in the Chicago River, starting at the Island Party Hut (355 Chicago Riverwalk) at 7:30pm and making its way west to the River Theatre between Clark and LaSalle. When the floating concert arrives around 8:25pm, an encore presentation of "Pyrotechnic Waterfall" will entertain crowds for about five minutes.
If you missed this amazing display the first time around, make sure you show up to see it (and get a few Instagram videos of it). For a preview, take a look at a video of the short but explosive show earlier this summer.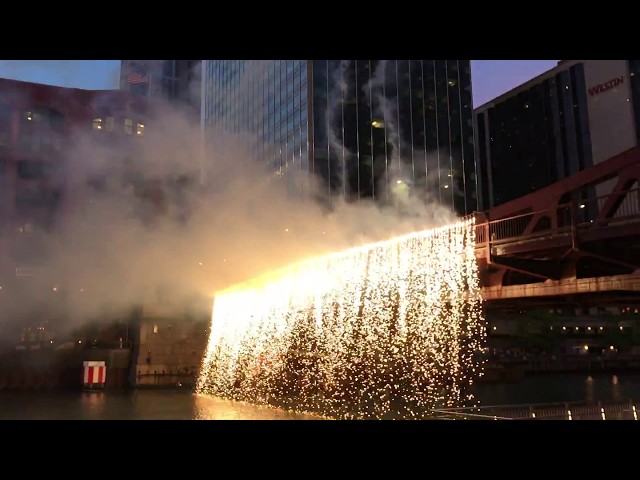 Want more? Sign up here to stay in the know.