The Chicago location of Shake Shack opened its doors this morning at 11am, attracting a long line of people who queued up to be the first batch of customers at the New York–based chain's debut Midwestern outpost. Located at 66 E Ohio Street in River North, the fast-casual restaurant serves up its signature menu of griddle-cooked burgers, Vienna Beef hot dogs, crinkle cut fries and rich frozen custard. In addition to its regular menu, the city's first Shake Shack also serves a trio of items that are only available in Chicago. We lined up on opening day and tasted each of the exclusive offerings.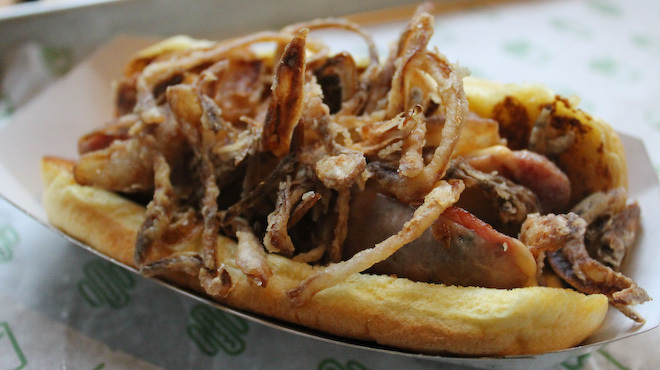 Publican Pork Sausage at Shake Shack.
The only exclusive entree on the menu is the Publican Pork Sausage ($5), which features a pork sausage made by the Publican topped with cheddar and American cheese sauce and fried shallots marinated in Brooklyn Brewery's ShackMeister Ale. Thankfully, the cheese sauce isn't overpowering and actually complements the sausage's rosemary seasoning and the salty flavor of the fried shallots. The sausage itself is split in half before it is grilled, creating a crispy interior that lends each bite a satisfying crunch. If you're going to Shake Shack for the first time, you should probably get a burger, but this sausage is worth a try on a return visit.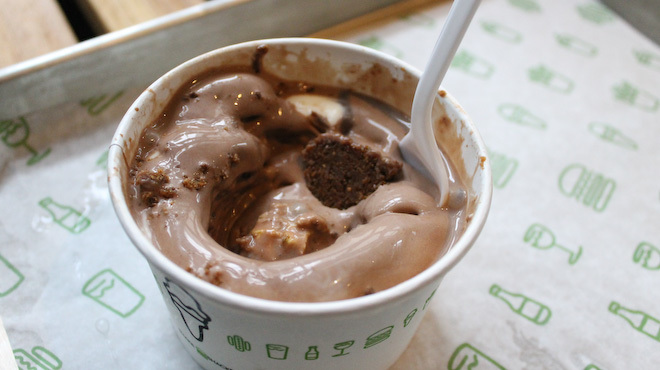 Da S'mores concrete at Shake Shack.
The first of Shake Shack's two exclusive concretes is almost delicious enough to make us overlook its groan-worthy name. The Da S'mores ($4.30) concrete blends vanilla and chocolate custard with a slice of Bang Bang Pie Shop's s'mores pie, creating a creamy approximation of the campfire snack. We were fans of the giant chunks of graham cracker crust and thick swirls of marshmallow creme that were distributed throughout the dish—a combination that left us wanting some more.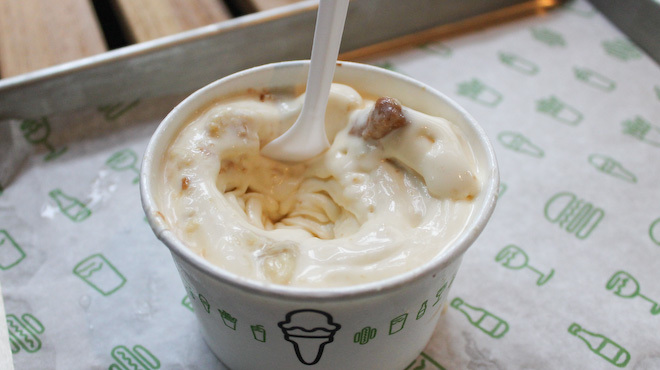 Salted Carame'L' concrete at Shake Shack.
The last item we sampled was the Salted Carame'L' ($4.30) concrete, which combines vanilla custard, banana and chunks of a Glazed & Infused salted caramel old fashioned doughnut. We were impressed with how fresh and crispy the doughnuts were, but the salted caramel flavor was lost amid the rich vanilla custard and blended bananas. If you're in search of a salty and sweet fix, you might want to order a vanilla concrete with caramel sauce and then walk down the street for a doughnut at Glazed & Infused's Hubbard Street location.