The Lincoln Lodge looks for a permanent home
The long-running comedy showcase raises funds to put down roots.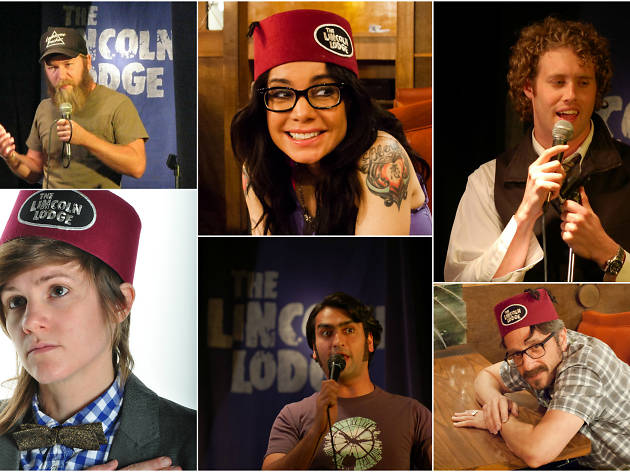 For a comedy show born in the shabby, Naugahyde-lined banquet room of a worn-down diner, the Lincoln Lodge has produced a pretty remarkable roster of talent over the past 17 years. Among those who crossed the fold-up stage at the now-defunct Lincoln Restaurant: T.J. Miller, Hannibal Buress, Kumail Nanjiani, Cameron Esposito, Pete Holmes, Nick Vatterott and Kyle Kinane.
But the stage folded for the last time in December 2013, when the Lincoln Square restaurant shuttered. "I was only given like 10 days' notice," recalls Lincoln Lodge producer Mark Geary.
Other venues offered to host, and by the end of February 2014, the show was running again at Wicker Park's Subterranean. But after three years at SubT, Geary and the Lodge's parent company, Tight Five Productions, are on the hunt for a permanent home of their own, and they're running a crowdfunding campaign to help meet the costs.
Subterranean was able to give the Lodge a regular Friday-night berth, and the location in the heart of Wicker Park/Bucktown brought more foot traffic than the quieter stretch of Lincoln Avenue, where the Lodge built its following. But Tight Five was producing three nights a week at the old restaurant, and SubT's zoning wouldn't allow the venue to charge a cover for comedy.
So Geary's been scouting locations, with the goal of finding a 3,000-square-foot spot that can contain a 100-seat theater, space for Tight Five's classes—including the women's stand-up school the Feminine Comique, started by Esposito—which are currently held at Sheil Park in Lakeview, and a comfortable bar and lobby.
"My two big mentors are Angie McMahon at Under the Gun and Jennifer Estlin at Annoyance; they're the two producers in this town who have done things on their own terms, more or less unaided, who I admire the most," says Geary. "I've looked at a lot of what they've told me, and both said, 'Do lessons or die. Get an alcohol license or die.' "
Geary has committed several thousand dollars out of his own pocket, and Tight Five has raised more from friends, but the hope is to reach $30,000 from the Generosity campaign launched in November. At present, supporters had pledged just more than half that.
Because Tight Five is (unusually, as comedy producers go) a registered nonprofit, it has no deadline to meet the goal, but Geary hopes to sign a lease in time to open up shop by the fall. "We agreed with Subterranean that we would finish our 17th season in May there. I don't want to be fannying around, looking for a building for another year," he says. "The second we put the fund-raiser out there, I felt this tremendous weight on my shoulders: Now you've asked Chicago and the comedy community to trust in you; you'd better deliver it."
The Lincoln Lodge is at Subterranean Fri at 8pm. Check the crowdfunding campaign's progress here.