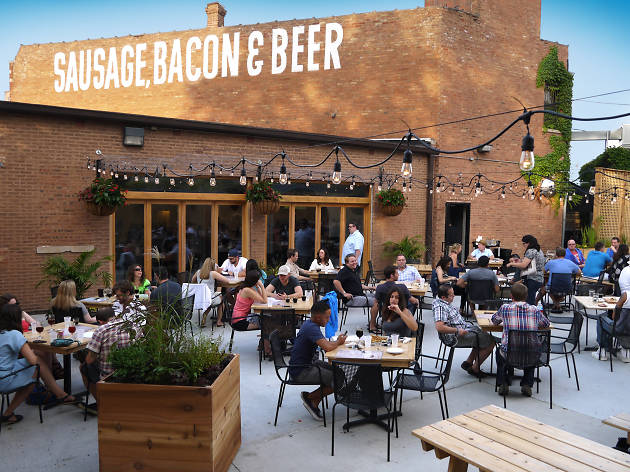 Chicago's most unique drinking and dining experiences
Posted: Tuesday April 26 2016, 10:58am
We all know Chicago has some of the very best eating and drinking in the world, but when you're searching for something a little bit more unusual, look no further than one of Chicago's many dive bars, quirky pubs and nontraditional restaurants for a memorable drink or bite to eat.
1. The Drifter. You can find speakeasies all over the city, but the Drifter (hidden below the Green Door Tavern) feels the most like the real thing with its dark ambience and rotating drink menu printed on tarot cards.
2. Kaiser Tiger. With a spacious patio where you can play bocce in the summer or try curling in the winter, this beer bar is the perfect spot to while away a lazy afternoon in the West Loop.
3. The Bedford. This restaurant lounge is in a former bank vault with all the trappings still in place, like walls of safety deposit boxes.
4. Portillo's. Sure, you'll stand in separate lines for a cake shake, an Italian beef and cheese fries, but it's worth it.
5. The Hideout. This venue is hidden next to Chicago's garbage truck parking lot (seriously) and hosts concerts with some of the city's legends and serves up a solid beer list. Get cultured and tipsy all in one spot.
6. Logan Arcade. Can't go wrong with a drink at Logan Arcade, home to dozens of noisy pinball machines just waiting to take all your quarters.
7. The Wiener's Circle. Get Chicago dogs and get berated all in one spot—what could be better?
8. Saint Lou's Assembly. Taking a tip from Nashville, Saint Lou's serves a meat and three, where you pick your meat entrée and three sides. Just like momma used to do.
9. Howells & Hood. Be prepared for a hefty beer list, a few snacks and a gorgeous view of the city when you stop by this Mag Mile mainstay in the Tribune Tower. Sit outside by the fire on a summer night.
10. The Corner Bar. As its name suggests, this Bucktown haunt epitomizes the concept of a neighborhood corner bar: All are welcome (including your dogs), the walls are covered in knick knacks and the beer is dirt cheap.
11. Guthrie's Tavern. It's a weird mix of drinkers at Guthrie's in Lakeview, but with a bevy of board games, you won't be, well, bored.
12. Pozoleria San Juan. The abundance of neon lighting in this Humboldt Park restaurant can be distracting, but it adds a bit of character to this destination for great pozole (a Mexican stew made with hominy).
13. The Game Room. This bar in the Chicago Athletic Association has become the go-to for birthdays and group outings, with its old classic games like bocce, shuffleboard and foosball.
14. Kit Kat Lounge. Whether you're grabbing a drink or brunching, you'll be able to eat while enjoying entertainment from some of the city's top drag queens.
15. The Matchbox. The name of this West Town bar is apt to say the least. Snag a seat early!
16. Columbia Yacht Club. Feel like a million bucks when you dine overlooking Lake Michigan.
17. Lagunitas Brewing Company. Spend an hour or two at one of Chicago's favorite breweries. Getting in is a little bit like the Willy Wonka experience, but the views—and the brews—are a treat.
18. Carnivale. This truly massive dining room with colorful decorations makes for a unique experience paired with prettily plated entrees.
19. Lou Mitchell's. This Chicago institution serves out a popular lunch, which sometimes means standing in line. But no worries—if you're a lady or a child, you'll get some Milk Duds while you wait, just like Uncle Lou used to hand out.
20. Castaways Bar & Grill. No list would be complete without some beach eats. Grab grub at this North Avenue Beach hot spot whether you want ice cream, burgers or even a salad. Just remember to wait a few minutes before you jump back in.
21. Medici on 57th. Bring your own beer, your appetite and maybe some words of wisdom to write on the tables at this University of Chicago hangout in Hyde Park.
22. Hamburger Mary's. Wednesday nights here mean it's time for not only burgers, but drag bingo.
22. The Green Mill. Where else can you essentially travel back to Al Capone's time and listen to some jazz?
23. California Clipper. Dark, David Lynch–esque and cash only, this Humboldt Park bar is worth the trek for a good, strong, classic cocktail.
Share the story