Eat Out (or order in) on Thanksgiving
A comprehensive guide to Thanksgiving Day dining options and carryout.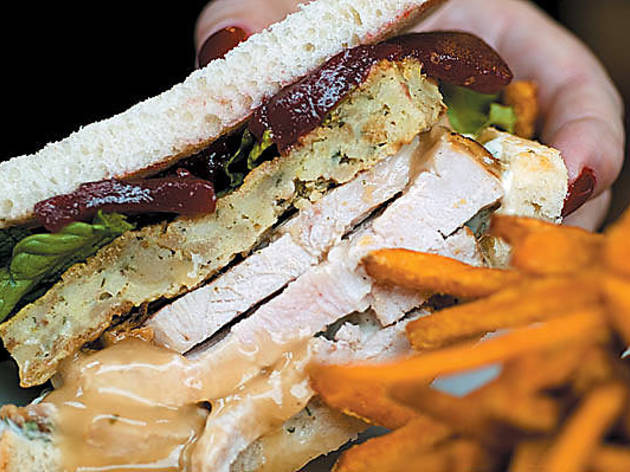 RECOMMENDED: Full coverage of Thanksgiving activities in Chicago 2013
Where: Ann Sather (909 W Belmont Ave, Lakeview and 5207 N Clark St, Andersonville)
What: The Swedish diner goes all-American for Thanksgiving, serving a traditional turkey dinner, including roast turkey with celery-sage stuffing and housemade apple pie.
Hours: 11am–7pm in Lakeview; 11am–5pm in Andersonville; both serve regular breakfast menu beginning at 7am
Dollar bills: $18.95/adult, $10.95/children 12 and under
Reserve a spot: Reservations for parties of six or more only (773-348-2378).
Where: BIN 36 (339 N Dearborn St, River North)
What: Executive chef John Caputo presents an all-American feast with something extra to be thankful for: This is BIN 36's tenth year in business. This year's menu includes first-course options like roast-turkey consommé with chestnut tortellini, then moves on to second courses like slow-roasted prime rib with truffled Hollandaise sauce and comes with family-style sides like sourdough stuffing and butter-whipped potatoes.
Of note: For those who consider drinking as much of a T-giving tradition as eating, BIN's extensive wine list might make this a done deal.
Hours: 3–9pm
Dollar bills: $45/adults, $19/children under 12, free/children under 5
Reserve a spot: 312-755-9463
Where: Bistro 110 (110 E Pearson St, Mag Mile)
What: The three-course French-American Thanksgiving from chef Dominique Tounge includes choices like onion soup, oven-roasted salmon, sweet-potato dauphinoise and creme brulée for dessert. A few Bistro 110 classics will also be available.
Hours: Noon–8pm
Dollar bills: $32.95/adults, $12.95/children 12 and under.
Reserve a spot: 312-266-3110
Where: C-House (166 E Superior St, Mag Mile)
What: Nicole Pederson recently stepped in as the chef de cuisine at Marcus Samuelsson's restaurant. Her Seasonal Thanksgiving menu includes sweet-potato soup, heirloom-apple salad, oven-roasted turkey, whole-roasted trout and desserts like chocolate pecan cake and caramel roasted apples.
Hours: 4–10pm
Dollar bills: $39/adult, $19/children 12 and under
Reserve a spot: 312-523-0923
Where: Courtright's (8989 Archer Ave, Willow Springs)
What: Three-course and four-course dinners, including offerings such as pumpkin risotto with apple-cider emulsion, a wild-game terrine with apple-vanilla compote, oven-roasted turkey breast and leg stuffed with house-made dressing, beef tenderloin, pan-seared salmon and grilled pork loin.
Hours: 12:30–6pm
Dollar bills: Three-course for $50, four-course for $60, children's three-course for $30
Reserve a spot: 708-839-8000
Where: Coco Pazzo Cafe (636 N St. Clair St, Streeterville)
What: In addition to the regular menu, Coco Pazzo will serve a four-course Thanksgiving dinner with a Tuscan twist, featuring options like mushroom-and-potato soup, butternut-squash-and-leek risotto, pan-roasted local whitefish and pumpkin flan with cinnamon cookies.
Hours: 11:30am–9pm
Dollar bills: $40
Reserve a spot: 312-664-2777
Where: David Burke's Primehouse (616 N Rush St, Gold Coast)
What: Rick Gresh is putting out a four-course Thanksgiving menu with offerings like roasted chestnut soup with chorizo sausage, corned hash and eggs, double-dried Kobe beef bresaola, slow-roasted turkey, etc. Of course, you can also just get a steak.
Of note: The menu includes a Thanksgiving "Leftover Sandwich" (turkey, stuffing, mashed potatoes and cranberry sauce on country bread) and a pumpkin-pie cookie for the next day.
Hours: 11am–9pm
Dollar bills: $39/adults, $15/children 10 and up, free/children 9 and under
Reserve a spot: 312-660-6000
Where: Eve (840 N Wabash Ave, Gold Coast)
What: Four regional takes on Thanksgiving from chef Troy Graves: North (slow-roasted suckling pig, herb-roasted heritage farm bird, pumpkin-chocolate bread pudding); South (gumbo, wilted frisée with fried green tomatoes, grilled quail with smoked cheddar grits, chocolate-pecan tart); East Coast (broiled oysters, roasted-chestnut bisque, grilled turkey breast with Maine lobster croquettes, cranberry-apple crumble); and West Coast (chanterelle mushroom strudel, tofu tempura, Walla Walla onion and butternut squash millefeuille pastry, cranberry-orange crumble).
Of note: We're a little floored by chef Graves's creativity.
Hours: 1–7pm
Dollar bills: $45
Reserve a spot: 312-266-3383
Where: Jacky's on Prairie (2545 Prairie Ave, Evanston)
What: A three-course Thanksgiving dinner from chef Jonadab Silva, including heirloom-squash soup with smoked-turkey ravioli, braised turkey with wild rice and corn-bread stuffing and pine-nut-cranberry tart.
Of note: A vegetarian alternative to braised turkey—walnut loaf with vegetable gravy—is available.
Hours: 4:30–9:30pm
Dollar bills: $35/person
Reserve a spot: 847-733-0899
Where: Lawry's The Prime Rib (100 E Ontario St, Mag Mile)
What: Dine-in and Thanksgiving-to-go options such as roasted prime ribs of beef, roasted turkey, spinning-bowl salad, celery-sage stuffing, candied sweet potatoes and housemade pies. The regular menu will also be available. Carryout orders must be placed by Nov 23 and will be available for pick-up either T-giving Day from 10am–4pm or the evening prior.
Hours: 5pm–10:30pm
Dollar bills: Dinner prices start at $28.
Reserve a spot: 312-787-5000
Where: Lockwood (17 E Monroe St, Loop)
What: Contemporary American Thanksgiving buffet from chef Phillip Foss, featuring spaghetti-squash-and-red-pepper soup, grilled-shrimp cocktail, butternut-squash ravioli, pan-roasted Alaskan halibut, a turkey carving station, biscuits and a lot more.
Of note: Unlimited Champagne for adults and sparkling cider for kids
Hours: Nov 26 buffet 11am–5pm; a la carte menu 5pm–close
Dollar bills: $55 adults, $45 seniors 65+, $25 kids 12 and under
Reserve a spot: 312-917-3404
Where: MarketHouse (611 N Fairbanks Ct, Streeterville)
What: The prix-fixe Heartland Thanksgiving menu from chef Scott Walton and chef de cuisine Thomas Rice includes buttermilk biscuits with gooseberry jam, Slagel Farms turkey, chestnut-and-Honeycrisp-apple brioche stuffing, giblet-sage gravy and pumpkin pie with pecan-praline ice cream.
Of note: Just look at the price.
Hours: 11am–10pm
Dollar bills: $24
Reserve a spot: 312-224-2200
Where: Michael (64 Green Bay Rd, Winnetka)
What: Chef-owner Michael Lachowicz presents a family-style traditional dinner, including roast organic turkey, roast tenderloin and the rest of the fixins.
Hours: 1–4pm
Dollar bills: $45/adult, $22.50/children under 10. Carryout menu $49/person and can be picked up from 1–4pm.
Reserve a spot: 847-441-3100
Where: NoMI (800 N Michigan Ave, Mag Mile)
What: A decadent Thanksgiving menu from chef Christophe David, featuring chef's tables serving seafood (snow-crab claws, oysters, applewood-smoked trout, sushi), breads, roast traditional turkey, and desserts (pumpkin cheesecake, apple-streusel tart, maple panna cotta).
Hours: 11:30am–8pm
Dollar bills: $125/adults, $35/children 5–12 years old
Reserve a spot: 312-239-4043
Where: Prairie Grass Cafe (601 Skokie Blvd, Northbrook)
What: Chef Sarah Stegner's traditional Thanksgiving feast includes oven-roasted turkey with apple-sage stuffing, sweet-potato-and-butternut-squash puree topped with a marshmallow crust and pumpkin and pecan pies baked by the chef's mom.
Of note: Prairie Grass was recently listed as one of the Top 10 restaurants in America for Thanksgiving by Bon Appetit.
Hours: Carryout only 11am–5pm; dine-in 2:30–7:30pm
Dollar bills: $45
Reserve a spot: 847-205-4433
Where: Shaw's Crab House (1900 E Higgins Rd, Schaumburg)
What: A family-style dinner with Shaw's takes on Thanksgiving dishes: Start with sweet potato maki, then choose from salads (chopped, mixed green, etc.), main courses (herb-roasted turkey, teriyaki-glazed salmon, lobster mac and cheese, etc.), and side dishes (au gratin potatoes, creamed spinach). Then end with the dessert buffet of pies and cakes.
Of note: Each family (one per reservation) will go home with "leftovers" of turkey, mashed potatoes with gravy, green beans, stuffing and pecan pie for the next day.
Hours: Noon–7pm
Dollar bills: $39.99/person, $16.99/children 12 and under
Reserve a spot: 847-517-2722
Where: Trader Vic's (1030 N State St, Gold Coast)
What: Staycation Thanksgiving gives a tropical twist to the classics: The menu includes kung pao pork, apricot stuffing and a traditional roast-turkey carving station.
Of note: But most important, you'll be on the floor after one of these cocktails.
Hours: Noon–8pm
Dollar bills: $39.95/adults, $19.95/children
Reserve a spot: 312-642-6500
Where: SugarToad (2139 City Gate Lane, Hotel Arista, Naperville)
What: A three-course farm-focused prix fixe including options like country-pork paté, roasted-chestnut soup, American Kobe top sirloin, local turkey and Honeycrisp apple pie with butternut-squash marshmallow.
Of note: Chef Geoff Rhyne will surprise guests with complimentary dishes to share.
Hours: 11am–6pm
Dollar bills: $45/adult, $22.50/kids ages 6–12, free/kids 5 and under
Reserve a spot: 630-778-8623
Where: Va Pensiero (1566 Oak Ave, Evanston)
What: A four-course Thanksgiving with an Italian touch, including antipasti like calamari salad and baked riccoto, then choices like pumpkin soup, mushroom risotto, baby gourds stuffed with autumn vegetables, turkey saltimbocca with sage essence and prosciutto, braised beef short ribs, and for dessert, pumpkin-mascarpone cheesecake, bittersweet-chocolate budino and more.
Hours: 3–8pm
Dollar bills: $48
Reserve a spot: 847-475-7779
Where: Vermilion (10 W Hubbard St, River North)
What: The six-course Indian-Latin Thanksgiving Extravaganza featuring Indian-roasted corn coup, black-bean stew, cardamom-smoked turkey breast, pumpkin pie horchata and white-chocolate Goan pudding.
Of note: The most boisterous family gets a round of Champagne on the house.
Hours: Nov 26 lunch and dinner; Nov 27, 28 dinner
Dollar bills: $45/person eating in, $40/person ordering to-go
Reserve a spot: 312-527-4060
Where: ZED451 (739 N Clark St, River North)
What: The churrascaria does Thanksgiving with ZED turkey breast on the grill, hickory-smoked ham, Asian pork belly, caramelized sweet potatoes and pumpkin-custard profiteroles.
Of note: You can also hang in the lounge with a cranberry mojito and turkey pot pie.
Hours: Noon–9pm
Dollar bills: $44/person
Reserve a spot: 312-266-6691
Where: Zest (505 N Michigan Ave, Mag Mile)
What: (A) A brunch of poached shrimp, crab claws, roast turkey, a mashed-potato bar, toasted-marshmallow yams, halibut with ginger-garlic-chile sauce, a bevy of pies (pumpkin, banana cream, lemon meringue, pecan), and a build-your-own-sundae station. (B) A prix-fixe dinner of lobster terrine topped with American black caviar, seared spiced scallops, butternut-squash bisque, toast turkey or horseradish-crusted Angus tenderloin, and pumpkin tart.
Hours: Brunch is noon–3pm; dinner is 5–10pm (both Nov 26)
Dollar bills: Brunch is $55/adult, $20/child; dinner is $67/adult or $92/adult with wine pairings
Reserve a spot: 312-321-8844
---
Carryout
Whole dinners
From places that are also serving in the restaurant (Ann Sather, Lawry's, Michael, Prairie Grass Cafe, Vermillion), see above for more details on each.
Where: Hearty (3819 N Broadway, Lakeview)
What: The chef-owners of the new Lakeview comfort-food restaurant Hearty know their catering: Honey-roasted parsnip bisque, truffled goat-cheese mashed potatoes, peppered buttermilk biscuits, brined turkeys and more are all on the extensive menu.
Hours: Orders will be accepted until noon on Nov 24. Pick up Nov 25, 9am–6pm and Nov 26, 8–11:30am
Dollar bills: Vary.
Place an order: Right here
Where: Mundial Cocina Mestiza (1640 W 18th St, Pilsen)
What: A Thanksgiving dinner package for five, starting with soup like spicy-black bean, then first courses like pulla pepper papardelle, then mains like Turdurcken roulade and leg of lamb.
Hours: All orders must be placed by Nov 23 at 2pm. Pick-up on Thanksgiving Day from 8am–noon.
Place an order: 312-491-9908
Where: Old Town Brasserie Market (1209 N Wells St, Old Town)
What: Thanksgiving to-go dinner from chef Christian Phenetton, featuring herb-roasted sliced turkey, stuffing, green beans, mashed potatoes and pumpkin pie.
Of note: The Market also sells wine, which means one-stop Thanksgiving.
Hours: Orders must be placed by Nov 23 and can be picked up on Nov 25 from 1–7pm.
Dollar bills: $29/person; two-person minimum (sorry, loners)
Place an order: 312-943-3000
Turkeys
Order an organic, locally raised, free-range turkey from Genesis Growers in St. Anne, Illinois, to be picked up at Chicago's Downtown Farmstand. The flavor promises to be richer, meatier and leaner than a typical turkey. These birds are $65 for a 13–15 pounder and must be ordered in advance by calling: 312-742-8419.
Osteria Via Stato is offering a limited number of rare Heritage turkeys from John and Connie Caveny of Caveny Farm in Monticello, Illinois. Each order includes chef David DiGregorio's instructions for roasting a bird and a $25 gift certificate to Osteria via Stato. Orders must be placed with Allison Gallese by Nov 19 and can be picked up on Nov 21 or 22. 8–10 lb turkey $62; 14–16 lb turkey $98; 16–18 lb turkey $110. Call: 312-642-8450 to place an order.
Pick up a smoked turkey from Smoke Daddy: The 12–14 lb birds are $4.95/lb. Order by Nov 23; pick up turkeys on Nov 24 or 25. To place an order, call 773-772-6656.
Desserts
More Cupcakes (1 E Delaware Pl, 312-951-0001) turns Thanksgiving into cupcakes: sweet-potato cake with bacon-infused frosting, cranberry cake with candied-orange frosting, spiced pumpkin cake with cinnamon-cream cheese frosting, cinnamon-apple streusel cake with cinnamon buttercream, and—you ready?—a Thanksgiving cupcake, packed with cranberries, pecans, celery, mushrooms, onions and sage and topped with sage buttercream. $3.50–$6.
You can order a raspberry, pecan or apple pie ($45 each, plus shipping if applicable) from Shaw's Crab House and pick it up from the restaurant. Or you can be extremely lazy and have it overnighted to you. Schaumburg and Chicago locations, order from shawscrabhouse.com or by calling: 877-942-2722.
For those in need
Tapas Valencia and Meson Sabika are hosting Thanksgiving for a Cause at both restaurants. Those in need—whether from economic problems or physical disability or otherwise—are invited to come in for a complimentary Thanksgiving lunch including salad, turkey, dessert and a beverage of choice (either beer or wine). Thursday, Nov 26, 11am–1:30pm. Reservations required by Nov 19. Meson Sabika (1025 Aurora Ave, Naperville, 630-983-3000) and Tapas Valencia (1530 S State St, South Loop, 312-842-4444).
Something to add? E-mail eatoutdrinkup@timeoutchicago.com.