Interview: Ruth Reichl and Alice Waters
The culinary icons, in town this week for a Chicago Humanities event, discuss male-dominated kitchens and the state of American food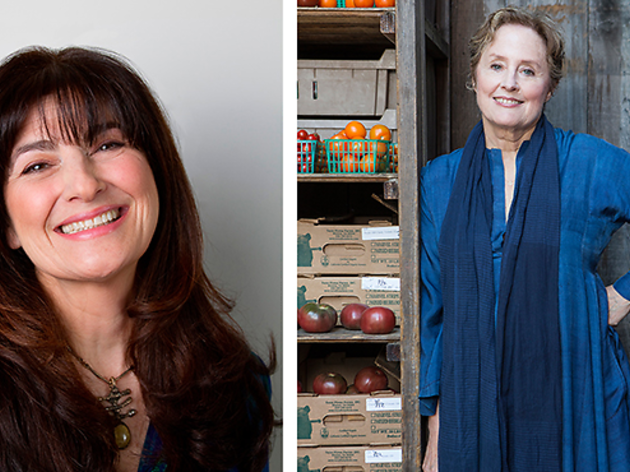 Culinary icons Alice Waters and Ruth Reichl come to Chicago on Thursday for a conversation about American food culture and to promote Waters's new cookbook. While tickets for the discussion are sold out, you can still get tickets for the reception, which are $100 and include a signed copy of Waters's The Art of Simple Food II.
We recently caught up with Waters and Reichl to chat about gender inequality in the food world, what's wrong with America's food systems and how we can improve the way kids eat.
Ruth Reichl
How would you describe the state of American culinary culture right now?
It's the most exciting time. For people like me who care about food, it's the most exciting time in my lifetime and in the lifetime of the country. I mean, when Alice and I started out, we were both people who cared a lot about food and felt like almost nobody else did, and now we're at a time when food has taken its proper place in the culture. It's part of people's culture—the way theater and books and film are—for a generation of young people who understand eating. Even eight years ago, you didn't see a lot about food being covered in newspapers or anywhere but epicurean magazines. Now The New York Times has a dedicated food op/ed person and The New Yorker does a food issue. It's a thrilling time.
But we've seen a continual decline in newspaper food sections.
Those papers are cutting everywhere; it's not just food that's under siege. It seems shortsighted to me that they're cutting food and there's never been more interest than there has been right now. I don't know the economics of that, but when I was the food editor at The Los Angeles Times, it was huge, like 60 to 100 pages every week, but that was because there was a lot of competition between supermarkets and they advertised in the paper. Until about 20 years ago, food sections were the cash cows of newspapers, and then supermarkets consolidated at the same they started doing direct mail and giving out coupons when you pay instead of printing them in newspapers.
What do we need to improve about the way Americans eat and how can we do it?
Really, the only way to face the biggest problems we have is for the government to change the way they subsidize food. The way we subsidize food makes it cheaper to go to McDonald's and get a hamburger than a salad, and that's insane. It's pure government policy. Cutting back on food stamps is another really shortsighted policy, in my opinion. Our biggest problem is that 1 in 8 Americans go to bed hungry and that's shameful, especially since they're mostly children. The way we allow children to be advertised to is shocking. Eating is a learned behavior and we've made these kids sitting ducks for all the bad messages about industrialized food. The fact that we allow that to go on is horrifying.
For those of us who aren't responsible for feeding kids ourselves, what do you suggest we do?
The biggest thing you can do is understand that every time you're going to the grocery store, you're voting with your dollars. Support your farmers' market. Support local food. Really learn to cook. Actually, if everybody in this country started cooking instead of buying fast food, the food culture would change very quickly. We in the media have been guilty about not doing a better job of making people understand how really simple cooking is. We've made everyone feel like they have to be a chef. The hardest part of cooking is shopping, and if you organize yourself and shop once a week, you're halfway there.
Your novel Delicious! comes out in May. What else have you been working on lately?
I actually have a five-book contact with Random House. I have the novel, which comes out this year, and I turned in my next book, which is a cookbook memoir. I'm working on my next novel. I'm also a judge on Top Chef Masters, which is very fun. I'm working on a possible TV show with a producer in Hollywood.
In the years since Gourmet, what have been the biggest changes you've seen in how media covers food?
Well, the thing that I'm probably most disappointed about is that one of the things we took on at Gourmet was talking about what was happening to the food supply, to farmers, and to include sociology and politics as part of the way we covered food. I'm disappointed that no other mainstream magazine has come along and is covering that. It's left to The New York Times, and there are magazines covering that, but they're not epicurean magazines.
Since the Time magazine article about the Gods of Food last November, there's been a greater discussion about the gender gap between the number of men and women as head chefs and, more recently, as food critics. Is there a way to fix it?
I just went to the Cherry Bombe Jubilee in New York and it was so exciting—it was a room full of women in food with so much passion and openness and intelligence. It was thrilling and made me feel very optimistic about women in the food movement. I think women are going to figure out creative ways to make it possible to have these food jobs that are really punishing jobs. It's very difficult to a have family and be a chef, or have a family and be a food critic. The energy I felt in that room was "we'll figure it out." I think we'll think of restaurants in new ways and think of them as a community.
One of the things I said at Cherry Bombe Jubilee, which I think is really true, is that maybe we're not really looking at it in the right way. Lots of women who are in the food industry, they're just taking a different tack. They're not going for fame, but steady jobs with benefits. I think that if you look at women working unionized jobs, you'd be stunned at what a high percentage there is. Women who work look for something different.
Where will you be eating while you're in town?
I think I'm going to go to Next. I'm so curious about it. I'm really only in town for one day, so I have one dinner, and I'm so curious about the food they do. The one meal I had there was so exciting.
Which one did you go to?
I went to the Japanese. It was fantastic.
Alice Waters
How would you describe the state of American culinary culture right now? What's the single biggest problem?
I think America's food culture is embedded in fast-food culture. And the real question that we have is: How are we going to teach slow-food values in a fast-food world? Of course, it's very, very difficult to do, especially when children have grown up eating fast food and the values that go with that. We really need to get to children in kindergarten and before and bring them into a new relationship with food and nature. Those slow-food values begin to wash over them and they absorb them through osmosis. That's what we need to have happen to really change the way we live our lives.
I really am at a place where I think we need to feed every child at school for free and feed them a real school lunch that's sustainable and nutritious and delicious. It needs to be part of the curriculum of the school in the same way that physical education was part of the curriculum, and all children participated.
We need Obama and his wife and the whole government to believe that this is what can really be an amazing preventative health plan that can address issues of the environment and first and foremost address childhood hunger. It can be a place where we learn the values that make a this country a democracy.
How does your new cookbook differ from the first volume? Are you planning future volumes?
I am; I sort of signed up for several. The first book was about how to cook and focused on the basic techniques of cooking, starting at the farmers' market and emphasizing simplicity of techniques, learning them by heart and being able to go from there. This book is definitely trying to get people to go out and put their hands in the earth. To understand that we're part of nature and that we're dependent on it. To see that it's beautiful and wonderful to be self-reliant and see how affordable it is to eat from the garden and how it keeps you connected with the seasons. You can cook something every single day and make it different if you have the herbs and a plot outside that can give you inspiration.
What vegetables do you think we aren't eating enough of?
It's amazing what we've done with kale.
I know, I actually just received a cookbook just for kale.
Who would have ever thought kale would have such a spotlight? I don't think we, as a nation, can eat enough greens and salads. It's just not possible. I'm very much in that phase of putting a salad on every dish as a counterpoint and not only for flavor but for good health. I think we aren't, as a nation, eating enough whole grains. Thank goodness some of the best bakers that I know are exploring that now and really talking about how great it tastes.
Lately there's been greater scrutiny of the number of women in restaurant kitchens and as food critics. What's wrong here? And is there a way to fix this?
From my point of view, it's because of raising a family. Women have been caretakers. There was a women's conference sponsored by Cherry Bombe in New York that I attended and we just touched on that subject, but I wanted to say more about that.
I was very lucky that I owned the restaurant when I had a child. I could do what I wanted to do. I could bring her in there and ask people to take care of her. I could be absent when I needed to be absent. It's very hard to be cooking when other people are at home eating. Until we figure out how to share all the childcare jobs with men and they understand that these are the basic things in life—taking care of children, feeding ourselves—I think there's always going to be fewer women as main chefs. I think they feel terribly responsible for children and their families.
We've been experimenting with a lot of things at the restaurant to address this. Some of them have to do with splitting the job of a main chef, working six months and being off six months. It doesn't exhaust them in the way that being round the clock does, and being a top chef wears you right out—you don't have time for anything else in your life. We also split up the week and two chefs cover the six days of the café, but they're paid for all five. When we pay chefs for a whole year of work even though they work for six months, it brings the goodness right back to the restaurant. They write books or research. I always thought if I could do it, I'd figure out how to have a little commune of friends, and each night you could eat at another person's house and they do the cooking. So the kids could be like a big family and parents could share all the responsibility of dinner. I think it's just too hard for a small family to do all of that, just for themselves.
Where are you eating in Chicago?
I always go to my friends' places. I always go to the Publican. I always do, and I used to make a stop every time I went to go see my sister in Michigan. And I have tacos with Rick Bayless.