Thanksgiving 2012 | Restaurant guide
Where to eat out, where to take out and where to get your pie.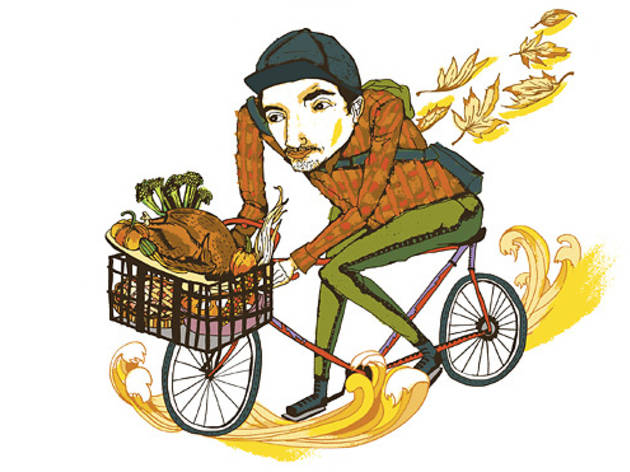 RECOMMENDED: Full coverage of Thanksgiving activities in Chicago 2013Thanksgiving is next week. Next week, people! That means it's time to either start planning your meal, or start booking a table at a restaurant. Either way, this list of restaurants—some of which are providing Thanksgiving provisions for take-out, some of which are throwing full-on Thanksgiving meals in their dining rooms, and some of which are doing both—should help out. (We threw in a few "Black Wednesday" and "Black Friday" events in here, too, just for kicks. And at the bottom of the list, perhaps the most valuable information of all: a pie guide) BLACK WEDNESDAY PROMOTIONS AcadiaThe South Loop spot offers a meal to help you deal with relatives: A burger, a Point beer and a shot of whiskey for $16. I Dream of FalafelDonate a canned item to any of I Dream of Falafel's three locations for the Greater Chicago Food Depository and receive lunch with a drink for $5. Nacional 27From 5–8pm, Nacional 27 puts on a Black Wednesday fiesta complete with half-price tapas $5 seven-spice sangria. O'Donavan'sO'Donavan's runs with the turkey theme and offers $5 Wild Turkey cocktails, $4 Wild Turkey shots and $1 shot glasses filled with Wild Turkey bourbon-soaked maraschino cherries. Timothy O'Toole'sFour words: turkey testicle eating contest. Plus, half-priced bottles of wine and $5 Fireball shots. TrenchermenScrew pumpkin ale, it's all about Malort at Trenchermen, where barrel-aged Malort cocktails will be served all night long. UntitledHead to Untitled to try out the newest bourbon from Jim Beam, Devil's Cut, from 7-9pm. THANKSGIVING DAY MEALS (TO-GO) BQ2GOChef Bill Kim's take-out shop will be open 11am-4pm on Thanksgiving, selling slow roasted turkey breast and sausage-fennel stuffing. (Still, it's probably a good idea to pre-order.) Food Shop at the East Bank ClubOrder your turkey, mashed potatoes and cornbread stuffing from Food Shop for $150 and feed up to 10 people without lifting a finger. The package also includes two sides and assorted desserts. FrontierChef Brian Jupiter, a master cook of big animals, prepares $75 15-pound turkeys and $95 20-pound turkeys, with fixings. Goddess and the GrocerThis gourmet food shop offers a seven—yes, seven—course meal for large, hungry parties. L. WoodsAs long as you can handle the turkey, L. Woods will take care of the rest. Order all of your side dishes and desserts from the Lincolnwood restaurant for a less stressful holiday. MercaditoComplete your Thanksgiving Day feast with a $35 half-sheet pan of Chef Patricio's sausage stuffing or $25 quart of turkey mole. Steve's DeliWhether you want to pre-order for large parties or pick up a few sides up, Steve's Deli's got you covered with roasted turkey off the bone, giblet gravy and even Thanksgiving cupcakes. Sullivan's SteakhouseExecutive chef Jesus Garcia offers side dishes like Sullivan's horseradish mashed potatoes and sweet potato casserole. THANKSGIVING DAY MEALS (DINE-IN & TO-GO) Chicago Firehouse RestaurantStop in for brunch, or take your meal to go with Chicago Firehouse's $195 Thanksgiving dinner that feeds up to eight people. Chicago QDine in and enjoy a classic holiday dinner at this Gold Coast joint, or carry out a Turkey Day meal for up to 14 people. Di PescaraNot only can you sit in for sliced roasted turkey and creamy mashed potatoes, but Di Pescara is also offering meals for pick-up—and delivery! Lawry's the Prime RibHave your turkey or prime rib carved tableside this holiday season, or take an order of Lawry's family-style Thanksgiving day entrees and sides to go. Mercat at La PlanxaMercat has a $220 suckling pig package that feeds six to eight people to eat in-house or take to go. The meal includes sides such as herb-roasted fingerling potatoes and rosemary white beans. Park GrillTake your pick between items off Park Grill's regular menu or added Turkey Day items that don't stray too far from tradition. You can also pick-up a $275 to-go feast when you order by Nov 15. PorkchopPorkchop is smoking full pigs and turkeys for Chicagoans in need of a little help this holiday season. They're also offering a $19 prix fixe menu on Thanksgiving Day featuring a bourbon pecan cornbread stuffing. Prairie Grass CaféEat chef Sarah Stegner's traditional turkey dinner in-house or at home. Sixteen at Trump International Hotel & TowerAs part of its full day of festivities, Sixteen offers a brunch complete with traditional Thanksgiving foods and a raw bar; dinner will stay true to Sixteen's regular menu. WildfireBring the whole family into Wildfire for spit-roasted turkey, or take a party platter to-go. THANKSGIVING MEALS (DINE-IN) AcadiaAcadia's fresh take on a traditional Thanksgiving meal includes turkey roulade with lobster stuffing and a chocolate tart with caramelized maple ice cream. Ann SatherFor $19.95 you can give thanks at Ann Sather's, where they're doling out a traditional turkey dinner with your choice of homemade pumpkin or apple pie for dessert. BalsanThe second course in Balsan's four-course holiday meal is all about seafood—a choice between brown butter braised diver scallops or whiskey-and-coriander cured Skuna Bay salmon. Bar UmbriagoAre you thankful mostly for alcohol? This brunch, notable for its $15 bottomless mimosa special and $6 Bloody Mary bar, is for you. (It's also available on Black Friday.) Benny's Chop HouseBenny's couples a $34.99 traditional Thanksgiving dinner with its extensive wine list. Big JonesBig Jones stays true to its mission on Thanksgiving, offering a $48 three-course meal based on historic Southern recipes (such as wild rice pie). Bistrot MargotThis Old Town stalwart offers a traditional three-course prix fixe for adults, as well as a two-course prix fixe for children. Brasserie by LMThe three-course turkey dinner at Brasserie includes butternut-squash-and-apple soup and pumpkin pie. Brasserie 54 by LMRoasted turkey? Glazed ham? Sure. But B54 also includes a third option: seared scallops with roasted root vegetables and brown butter. Café des ArchitectesWhat's on the $19 kid's menu besides organic turkey? Buttermilk pancakes. (On the three-course, $62 adult menu, the pancakes are absent.) Chef O'Neills Restaurant & PubIt's possible to have Turkey Day without the turkey: Chef O'Neills is offering a $22 root vegetable gratin for vegetarians who choose not to order the braised lamb shank or Cajun spiced prime rib. Chicago Cut SteakhouseKids age two and under eat free at this classic Thanksgiving prix fixe. Coco Pazzo CaféSpend Thanksgiving under the Tuscan sun with Coco Pazzo Café's $42 four-course menu inspired by the Italian shores. David Burke's PrimehouseDavid Burke is putting a steakhouse spin on the traditional Thanksgiving dinner by offering shortrib dumplings, peppered wagyu carpaccio, dry aged ribeye, brioche bread pudding...and a take-home package of leftovers for the next day. DeleeceWe usually recommend heading to this Lakeview restaurant for brunch, but this Thanksgiving they're offering a three-course feast that just might live up to the standard set by their breakfast pasta. Filini Bar and RestaurantAt this swank Italian spot, you'll choose between the über traditional roasted turkey breast with all the fixings and a less predictive pan-roasted whitefish. The FlorentineThe Italian influence in this holiday dinner is apparent in dishes such as risotto with chanterelles and burrata with radicchio. Hash House A Go GoWe're not too sure what to think about Hash House's stuffed turkey meatloaf. So if you aren't willing to make the non-traditional gamble, you can always fall back on their maple-glazed pork tenderloin or old-school roasted turkey breast. ItaliAsiaThis Thanksgiving buffet features both Asian and Italian dishes such as chicken won ton soup and wild mushroom tortellini salad. Kanela Breakfast ClubKick Thanksgiving off with brunch here, which offers $10 breakfast burgers, $10 french toast flights and $18 bottomless mimosas, and you'll be full and drunk by dinner (not necessarily a bad thing!) Kit Kat Lounge and Supper ClubBring in a canned good donation on Nov 21 or Nov 22 and receive 50% off Kit Kat's holiday prix fixe menu, complete with a pumpkin martini. LM BistroThis $45 three-course French holiday meal features vegetarian menu options such as whole-wheat crepes with braised kale. Lockwood RestaurantMaple honey molasses roasted turkey, sweet potato marshmallow gratin and buttermilk mashed potatoes are three ways thePalmer House Hilton's restaurant ups the ante when it comes to traditional Thanksgiving dining. Markethouse Restaurant and BarOne dish in particular endears us to chef Scott Walton's Thanksgiving feast: lavender buttermilk biscuits with Black Mountain huckleberry jam. Michael Jordan's Steak HouseMJ's mostly sticks to its everyday menu for T-Day, and offers a few holiday-specific specials on the side. Mity Nice Bar & GrillMity Nice dishes out macaroni and cheese to celebrate the holiday, along with butternut squash ravioli and maple glazed salmon. QuayThe special holiday menu here includes items such as sweet potato pavé with maple syrup and applewood smoked bacon with brussel sprouts. Reel ClubReel Club's usually all about midscale seafood, but this Thanksgiving, chef Chris Evangelides cooks spinach-parmesan stuffed mushrooms and mashed sweet potatoes to compliment his turkey feast. Rosebud on RushBrunch at Rosebud on Rush is highlighted by peppercorn smoked salmon and omelets, plus the restaurant will be open on Thanksgiving Day with a classic $24.95 holiday menu. Sam & Harry'sLooking for something other than turkey this year? Help yourself to slow roasted prime rib, mashed Yukon Gold potatoes and sautéed baby spinach. Shaw's Crab HouseInstead of stuffing your face with stuffing, chow down on steamed snow crab and Maine lobster tails at Shaw's Grand Crab Buffet. SUSHISAMBA rioPut down the pinot noir and pair a glass of sake with SUSHISAMBA's braised short rib gyoza, mojo-roasted organic turkey and kabocha cheesecake. Tavern on RushHere they're offering a classic three-course Turkey Day menu for—don't ask us why—$41.94. TroquetTroquet's special turkey roulade, paired with roasted garlic smashed potatoes, is available on the from 5pm-midnight, just in case you need a Thanksgivingish midnight snack. WAVETo be honest, we're most excited about WAVE's non-turkey menu options, like the grilled steak, house-made ricotta ravioli and organic Shetland salmon. ZED451To end a classic Turkey Day dinner, executive pastry chef Kate Milashus will be whipping out $10 pumpkin cheesecake with brown sugar pecans and $10 s'more pies with peanut butter and banana ice cream. BLACK FRIDAY PROMOTIONS Barrio Urban TaqueriaDeals, steals and free dessert? It's happening here, where flashing your shopping receipts earns you a complimentary tres leche, flan Napolitano or homemade sorbet. Carmine'sCarmine's offers a classic turkey dinner on Thanskgiving, but we're more interested in the $15 bottomless mimosa special, peppercorn smoked salmon and eggs benedict served the day after. KoiFrom Nov 23–Nov 25, customers receive a $10 gift card with any purchase of a meal a here. TavernitaTavernita will serve Thanksgiving leftovers in the form of paella for the entire week after the holiday. THANKSGIVING PIE GUIDE Three bakeries offering Thanksgiving pies for pick-up: Blue Sky BakeryPumpkin, cranberry-apple, chocolate-pecan, pumpkin cheesecake. Café SelmariePumpkin, pecan, apple, etc. Sweet CakesDutch apple, pumpkin, poached-pear-cranberry gallette. Served with two pints of Black Dog Gelato.