Valentine's Day 2012 restaurant guide
No one wants to be left alone on February 14th, so bring your friends, your family, or your fling to one of these special Valentine's Day offerings. (Reservations are required or suggested for almost all).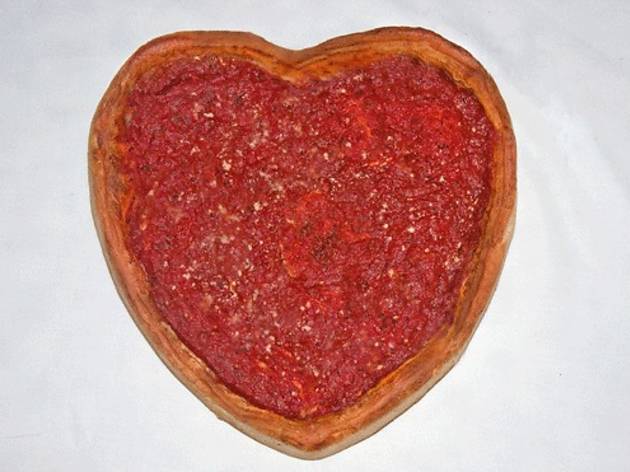 Dinners
312 Chicago
The romantic "Menu di San Valentino" by chef Luca Corazzina offers patrons a prixfixe menu of seared scallops, braised pork shoulder with white truffle oil, Alaskan halibut with fava beans, white sponge cake rolled with raspberries and other Italian dishes. $50 per person. Additional $15 for wine pairing. 5–11pm.
Aria
With tantalizing names like "Forbidden Love," "I Like it Hot and Spicy," and "Love Bombe," the five-course menu at aria restaurant this Valentine's Day is sure to fulfill your "Wild Fantasies," at least in a culinary sense. $85 per person. Additional $25 for wine pairing. 5–11pm.
Atwood Café
Inspired by the roaring 20s, chef Derek Simcik delivers a menu of oysters Rockefeller, lobster thermidor, filetwith carrots and turnips and tartetatin. $48 per person. Additional $20 for wine pairing. 5–11pm.
Barrio Urban Taqueria
Celebrate Valentine's Day by sharing the "El dia del Amor y Amistad" menu and the "Bubbly Sangria del Amor" with your loved one or even your kinda-like-but-not-quite-sure-how-I-really-feel one. $60 per couple. $9 per cocktail. 5–11pm.
The Bedford
Guests can enjoy a special menu featuring a tasting of four varieties of oysters, scallops with bacon foam and braised short ribs with lingonberry and basil. While the usual Tuesday night oyster and champagne special is not available, with each bottle of Henriot Champagne, a complimentary half dozen oysters and a truffle dessert are given to the table. 5pm–2am.
Big Jones
Bringing authentic New Orleans flavors, Big Jones will offer a special spoonbread during their five-course tasting menu. And vegetarians rejoice, a five-course vegetable menu is also available. $69 per person. Additional $30 for beverage pairings. 5–10pm.
BLT American Brasserie
On a special three-course menu, choices include lobster bisque, roasted beet salad, chili-rubbed salmon, grilled hanger steak, chocolate-coconut marquise with rum ice cream and blood orange tart with wildflower honey. $55 per person. 5:30–10pm.
Bombay Spice Grill & Wine
For couples not afraid of a little extra spice and wanting to avoid the standard steak and chocolate cake route, chef SunilKumar offers a four-course meal of Indian delicacies with a champagne toast. The 25 for $25 wine list has bubbly from around the globe. $59.95 per couple. 5–10pm.
C-House
Top Chef Master Marcus Samuelsson's restaurant features a four-course tasting menu of sunchoke soup, Arctic char with polenta, steak and red wine–braised dates, and dark chocolate torte with salty pretzels, cherries and mascarpone ice cream. Vegetarian options are also available. $55 per person. 5:30–10pm.
Cantina Laredo
The three-course menu of modern Mexican dishes will keep the mood hot while optional tequila cocktail pairings will make you warm and fuzzy. $35 per person. Additional $15 for tequila cocktail pairings. 11am–11pm.
Custom House Tavern
Starting February 11 to Valentine's Day, Custom House Tavern has a tasting menu for guests to choose their own four-course meals from the à la carte menu. $55 per person. 5–10pm.
David Burke's Primehouse
Starting Saturday Feb 11, chef Rick Gresh will have four days of this prix fixe menu filled with appetizers, entrees and desserts. The table nibbles to start include interesting choices like jerked pork dumplings, Kobe beef sashimi and spice poached shrimp. $75 per person. Discounted champagne also offered. Mon–Thu 5:30–9:30pm; Fri–Sat 5:30–10:30pm; Sun 5:30–9pm.
Deleece Restaurant
Starting with an aphrodisiac salad and ending with chocolate fondue for two, the three-course meal might not raise the bar of originality but with the food's addictive and delicious tendencies, dig into the grilled filet mignon or lobster with poached sole without reservation. $100 per couple. Additional $30 for wine pairings. Fri–Sat 5:30–11pm;Tues 5:30–10pm.
Eduardo's Enoteca
For an upscale twist on dinner and a movie, Eduard's Enoteca is projecting "Annie Hall" and "Roman Holiday" while couples dine on truffle-Parmigiano popcorn and a cola-inspired cocktail. Italian cuisine necessities of wine, salad, pasta, pizza, dessert and more wine are included as well. $55 per person. $35 for wine pairing upgrades. Seatings at 5pm, 7pm and 9:30pm.
Elate
Chef Michael Noll will prepare a three-course meal including parsnip bisque, roasted duck breast or roasted turbot and avocado pannacotta. $55 per person. Additional $30 for wine pairings. 5–10pm.
EPIC
In the four-course meal put forth by chef Mark Pollard, one can expect selections including crab and coconut bisque, pomegranate-glazed pork belly, filetmignonwith lobster mashed potatoes and a chocolate-covered strawberry coupe. $60 per person. 5:30–10pm.
The Florentine
The seasonal à la carte menu by chef Todd Stein is available from February 11–14 and will include tagliatelle pasta with perigord black truffles ($50), oysters with cucumber mignonette ($16) and bucatinicarbonarawith pancetta and duck egg ($14 half order, $26 full order). 5–11pm.and
The Gage
While the food menu is filled with deliciously clichéd options including oysters with jalapeno and scallion ($17), foie gras eclaires ($23) and rack of Australian lamb ($38), don't forget the extensive wine, whiskey and beer listings. Feb 11–12 and 14. 5–11pm.
Geja's Café
For 11 days, Geja's will offer sparkling champagne, live flamenco and classical guitarists and photo keepsakes to accompany its fondue cuisine. Nightly specials include "Love Note Wednesday" on February 8 and "Double Anniversary Discounts" on Monday, February 6. $105 per person. Seatings at 5pm, 7:30pm and 10pm.
Giordano's
Starting February 7 and lasting until V-Day, you can order a signature Giordano's stuffed pizza in the shape of a heart. Heart-shaped pizzas are available for dine-in, carryout, delivery and shipping nationwide. Pizzas start at $17.
Great Street Restaurant
Located in the Renaissance Chicago Hotel, Great Street Restaurant's four course menu is complimented by the parking and bottle of BV wine offered for free. $65 per person. 5–9pm.
Henri
Stepping outside the prix-fixe box without losing a cliché, chef Dirk Flanigan presents modernizations of classic romantic meals. Offerings include oysters with basil and chili ($18), quail salad with endives and truffle ($16), roasted Hawaiian Ono ($33) and Chateaubriand of venison for two ($85) as well "Big Love by the Glassful" pours of specialty wines. Feb 11–12 and 14. 5–11pm.
Hotel 71
In the 39th-floor ballroom of this boutique hotel, guests can take in the panoramic view of the city with a champagne toast and bottle of wine as well as a four-course dining experience. $200 per couple.
Hoyt's
Chef Gabriel Kolofon'sreimagined tavern fare culminates in a four-course menu including butternut squash soup, cilantro-crusted lamb chops and a dessert called the "chocolate experience." $60 per person. 5–11pm.
Kit Kat Lounge
From February 10–14, Kit Kat is offering a four-course prixfixe menu. Tomato bisque, eggplant risotto, lamb, filet and a chocolate cake for two are all available for consumption. If libations are needed to smooth out the night, see below for the liquor listing. $45 per person. 5:30pm–2am.
Klay Oven
The three-course meal by chef Hiran Patel will fill you with spices from India with offerings such as samoa appetizers, palak paneer, and galub jamun. A glass of prosecco is provided to wash it all down. $25 per person. 5:30–9:30pm.
Lawry's the Prime Rib
Lawry's has a three-course Valentine's menu featuring Lawry's original salad, followed by a choice of either roasted prime rib carved tableside, salmon with cabbage and bean ragout or pappardelle pasta with porcini mushrooms. A chocolate-and-raspberry linzer torte and coffee or tea are offered for dessert. $99 for two. 5pm–close.
Leopold
The three-course menu of this Belgium-inspired restaurant includes a champagne toast, housemade pierogi with leeks, roasted winter squash with lingonberries and a Belgium waffle with a bourbon butter sauce. $50 person. 5-11pm.
Lockwood
Starting February 10, chef Gregory Elliott will be serving a five-course tasting menu featuring Kumamoto oysters, sea urchin risotto, Rhode Island squid, filetmignon and a chocolate dessert. $85 person. Additional $30 for wine pairings. 5–11pm.
Longman & Eagle
A tasting menu from chef Jared Wentworth includes oyster potage with caviar, carpaccio of squab, Maine lobster, striped bass with sea urchin, lamb with fennel-arugula salad and a chocolate souffle. $85 person. Additional $35 for wine pairings. Seatings at 6:30pm and 9pm.

MarketHouse
Made with local and regional ingredients, the four-course prixfixe menu by chef Scott Walton includes lobster bisque, Chateaubriand (with a 3-day pre-order) and chocolate mousse cake. $65 person. Additional $33 for wine pairings. 5–10pm.
Mercadito
Offering a safe abode for the single folk on Cupid's holiday, Mercadito's "Single and Ready to Mingle" five-course sharing menu is perfect for a group of friends ($55 a person, 5pm–1am). For those in a couple, you and your significant other can learn how to prepare chef Patricio's four-course menu with paired cocktails the day before Valentine's. $75 per person. 7pm.
Mercat a la Planxa
In his festive four-course dinner of Catalan delectables, chef de cuisine Cory Morris will prepare items such as Kobe beef and beet tartare, oysters with lavender cucumber soda and rabbit angolotti. $85 per person. Additional $40 for wine pairings. 5–11pm.
mk
"A tasting lovers' menu or a lovers' tasting menu?" Chefs Erick Williams and Tony Galzin ask this question to couples choosing to enjoy their meal of butter poached Maine lobster, Kobe sirloin, artisan cheeses and dark chocolate semifreddo. $79 per person. 5:30–9:30pm.
Mon Ami Gabi
Oh la la! At this bustling bistro, sit down and enjoy a tartine of mushroom and poached egg with chive aioli, sauteed sea bass in champagne butter sauce and a large slice of the red velvet cake the entire week before Valentine's Day. Mon–Thu 5:30–10pm; Fri, Sat 5–11pm; Sun 5–9pm.
Nana
This organic eatery offers specials with both typical and unique romance-inducing dishes. Beyond the lobster, chocolate, truffles, cherries and champagne, you and your significant other can also enjoy halibut with spicy kale ($28), a duck prosciutto omelette ($10) or popcorn with caramel cakes ($6) depending on your mood for brunch, dinner or dessert. Mon–Tues 9am–9pm; Fri 9am–10pm; Sat–Sun 8am–10pm.
Nightwood
This three-course dinner avoids expected Valentine's fare (no oysters or red velvet cake!) without losing rich tastes such as polenta and black beans or dessert filled with toasted marshmallow semifreddo, dark chocolate and graham cracker cookies that will have you begging for s'more. $50 per person. Mon–Thu 5:30–10pm; Fri, Sat 5–11pm; Sun 5–9pm.
Oceanique
If French-American seafood strikes you like Cupid's arrow, visit Oceanique for a five-course prixfixe menu filled with wild Maine lobster, Scottish organic salmon and special pastry selections from the chef. $95 per person. 5:30–11pm.
Owen & Engine
You and your significant other can dig into three appetizers including buffalo chicken hearts, chilled oysters and a selection of aged, house-cured sausages. $30 for three appetizers, $30 for six cocktails. 5–10pm.
Peninsula Chicago
The Lobby of the Peninsula Hotel welcomes you to find your "perfect pair." With a prix-fixe five-course menu, couples pick pairs of ingredients for each course. Dancing on the lobby's dance floor Friday and Saturday night can burn off some calories post-dinner. $110 per person Feb 10-11, $95 per person on Feb 14.
People Lounge
The four-course dinner of this tapas lounge by executive chef Ralph Steinberg features potato leek truffle soup, vodka-cured salmon, lobster empanadas and traditional Spanish flan. Moet & Chandon champagne offered at $59 a bottle. $29 per person. Sun–Fri 5pm–2am; Sat 5pm–3am.
Rebar
At this sushi and cocktail lounge, couples can order the "Two of Hearts" special including tuna tartare rolls with king crab and 24-carat gold leaf (this is the Trump Tower) as well as a glowing-red cocktail with cherry puree and vodka. $45 per couple. 4pm–midnight.
The Red Canary
With his "Aphrodisiac Menu for Two," chef Daniel Tolentino gives couples dining at the Jazz Era–themed restaurant a chance to share their food as well as the evening together (and perhaps the rest of the night, too). $90 per couple. 5–11pm on Feb 10–11; 5–10pm on Feb 13–14.
Rios d'Sudamerica
This Peruvian restaurant offers a Rio's Gold menu ($50 per couple) or a Rio's Platinum menu ($75 per couple). Both are four-course menus including a bottle of champagne or wine and dessert. 3–10pm.
Quince
Located in the heart of Evanston, Quince offers two four-course menus, one vegetarian featuring a stuffed-sunchoke-and-root-vegetable wellington and one for lovers of lobster and smoked venison. $70 per person. 5:30–9:30pm.
Sabor Saveur
With Mexican ingredients and French techniques, this four-course meal includes a soup, appetizer, entree, dessert and sparkling wine. The grilled duck with fig sauce sounds especially appetizing. $45 per person. BYOB. 5–10pm.
Shanghai Terrace
At Shanghai Terrace, ingredients are paired together to create a "double happiness" menu. Menu items include Alaskan crab turnovers and dry-aged beef. $98 per person. 5–11pm.
Signature Lounge
With panoramic views of the entire city, the 95th floor of the John Hancock Building provides a romantic backdrop for your four-course Valentine's meal. Options include mushroom and black truffle risotto, beef tenderloin and a plethora of desserts to share or to hoard. $95 per person. 5–11pm on Feb 11; 5–10pm on Feb 14.
Sixteen
On the 16th floor of the Trump Tower, executive chef Thomas Lents has collaborated with pastry chef Sarah Kosikowski and beverage director Rachael Lowe for a five or eight-course dining menu. $165 per person for the five-course meal, additional $70 for wine pairings. $335 per person for the eight-course meal with wine pairings. 5:30–9:30pm.
South Water Kitchen
Chef Roger Waysok's special Valentine's Day menu is inspired by Midwestern flavors. For interested guests, there will be an "aphrodisiac glossary" explaining the effects of the ingredients on both minds and bodies. 5–10pm.
SushiSamba Rio
For sushi specials this holiday, chef Fernand Navas will prepare black truffle uni ($28), robata-grilled American Wagyu and Maine lobster trio ($48) and a robata-grilled prime filet with crab meat ($32). End with a banana split with coconut mochi ($14) and a pineapple and raspberry cocktail ($11). 5–10:30pm.
Terzo Piano
Whether you want to surround yourself with art almost as beautiful as your dinner date or really need a distraction from them, enjoying a four-course Valentine's Day meal within the modern wing of the Art Institute has its perks. Jazz music is provided by the Mike Frost Project during dinner. $110 for non-members, members save $10. Seatings at 6pm and 8:45pm on Saturday and Tuesday.

Trenchermen
Brothers and chefs Mike and Patrick Sheerin are offering a special five-course preview dinner at Logan Square Kitchen for Valentine's Day weekend before they open to the public. $120 per person. Sunday seating at 7:30pm; Monday seatings at 5:30pm and 8:30pm; Tuesday seatings at 5:30pm, 7:30pm and 9:30pm.
Uncommon Ground Edgewater
The three-course meal featured at this log-cabin chic location consists of apple-cranberry elk sausage with poached bacon, sweet potato gnocchi with caramelized turnips and blood orange panna cotta. $40 per person or $120 per couple for additional bottle of champagne and after dinner barista service.
Vincent
Chef Chrissy Camba's three-course menu will feature duck-leg confit, Indonesian spice–marinated tofu, foie-grastorchon and more. 5:30–10pm.
ZED451
Start with a champagne toast before dinner, then move on to chef Joe Lallave's asparagus bisque, Maine lobster and a chocolate caramel trio. $48 per person. 5–11pm on Feb 11, 4:30–9:45pm on Feb 14.
Drinks
Anti-Valentine's Pub Crawl
On February 11, anyone wishing to avoid the clichéd hot spots and make a difference this holiday can participate in this Southport Avenue pub crawl. Visit Schubas, Southport Lanes, Justin's Bar, Toon's Bar & Grill and Mystic Celt, feeling like a hero for supporting a good cause. $10 donation for the Make-a-Wish Foundation. Starting at 2pm.
C-View
Located on the 29th floor, the beauty of the skyline will be rivaled by the craft cocktails. For $12 you and your sweetheart can sip on drinks like the "Ain't She Sweet" with prosecco and raspberries or the "Some Like It Hot" with jalapeno and strawberries. Feb 10-11, 17-18. 5pm–2am.
The Franklin Tap
At Franklin Tap, enjoy usual Valentine's Day flavors with an adult twist. Replacing chocolates and strawberries with Young's Double Chocolate Stout ($4) and Timmermans Strawberry Lambic ($5) is easy enough on the wallet, if not the liver, to load up on chef Tim Dowling's full menu as well. 11am–midnight.
Kit Kat Lounge
For January and February, the Kit Kat Lounge is featuring a new martini menu. The "Love Potions of the Gods" menu spotlights gods and goddesses of love and lust to set the Valentine's Day mood. $13.50 each. Half-price on Feb 13. 5:30pm–2am.
Sweets
deca
The kitchen of deca at the Ritz-Carlton will be full of couples making whoopie (pies, that is) on Valentine's Day. With champagne and horsd'oeuvres to start, this hands-on class will teach attendees how to make the trendy treat. $25 per person or $40 per couple. 6pm on Feb 11 and Feb 14.
e.leaven Food Truck
Forget a sweet for your sweetie? With e.leaven's recently released food truck roaming Chicago, it is easier than ever to pick one up. Sugary options include heart danishes ($2.50), Godiva chocolate mousse cake ($4.50), chocolate or vanilla cake in a cup ($4.50) and more. Available Feb 6–29.
Garrett Popcorn
The classic Chicago treat offers a holiday "Lover's Mix" in a signature pink tin filled with sweet chocolate-covered CaramelCrispTM and spicy CheeseCornTM. The one gallon tin costs $36.50 but order two for $68.50 because you can never really have enough popcorn, can you? Available Feb 1–15.

Logan Square Kitchen
The third annual Valentine's Day "Pastry Market" features an array of vendors offering sustainable, vegan, gluten-free, chocoholic-friendly and other kinds of treats. Confirmed attendees include Celestial Kitchens, Fritz Pastry, Mayana Chocolate, Mess Hall & Co., Puffs of Doom, Rue de la Patisserie, Salted Caramel, Through the Liquor Glass,Tushiya Sweets & Treats and Veruca Chocolates. $1 for adults, kids free. Feb 11–12. 10am–3pm.
Magnolia Bakery
The bakery that sparked the world's obsession with cupcakes offers sugar in all your favorite forms this Valentine's Day including cookies, mini meringues, flourless chocolate cake, whoopie cookies with pink buttercream and of course, cupcakes. 7:30am–10pm.
Toni Patisserie and Cafe
Chef Toni Marie Cox challenges your valentine to think outside the box...of chocolates. Instead, enjoy tasty treats like rose-petal petit fours ($3.35), raspberry French silk hearts ($5.25), individual sweetie pies ($5.95) and heart-shaped Napoleons ($5.75), among other Valentine's classics. Prices vary. 7am–7pm.
Does your restaurant, bar or bakery have a Valentine's Day special? Submit it to sslykhous@timeoutchicago.com.