A conversation between two Chicago LGBTQ activists in honor of Pride Month
With Pride month upon us, veteran LGBTQ party mavens talk about claiming space and cultivating community.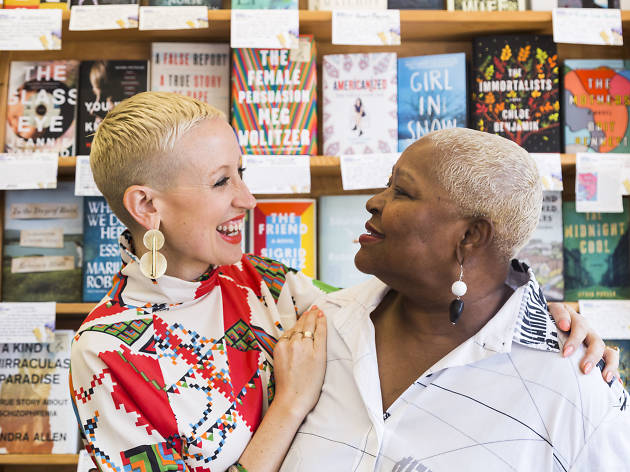 As Chicago's LGBTQ population and allies gear up for its 49th annual Pride Parade on June 24, two Chicagoans who, between them, share nearly half a century of organizing the city's lesbian nightlife scene come together at Andersonville bookstore Women & Children First. Kristen Kaza is a party promoter best known for Slo 'Mo, the monthly "slow jams for queer fam" night at the Whistler; this year, she's also programming the entertainment for the Navy Pier Pride celebration. Pat McCombs, meanwhile, has spent more than 30 years running Executive Sweet, a roaming soiree for queer women of color, and helped stage the Michigan Womyn's Music Festival, a landmark feminist gathering that ended its 40-year run in 2015.
RECOMMENDED: Check out our guide to Gay Pride Month in Chicago
We asked the pair to share their reflections on creating spaces for queer women to connect. McCombs suggested that she and Kaza convene at WCF—a fitting choice, as it's been a long-standing meeting place for the lesbian community since 1979.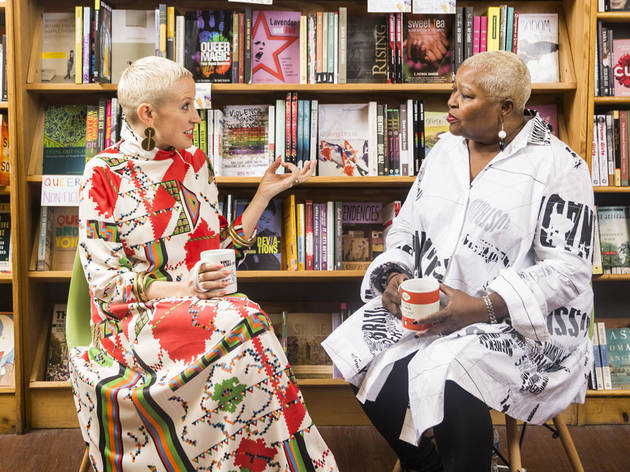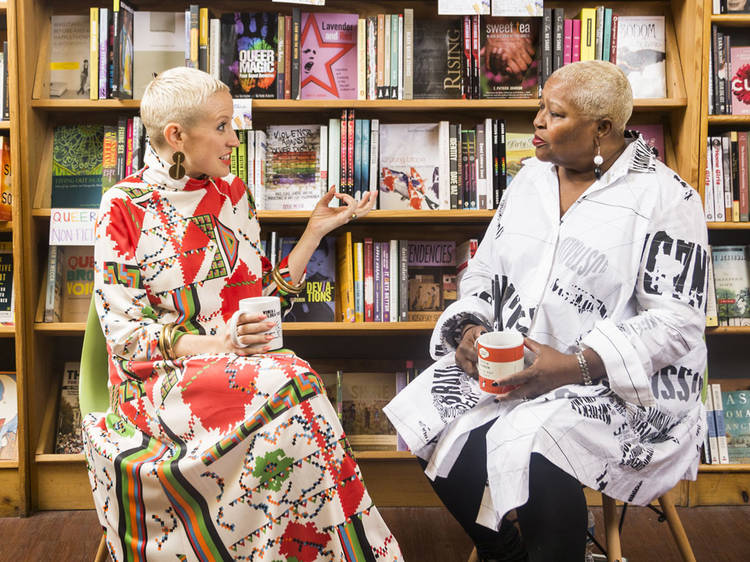 Photograph: Jaclyn Rivas
Kristen Kaza: Do you have any memories from back in the day of coming to Women & Children First?
Pat McCombs: It's just a space where women can come and become educated about ourselves. It's part of our herstory. I saw a flyer in this store, up on the bulletin board—this is how I found out about the Michigan Womyn's Music Festival, which I attended for 38 of the 40 years.
KK: Isn't it amazing how coffeeshops, bookstores and book clubs are such an important part of queer women coming together?
PM: That's right.
KK: Why do you think that is?
PM: I think it has to do with the fact that these are safe spaces where you can feel comfortable and you can be around people of like mind—lesbian, bisexual, whatever you want to call yourself.
KK: There was also Mountain Moving Coffeehouse—the longest-running feminist coffeehouse in the country. What sort of things took place there?
PM: They had various female entertainers. It was a female-only space, women only. They had winter carnivals, different events—a lot of entertainers that I might not have ever seen because a lot of them were white. [Both laugh] But as time went on, they got more women of color.
KK: Was that part of the reason why you started Executive Sweet, to create space for black lesbians?
PM: Yes, because we didn't have a lot of spaces, period. A lot of women of color would come to the North Side to go to the various North Side bars, and we weren't welcome. And so I did a demonstration on a bar [in 1974]. It was a lesbian bar, Augie & CK's. I guess they had their quota: They wanted to let only a certain number of women of color in, especially the black women. If you were to come to the bar with four of your friends, maybe two of you would get in because they asked black women for certain IDs. So, I got with a lawyer by the name of Renee Hanover, who was a popular activist lawyer during that time. She was a personal friend of mine, and I spoke with her and some other white women that I knew.
KK: Okay, so there were some allies.
PM: All my allies, yes. We got together and decided to picket the bar. I just got so enraged, I wanted to do something. I said, "We can't keep taking this!"
We said, "Let's make some picket signs!" And that's what we did, on a Friday night, and I reported [the bar] to the liquor commission.
KK: That's amazing—so badass.
PM: [Augie & CK's] organized a meeting with us and Renee. They had to decide on what IDs they were going to accept at the door.
KK: They changed their policy?
PM: They changed their policy. I was trying to think of a name for our organization. We were sitting around drinking cocktails, and an idea popped into my mind: Black Lesbians Discrimination Investigative Committee. [Laughs] That sounded real important.
KK: Did it change the culture when you did that? Do you feel like it created awareness that shifted people's behavior?
PM: What happened was, most of us were going to the bar because of the DJ—the DJ was a woman of color, Phyl Thomas. We liked the music. Had they kept that white, country type of music they used to play, they would not have had to worry about us.
KK: Right, the music was everything.
PM: After that, I was like, "We can do our own thing." That's how I got involved with Executive Sweet. It was all word-of-mouth, and I partied a lot. I would support anybody's event. With me being involved in the Michigan Womyn's Music Festival, I knew a lot of white girls on the North Side. My parties were usually in a central location. Most of the time, I tried to have them downtown, where the North Side and South Side girls would feel comfortable, in a safe, lit-up, secure area.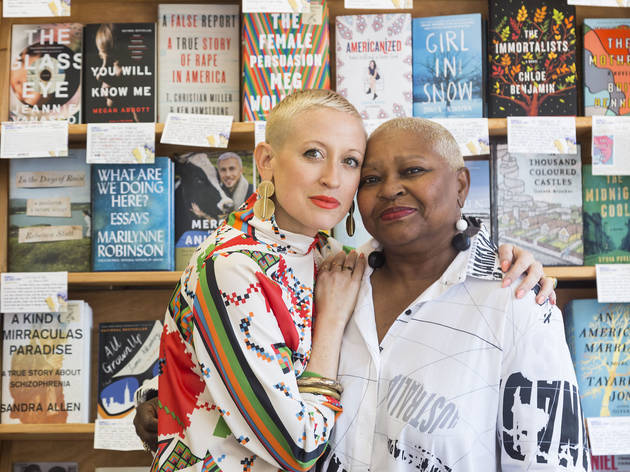 Photograph: Jaclyn Rivas
KK: It's really interesting that you bring that up because, now especially, there's a lot of conversation around safe spaces. Thinking about what's "safe" now, a lot of people think of accessibility for wheelchairs, folks with [mobility issues]; they think of all-gender restrooms—these are the things that come up now. What were some things that you looked for, that you knew you could feel good about welcoming people to?
PM: Well, it had to be close to transportation and parking, so women didn't have to walk too far. I [hired] my own security. I'd let the management know who was coming—that it was mostly women. Most of the time, I'd tell them that we were a sorority. [Both laugh] As time went on, I'd let them know we were lesbians. I needed to know that the bartenders were comfortable with that and that our women weren't going to be verbally abused or threatened. So, I requested female bartenders whenever possible.
KK: Even now, we have such a gender inequity in the bar-and-nightlife scene. What you were doing was very similar to what's happening now with queer parties: We don't have spaces, so we're going and we're occupying a space.
PM: That's right. We were renting a space for the night, and we built up relationships with the management so they would start to understand our needs.
KK: Especially in the early years of Executive Sweet, there were a lot of women who had to be careful, even covert, about how they moved about in the world. So you would do handmade invitations and mail them to women, but sometimes you had to be careful in your language because they were going to homes of women who were married to men.
PM: We never used the word lesbian—never ever. I think my name became synonymous with "lesbian" as time went on. But a lot of women were in the closet, especially in our African-American culture.
KK: How did the promotion process change over time? Did you start to use email or social media?
PM: I tried email, but people wanted that [physical] mail—that and flyers. There's just something about that personal touch, at least to me.
KK: When I first started throwing parties 12 years ago, we used MySpace. I had someone who hand-made flyers, but then we uploaded them. Because of the internet, because of social media, we can feel like we have access to so many different people and things. But what I find is that you can't really replace an in-person connection. I think there's a boomerang happening: We feel this growing acceptance, but people still need their place of belonging with their people.
PM: We're discriminated against so much in life. When you come together with those who are like you, you just want to forget about all that mess outside and just enjoy each other. [With] what we were going through years ago, in terms of just being able to come together, we paved the way for you to be able to do that.
KK: You paved the way. Every time we take our community into a space that's not ours 365 days a year, we have to think through a lot of steps. With Executive Sweet, you were like, "All right, we're not welcome in these spaces. We'll create our own." That need is still there to this day for women of color, for queer folks.
PM: Right.
KK: My advice for people who want to start creating more spaces—because I don't think we can have too many—is to think through the lens of solving a problem. You're going to get your audience because you're filling a need [where something] doesn't exist. I'm here for queer joy and the joy of queer women, especially. If that's our mantra, people will feel that.