"Exhibitionism: The Rolling Stones"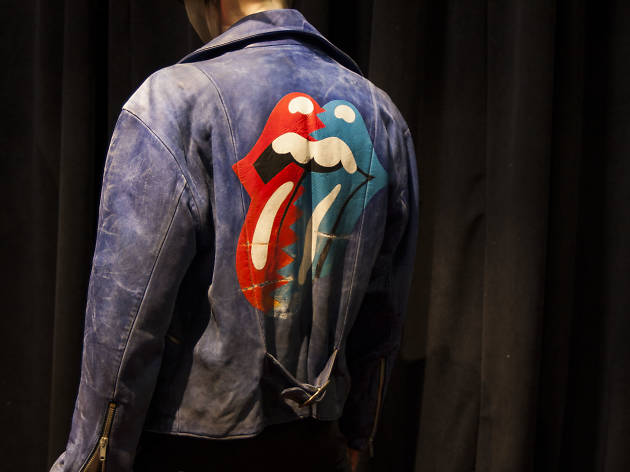 1/6
Photograph: Zach Long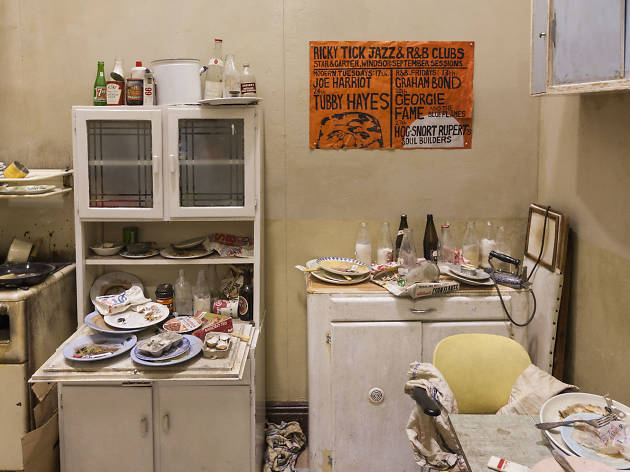 2/6
Photograph: Zach Long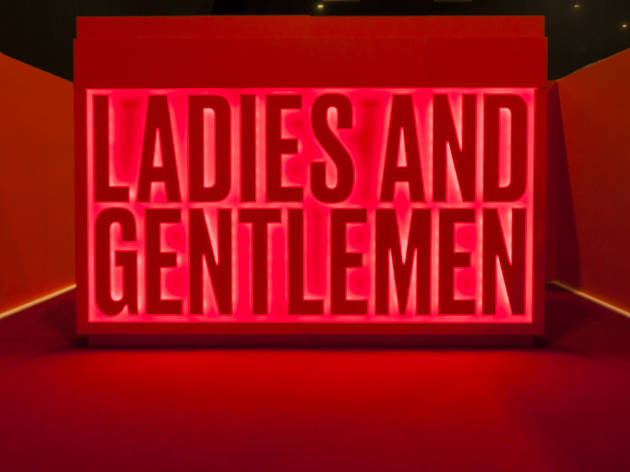 3/6
Photograph: Zach Long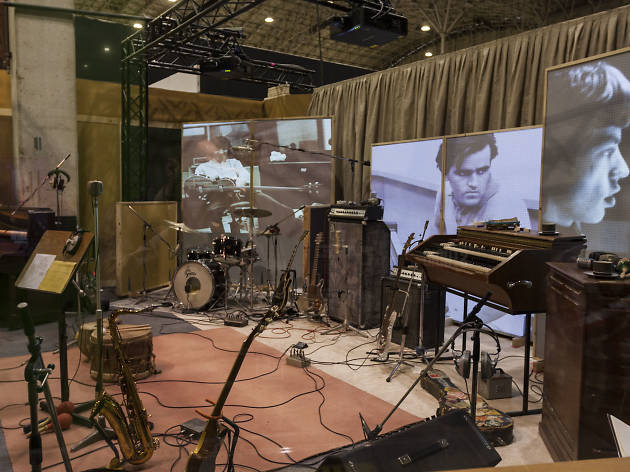 4/6
Photograph: Zach Long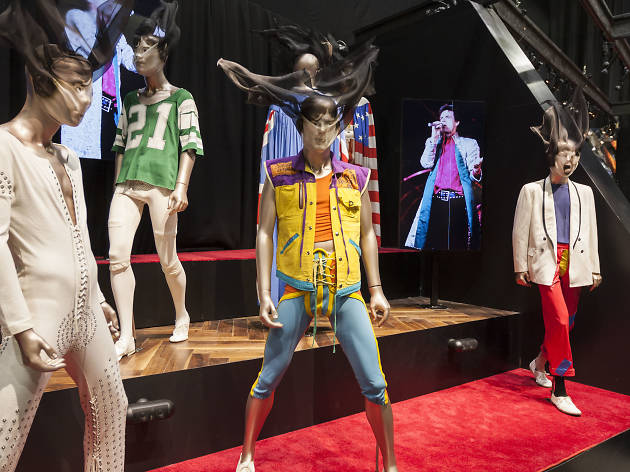 5/6
Photograph: Zach Long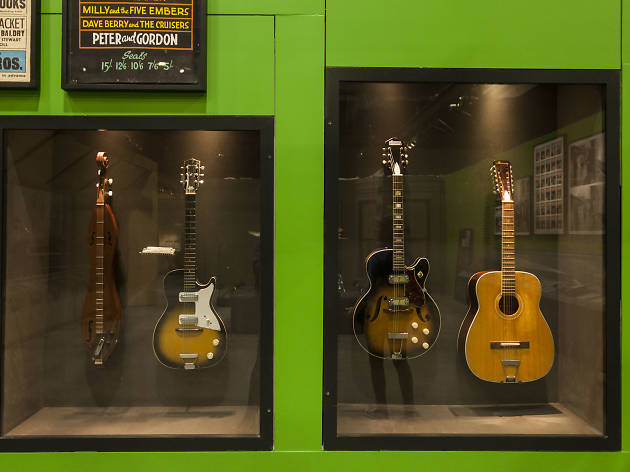 6/6
Photograph: Zach Long
After winding through the corridors of Navy Pier, your first moments in the traveling Rolling Stones exhibit will be sensory overload. Projections cover the walls, a giant illuminated sign proclaims the band's customary "LADIES AND GENTLEMEN" introduction and a wall of TVs screens footage that whisks you through the group's history. Just like the Stones' ornate live performances, "Exhibitionism" applies ample amounts of showmanship to the concept of a rock & roll retrospective.
The flashy tendencies don't stop there, as much of the exhibit concerns itself with the myth of the Stones, depicting key locales from throughout the band's history. You'll walk through a recreation of the dingy, cigarette butt–strewn Edith Grove flat that Mick Jagger, Keith Richards and Brian Jones shared at the group's inception in 1962. Elsewhere, there's a vintage recording studio containing the band's instruments and a modern backstage facsimile, simulating a peek behind-the-scenes of a Stones concert.
Amidst the set pieces are more than 500 pieces of ephemera, from Jagger's original lyric sheets to entire mixing consoles used on the group's recordings, which Stones devotees will appreciate far more than a casual fan. Much of the exhibit explores the Stones as a creative and commercial conduit, highlighting collaborations with designers and artists who created the group's groundbreaking costumes, stage designs and album covers—ideas that could only be funded by one of the biggest bands in the world—plus the story behind the ubiquitous John Pasche–designed tongue logo, which has been slapped on countless articles of merchandise (naturally, you'll exit through a gift shop).
To help navigate the sea of memorabilia, a small touch screen device is given to attendees to provide additional context for the collection and present supplementary visuals and video content. However, the sheer number of interactive elements already present in the exhibition (a station where you can remix Stones songs, a Martin Scorsese–narrated documentary montage and a 3-D movie) turns constantly removing your provided headphones into a hassle. You're better off experiencing the exhibit without the distraction of narration.
As you might expect from an exhibit that was curated under the auspices of its subjects, "Exhibitionism" glosses over the sex and drugs, maintaining its focus on the rock & roll. The only real glimpses of the Stones' infamous debauchery come in the form of a clip of a naked woman aboard the band's plane from the rarely screened 1972 documentary Cocksucker Blues and a guitar on which Richards painted Technicolor flowers while tripping on acid. While the self-prescribed censorship isn't necessarily overt, there's a constant undercurrent of omitted information.
Yes, it's only rock & roll, but a band with the compelling history of the Stones deserves an exhibit that paints a more complete picture, warts and all. As it stands, "Exhibitionism" can be an interesting, if overwhelming, dive into the Stones' mythology and its expansive collection of historical knick-knacks. It also serves as a reminder that when it comes to retrospective exhibits centered around legendary musicians, you can't always get what you want.
Average User Rating
3.5 / 5
Rating Breakdown
5 star:

1

4 star:

0

3 star:

0

2 star:

1

1 star:

0
I am a big Rolling Stones fan and couldn't get enough to see, read and experience at the exhibit. There are so many different pieces of media there that I spent over two hours there. Videos, diaries, gear, artwork and costumes that you can fawn all over.
I recommend going mid-day if you can and bring another fan along. My dad and I were able to reminisce about shows we saw together and he was able to tell me stories of his own Stones' experiences.
It's definitely worth it if you're a fan but look for codes to get in half-price, because cheaper is always better.