Annie Clark of St. Vincent | Interview
Annie Clark of St. Vincent on phenobarbital and a near-death experience on the Portlandia set.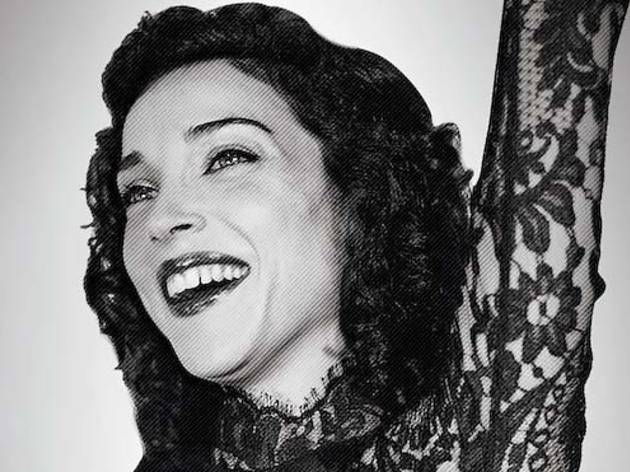 After graduating from her Dallas high school in 2001, Annie Clark joined the sprawling symphonic pop band Polyphonic Spree. Following a spell in Sufjan Stevens's backing band, the guitar prodigy finally went solo, dubbing herself St. Vincent, after the hospital where poet Dylan Thomas died. In the past five years, the 29-year-old has released three acclaimed albums of ornate, romantic and sometimes prickly rock, most recently 2011's Strange Mercy. She spoke from a New York studio, where she was taking a break from recording an album with David Byrne. Her phone wasn't working so well at first.
What's your collaboration with David Byrne like?
It's centered around a brass band. We've been working on it in fits and starts for two years now… Even over…tour…
Hello?
Fuck! Can you hear me?
Now I can.
Like when I shout "fuck!" can you hear me?
When you say "fuck!" I can hear you. Scream that before every response.
[Laughs] Okay.
Your first EP was calledParis Is Burning, which was also the name of a documentary on voguing. Are you a fan of the dance?
I actually just picked up a coffee-table book on the art of voguing [Voguing and the House Ballroom Scene of New York, 1989–92]. The thing that struck me about it was how much the times have changed, in that now with the Internet, a scene like that would've gone mainstream very, very quickly. You would read about it on a blog.
You were a tour manager for your uncle's folk duo, Tuck & Patti.
Well, I was a glorified roadie. I started traveling with them when I was about 16, learning the ropes of the music business. My job a lot of the time was to make sure there were flowers onstage and water and towels.
Any good stories?
I remember distinctly, we were in Moscow and this promoter at this club—I think this must just be the Russian way, to be stiff upper lip—was so rude to us. I thought, Why is this woman being so difficult? We needed dry towels for the dressing room. She goes, [In a thick Russian accent] "Ve have wet towel. Ve do not have dry towel." And I just kind of lost it.
You were onPortlandiathis season, in a revealing outfit.
I was a hot cop.
Did they tell you beforehand you would be in that little silver skirt?
I just showed up. We filmed another scene that got cut—I'm told not because I was bad. It was a little meandering. I got to meet Kyle MacLachlan, and I'm a huge Twin Peaks fan. He looks amazing. He's such a—I don't throw this word around—true gentleman.
And you were catwalking in front of him.
The walking on the boardroom table was difficult. It wasn't a real table, just two slats put together. There were a couple moments I thought I might die on the set of Portlandia.
Strange Mercyhas a song inspired by Marilyn Monroe's diary. What drew you to that?
I definitely have been dealing with alienation in all my records.
Do you feel alienated?
Yeah, certainly, it's something that I've felt. But I often like to write from the point of view of characters. My favorite archetype is the housewife on phenobarbital.
Have you used it?
Do they even make phenobarbital anymore?I think that was a thing of the '50s. No. I've done it the Irish Catholic way and just suffered through.
Femininity is certainly a theme of yours. In the video for "Cheerleader," you're being viewed as an object in a gallery.
I did an interview in German when the record was coming out, and the thing about cheerleading is that it is a uniquely American phenomenon. I was being interviewed, and this guy clearly only knew of cheerleaders through porn. He asks, [In a German accent] "This song is about a gang rape, right?" I was like, "Yeah."
You ran with it.
[Laughs] Yeah. I originally had the lyrics "I don't wanna be a dirt eater anymore." Then I did a Google search and dirt eater is apparently some obscure racial slur. I was like, whoa, I'm gonna veer as far away from that as possible.
And you ended up at gang rape.
Yeah. [Laughs] I just did a loop-de-loop.
St. Vincent plays the Vic Theatre May 11.