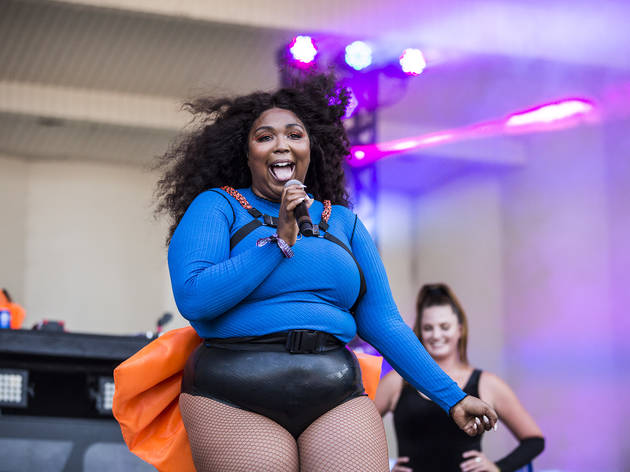 Lollapalooza 2020 rumors and lineup predictions
Wondering what the Lollapalooza 2020 lineup will look like? We've sifted through the rumors and made some predictions.
While it's still a few months away, summer in Chicago will be here before you know it and that means Chicago summer music festivals won't be far behind. We know that Lollapalooza will return to Grant Park from July 30 to August 2, but the festival's lineup is a closely guarded secret. Thankfully, festivals like Coachella, Bonnaroo and Governors Ball release their artist roasters much earlier in the year, giving us a peek at who might join the Lollapalooza lineup. Nobody can say for certain, but there are already rumors swirling about who will headline Grant Park this summer.
After carefully examining other festival lineups, noting suspicious gaps in touring schedules and keeping tabs on artists with new records to promote, we're ready to make some predictions about this year's Lollapalooza schedule. Remember that Lolla's lineup usually isn't announced until the day after tickets go on sale, so you'll probably have to wait until sometime in March to see how accurate our Lollapalooza lineup predictions were.
RECOMMENDED: Check out photos and coverage of Lollapalooza
Lollapalooza 2020 lineup rumors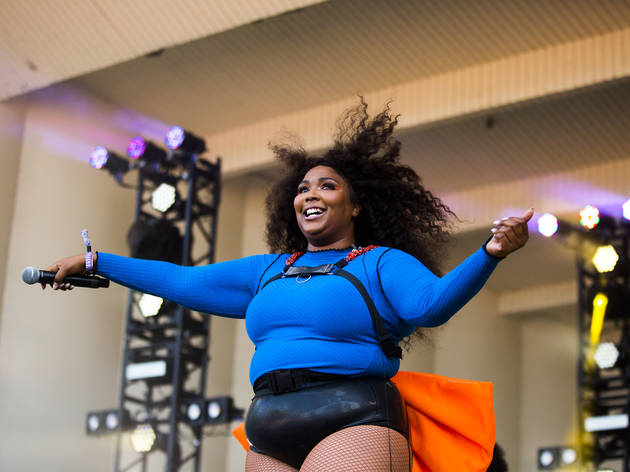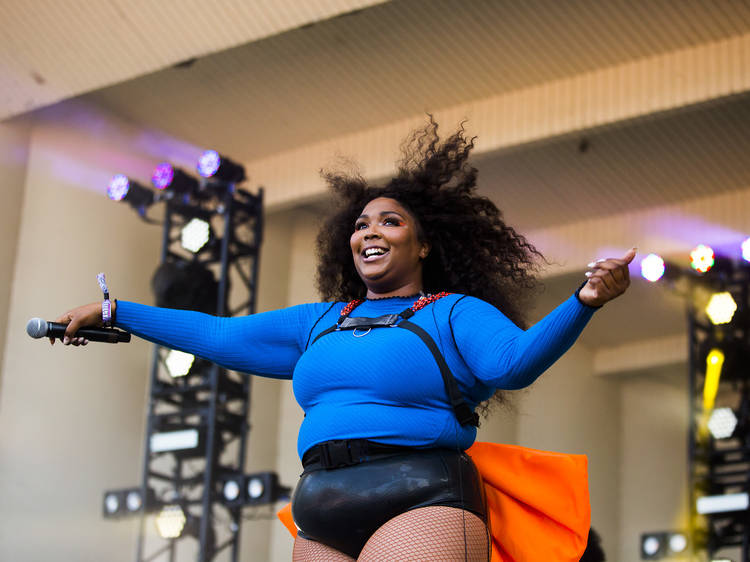 Photograph: Jaclyn Rivas
When Lizzo played Lollapalooza in 2018, she performed at 3:45pm in the Petrillo Music Shell, but that was before "Truth Hurts" blew up and became a chart-topping single. A triumphant return to Grant Park seems almost guaranteed—and this time around, she's a shoo-in for a headlining set, especially since she's already confirmed to close out evenings at Bonnaroo and Osheaga. Just imagine all of the backup dancers she'll be able to afford with a mainstage budget...
Probability: 95 percent
Past Lollas: 2018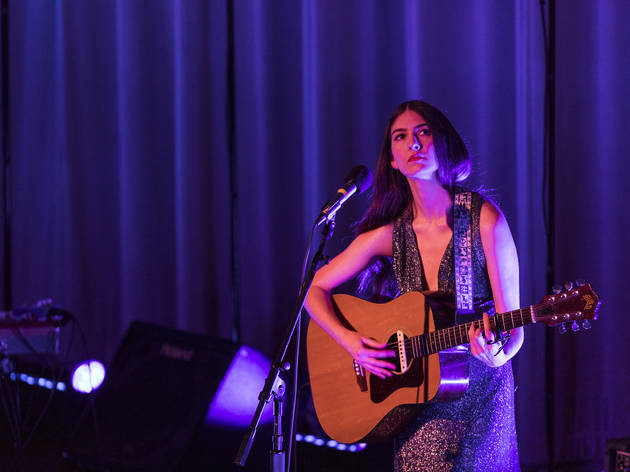 Photograph: Jaclyn Rivas
The only Chicago festivals that Los Angeles singer-songwriter Natalie Mering (a.k.a. Weyes Blood) has ever played are ones organized by Pitchfork, so we expected that she'd return to Union Park this summer. That was until we noticed that her upcoming tour doesn't include a Chicago date and features a suspicious early-August gap between shows in Milwaukee and Columbus. Seems like a good time for a trip to Lollapalooza.
Probability: 90 percent
Past Lollas: None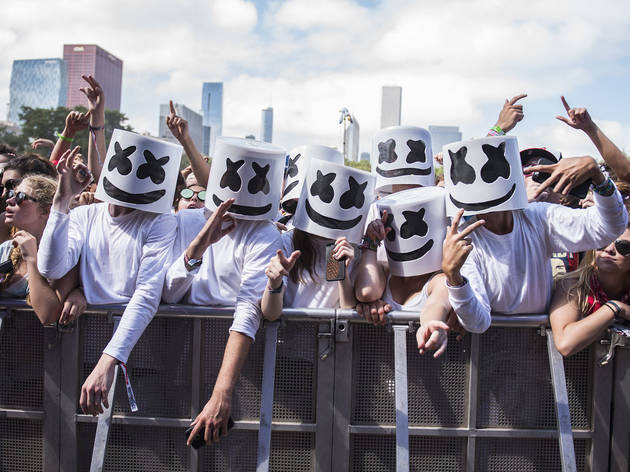 Photograph: Neal O'Bryan
An EDM headliner big enough to hold down a main stage is a prerequisite for a contemporary Lolla lineup, and masked DJ Marshmello more than fits the bill. He's got a recent ubiquitous radio hit under his belt (perhaps you've heard "Happier"?), a couple of confirmed summer festival dates (Hangout Fest in Gulf Shores, AL and Bunbury in Cincinnati, OH) as well as a noticeable hole in his touring schedule on July 30 and 31, ahead of a couple of dates in Toronto and Calgary, Canada.
Probability: 85 percent
Past Lollas: 2016
Photograph: Mikey Joyce
Mashing up elements of hip-hop, synth-pop, dubstep and grindcore, on the surface 100 Gecs seems too weird and niche for Lollapalooza, but their absence on the Pitchfork Music Festival lineup means that they're probably playing Grant Park this summer. Buoyed by the success of singles like "Money Machine" and "Ringtone," the energetic duo is embarking on its first world tour this summer with stops at fests like Coachella and Electric Forest—but no Chicago date. Here's hoping that 100 Gecs and Charli XCX are performing on the same day, so that they can bring their recent remix of "Ringtone" to life onstage.
Probability: 83 percent
Past Lollas: None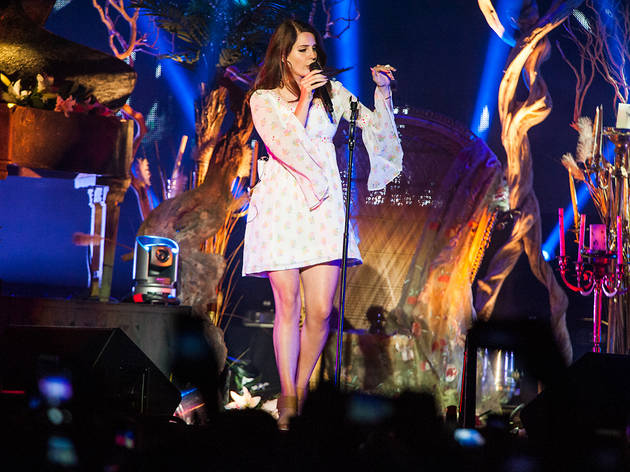 Photograph: Max Herman
Singer-songwriter Lana Del Rey likely skipped Lolla last year because her new album, Norman Fucking Rockwell!, was released a few weeks after the festival. Now that her latest batch of ballads is out in the world, we're guessing that Del Rey will return to Grant Park after headlining Lollapalooza Argentina and Chile. Nevermind that Pitchfork named her recent LP its favorite of 2019—she's simply too big to perform at Pitchfork Music Festival in Union Park.
Probability: 80 percent
Past Lollas: 2013, 2016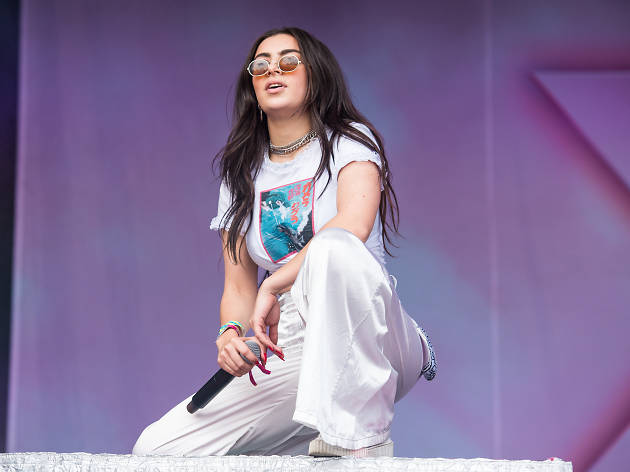 Photograph: Neal O'Bryan
Charli XCX brought her buoyant pop anthems to Pitchfork last summer and got the crowd dancing, but Lollapalooza is increasingly the place to be for pop stars, so we expect she'll make her third appearance at the fest this summer (if she's not busy making more songs for Nintendo). She's another act that's confirmed for Osheaga in Montreal during the same weekend as Lolla, which means that a quick trip to Chicago isn't out of the question.
Probability: 79 percent
Past Lollas: 2015, 2017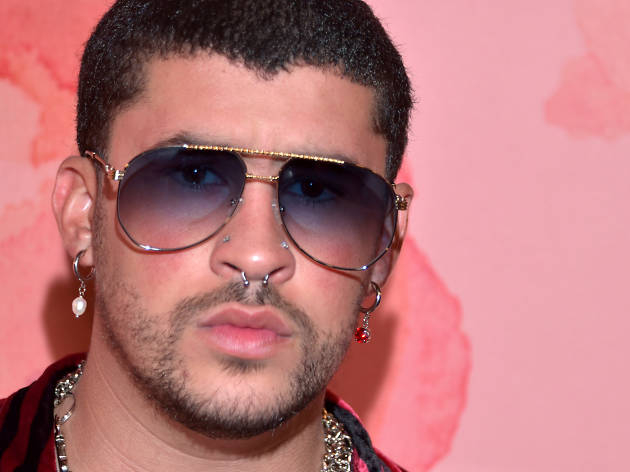 Photograph: CC/Wikimedia Commons/© Glenn Francis, www.PacificProDigital.com
The giant crowd that J Balvin's headlining performance attracted at Lolla 2019 was proof that there's a demand for more Latinx artists among the upper tiers of the summer festival's lineup. Enter Bad Bunny, who teamed up with Balvin on the 2019 album Oasis and has collaborated with the likes of Cardi B and Drake. He's hitting the European festival circuit this summer, and we wouldn't be surpised if he jets back to the U.S. to perform at Lolla.
Probability: 78 percent
Past Lollas: None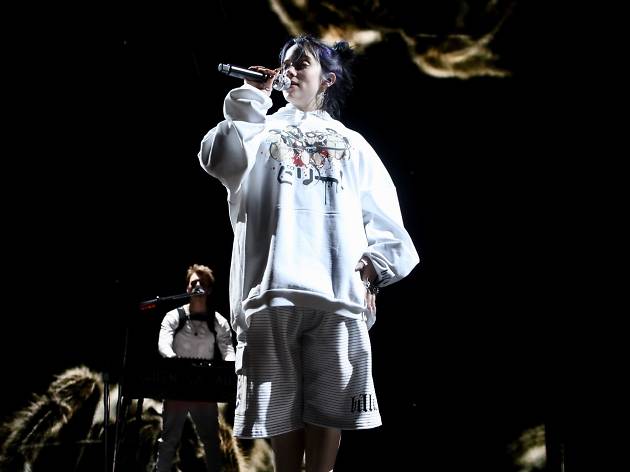 Photograph: CC/Wikimedia Commons/Julio Enriquez
She performed on the Tito's Stage at Lollapalooza in 2018, but Billie Eilish is already primed to graduate to a headlining set on one of the festival's main stages in 2020. The 18-year-old pop star is already confirmed to headline the Paris edition of Lolla in July and her only date in Chicago this year is a gig at the United Center in March that sold out in a matter of minutes.
Probability: 75 percent
Past Lollas: 2018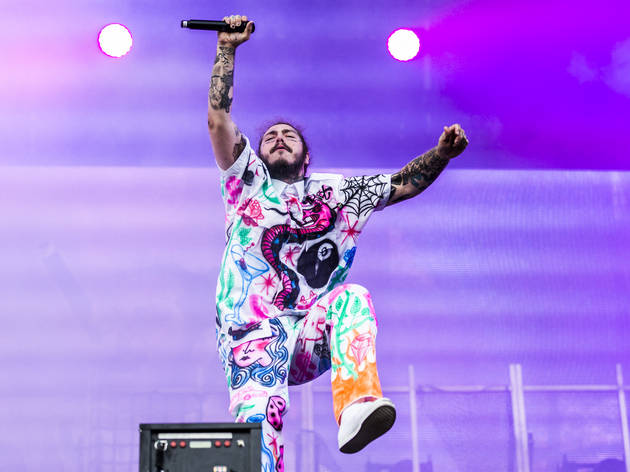 Photograph: Jaclyn Rivas
When he performed on the north end of Grant Park in 2018, Post Malone attracted a crowd that filled the entire field (and then some). The heavily-tattooed rapper's profile has only risen since then—he's got his own line of Crocs and a special edition Bud Light can with his face on it. A return to Lollapalooza seems like a no-brainer, especially because he's already confirmed for the Stockholm edition of the fest in June. This time around, he'll definitely be placed on the main stage on the south end of the park, where there's even more room for his legion of fans.
Probability: 73 percent
Past Lollas: 2018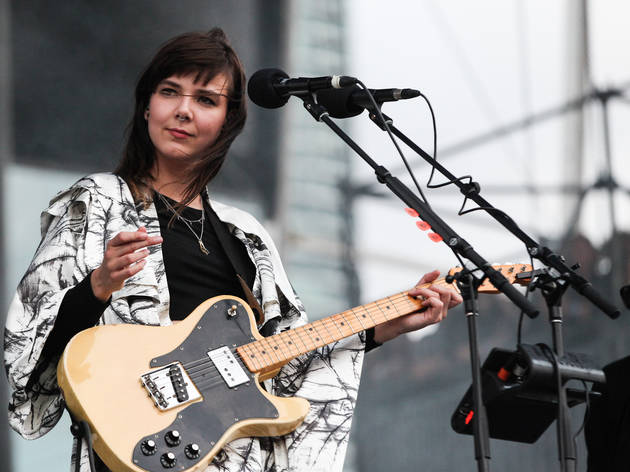 Photo: Hallie Duesenberg
Icelandic pop-rockers and Game of Thrones house band (did you catch their season six cameos?) Of Monsters and Men haven't graced a stage in Grant Park since 2015, so they're overdue for a comeback. The dead giveaway that they'll probably be at Lolla is their presence on the lineup of Osheaga in Montreal, which takes place during the same weekend.
Probability: 70 percent
Past Lollas: 2012, 2015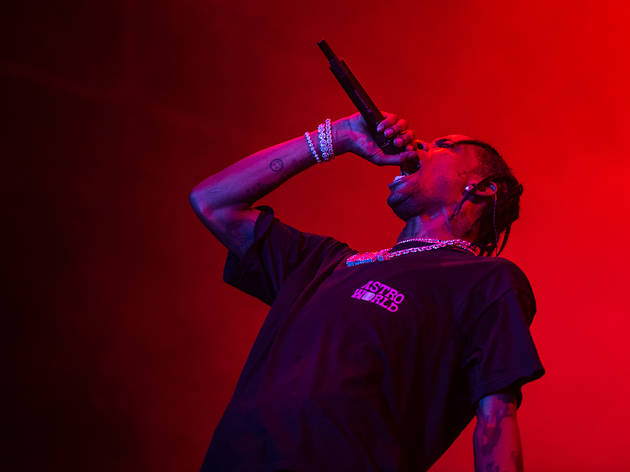 Photograph: Neal O'Bryan
It's only been two years since Travis Scott headlined Lollapalooza on the eve of the release of Astroworld, but the "Sicko Mode" rapper may already be plotting a return to the main stage. Scott is confirmed to headline editions of Lolla in Argentina and Chile, and he's one of the top-billed artists at Coachella.
Probability: 68 percent
Past Lollas: None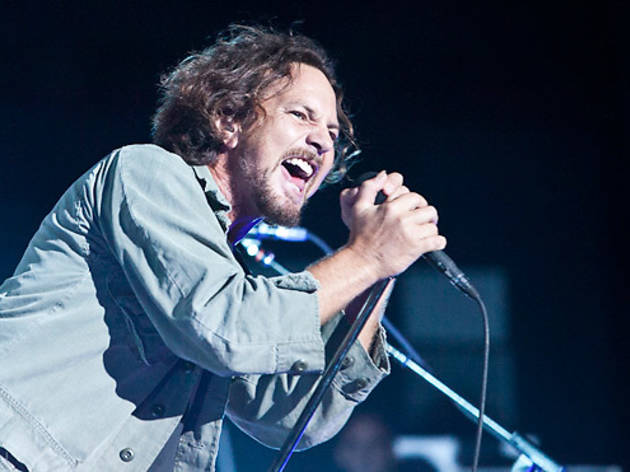 Photograph: Andy Keil
When Eddie Vedder comes to Chicago, he usually likes to perform at Wrigley Field, the home of his beloved Cubs. But 2020 could be the year that Pearl Jam returns to Grant Park (where the group last performed at the fest's 2007 edition), on the heels of appearances at Lollapalooza Stockholm and Paris.
Probability: 65 percent
Past Lollas: 1992, 2007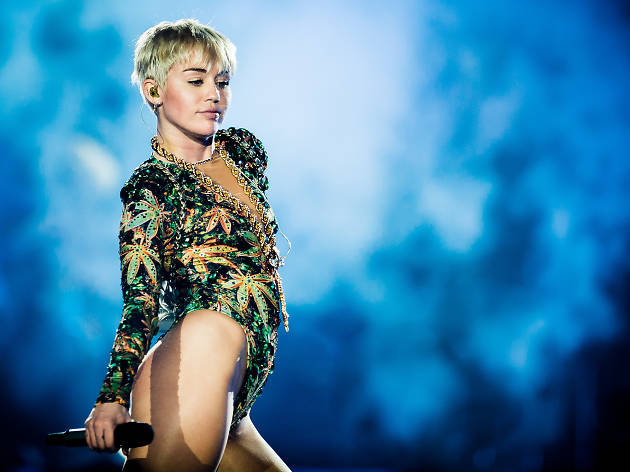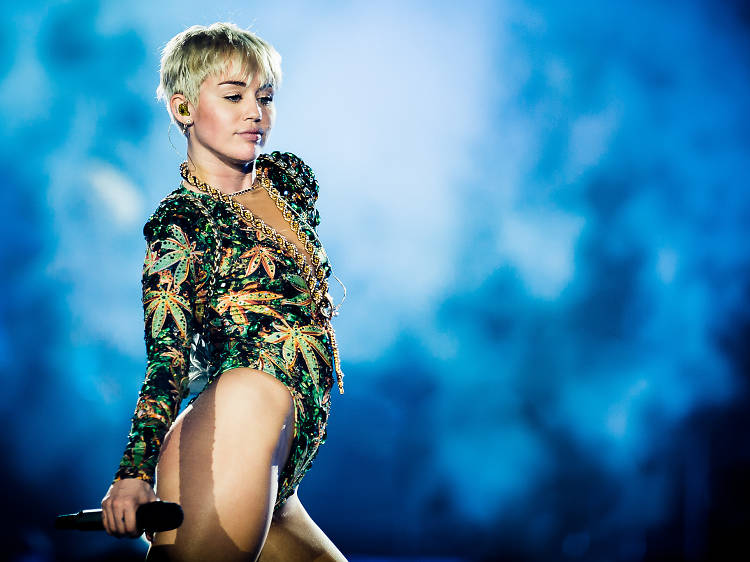 Photographer: cousindaniel.com
Miley Cyrus dipped her toes in the summer music festival circuit last year, with sets at Primavera Sound and Glastonbury in Europe. This year, she seems to be booking some big dates on this side of the pond, with spots on the Bonnaroo and Governors Ball lineups. There's a decent chance that the "Party in the USA" singer could stop by Grant Park, but it will likely depend on the timing of the release of her new album, She Is Miley Cyrus, and the subsequent promotional tour.
Probability: 60 percent
Past Lollas: None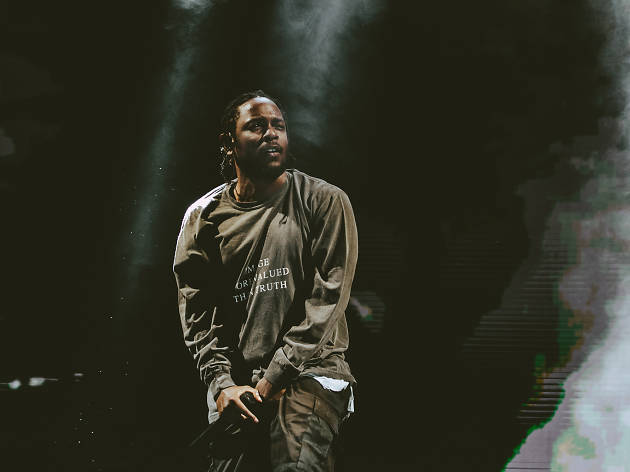 Photograph: Rozette Rago
We were convinced that Kendrick Lamar would headline Lollapalooza last year, but the man behind the Black Panther soundtrack didn't show up on the list of confirmed acts. We're putting him in the running again this year because he's once again rumored to be working on a new record and he'll be performing at Lolla's Stockholm edition in June as well as the Osheaga festival in Montreal (which takes place during the same weekend as Lolla). The last time K-Dot played Grant Park, he essentially served as an opening act for the Postal Service. This time around, he'd be closing out the evening.
Probability: 55 percent
Past Lollas: 2013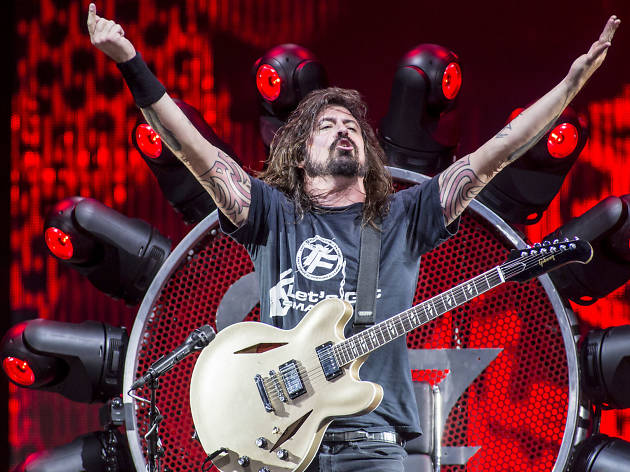 Photograph: Chris Sullivan
This prediction comes with plenty of caveats, the biggest one being that there's no way that both the Foo Fighters and Pearl Jam will be on the Lolla bill, because there's only room for one gigantic legacy rock headliner. While Chicago is conspicuously absent from the act's 25th anniversary "van tour," that might be because Dave Grohl is holding out to play Wrigley Field again this summer—after all, the ballpark is right across the street from the Cubby Bear, where Grohl saw one of his first rocks shows as a kid.
Probability: 50 percent
Past Lollas: 2011
Photograph: Kirstie Shanley
Playing its first shows since 2011, Conor Oberst's band Bright Eyes is reuniting and hitting the road this summer, ahead of the release of a yet-to-be-titled new album. The group's currently touring schedule is pretty much devoid of dates in the midwest and there's a big gap around the time of Lollapalooza, which makes a set in Grant Park possible. But Riot Fest might ultimately be a better fit for Bright Eyes, where they would probably command a headlining slot instead of the late-afternoon set that Lolla would likely assign the band.
Probability: 45 percent
Past Lollas: 2011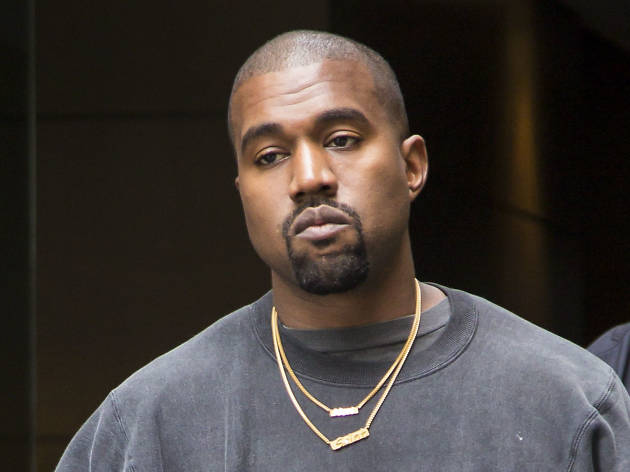 Photograph: Shutterstock
You probably won't hear classic tracks like "Homecoming" or "Runaway," but there's a chance that Kanye West could host one of his Sunday Service concerts at Lollapalooza this summer, much like he did at Coachella in 2019. It wouldn't be the first time the gospel-inpsired live show has landed in Ye's hometown—last September, Northerly Island hosted a Sunday Service that was attended by Chance the Rapper. Or maybe Kanye will insist on performing one of his Biblical operas?
Probability: 20 percent
Past Lollas: 2006, 2008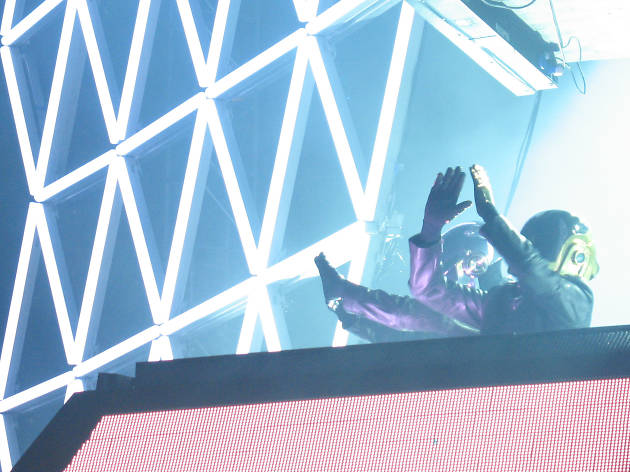 Photograph: CC/Wikimedia Commons/Minyoung Choi
Aside from an art installation that the duo premiered in Paris last year, the French robots of Daft Punk haven't been up to much since appearing on the Weeknd's 2017 album Starboy. While a 2020 comeback for the futuristic musicians would be fitting, at this point there's a better chance of Lollapalooza getting a holographic headlining act than another legendary Daft Punk set.
Probability: 0.000001 percent
Past Lollas: 2007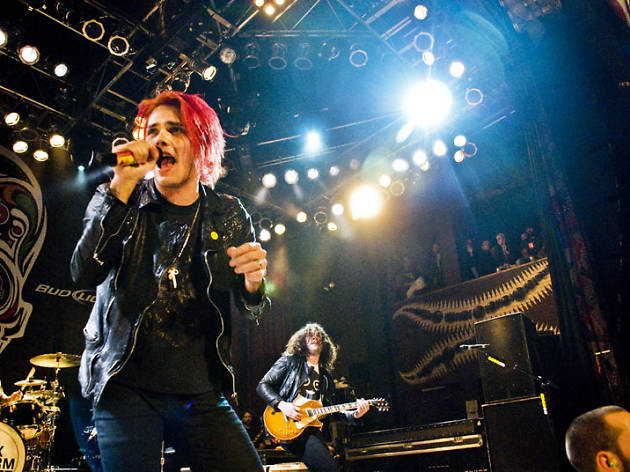 Photograph: Lizz Kannenberg
Sorry, but if you're hoping to scream along to "I'm Not Okay (I Promise)" this summer, you'll have to get a ticket to Riot Fest. Reunited emo rockers My Chemical Romance are playing the Douglas Park festival on Saturday, September 12, which means that you probably won't see too many kids clad in all-black outfits roaming through Grant Park this summer.
Probability: 0 percent
Past Lollas: None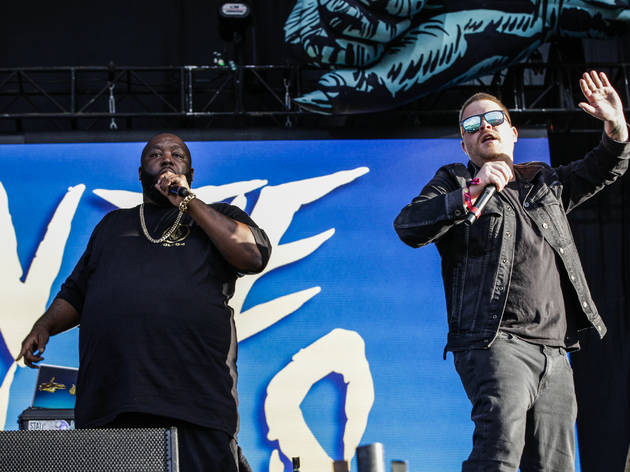 Photograph: Jaclyn Rivas
It looks like nostalgia won out for hip-hop duo Run the Jewel, who will be headlining Pitchfork Music Festival this summer—the festival where Killer Mike and El-P first collaborated all the way back in 2013. You can catch them in Union Park on Saturday, July 18. And don't rule them out for Lollapalooza 2021, because these guys love playing festivals.
Probability: 0 percent
Past Lollas: 2014, 2017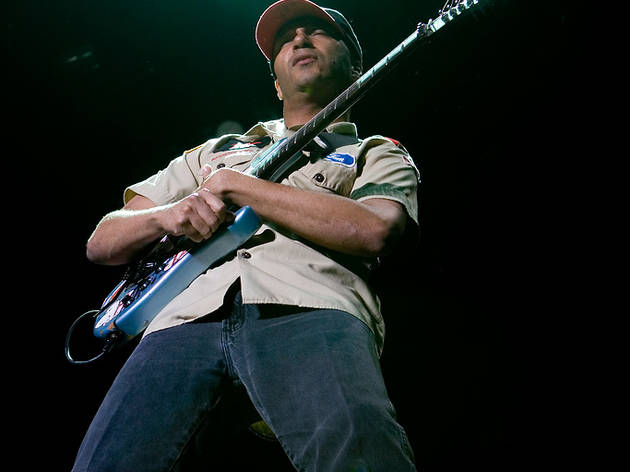 Photograph: Seth Mooney
21. Rage Against the Machine
Wanna hear "Bulls on Parade" live? You'll have to head to the home of the Chicago Bulls to catch the latest reunion of politically-charged rockers Rage Against the Machine. The group recently confirmed that its Public Service Announcement tour will stop by the United Center on May 19, which officially takes them out of the running for a headlining set at Lolla.
Probability: 0 percent
Past Lollas: 1992, 1993, 1996, 2008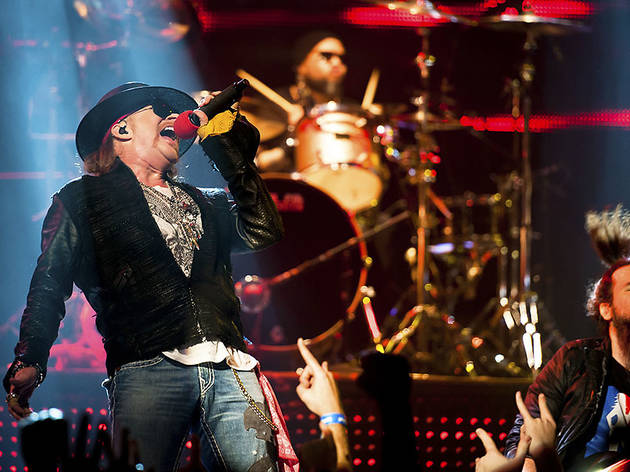 Photograph: Brendan Shanely
Remember when Slash (and his band, the Conspirators) played at Lollapalooza last year? We thought that the top hat-wearing guitarist might show up in Grant Park again in 2020, mostly due to the presence of Guns N' Roses on the lineups for editions of Lollapalooza in Chile, Argentina and Brazil. As it turns out, Axl Rose, Duff McKagan and the gang will be playing Wrigley Field on July 26 instead.
Probability: 0 percent
Past Lollas: None