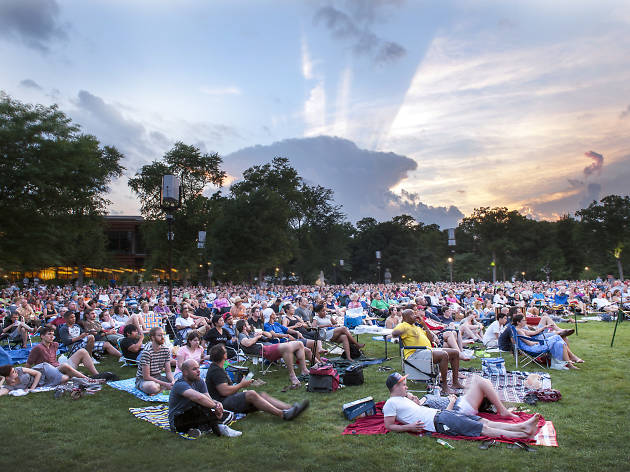 Ravinia Festival 2019: The full lineup and best acts to see
Plan your summer on the lawn at the Ravinia Festival with the complete schedule and our guide to the best shows
Summer is the best season to enjoy pristine Chicago beaches and lounge around the city's many outdoor bars and patios. But the hottest months of the year are also an ideal time to pack a picnic basket, hop on the Metra and enjoy an evening of live music at the annual Ravinia Festival. Each summer, the Highland Park venue presents more than three months of concerts, ranging from reunited classic rock bands to orchestral performances.
As usual, there are a few surprises on this year's lineup, including a set from Atlanta rapper T.I. (July 2), pop singer Kesha (Sep 8), Canadian rockers Nickelback (Aug 13, 14) and an appearance by parody songwriter "Weird Al" Yankovic, who will be accompanied by the Ravinia Festival Orchestra (July 28). Plus, blues fans can catch Chicago legend Buddy Guy, with supporting acts Shemekia Copeland and Blues Traveler on June 14.
There's also the usual slate of classic rockers, including Chicago (Aug 10, 11), Steve Miller Band (July 1), Ringo Starr and the Beach Boys (Aug 3, 4) and an evening of music by Queen, performed by the Ravinia Festival Orchestra (July 7). And of course, it wouldn't be a summer at Ravinia without appearances from the likes of John Groban (June 7), Sarah McLachlan (Aug 12) and Steely Dan (Sep 1, 2). Oh, and former Smiths frontman Morrissey (Sep 14), though his recent string of Chicago cancellations don't give us a ton of faith that he'll actually show up to perform.
If you're more of a classical music fan, dig into the lineup of soloists, many of whom are being accompanied by the Chicago Symphony Orchestra and the Ravinia Festival Orchestra. The CSO is also performing films scores this summer, playing along to screenings of Ghostbusters (July 21), West Side Story (July 12) and On the Waterfront (Aug 9).
Check out the full schedule and then take a look at some of the top concerts on the Ravinia Festival 2019 schedule.
When is the Ravinia Festival?
Ravinia Festival 2019 runs from May 31 through September 15.
Where is the Ravinia Festival?
Ravinia takes place at Ravinia Park (418 Sheridan Road) in Highland Park, Illinois. The easiest way to make the trip from inside Chicago city limits is to take Metra's Union Pacific North Line to the Ravinia Park stop, which drops passengers off directly in front of the venue's gates.
How can I get tickets to the Ravinia Festival?
Go to Time Out's ticket page or the festival's official website to get tickets to each of the concerts listed below.
May
May 31: Ramsey Lewis + Philip Bailey + John Pizzarelli Trio + Ann Hampton Callaway
June
June 1: Tash Sultana + Pierce Brothers
June 1: Concert Dance Inc. (Bennett Gordon Hall)
June 2: Concert Dance Inc. (Bennett Gordon Hall)
June 6: Rob Thomas
June 7: Avalon String Quartet (Bennett Gordon Hall)
June 7: Josh Groban
June 8: Vy Higginsen's Sing Harlem Choir (Martin Theatre)
June 8: John Patitucci + Harlem Quartet (Bennett-Gordon Hall)
June 8: John Prine + Tyler Childers
June 9: Bobby McFerrin & the SpiritYouAll Band + Chicago Children's Choir
June 9: Billy Childs Jazz-Chamber Ensemble + Avalon String Quartet (Bennett-Gordon Hall)
June 11: Lionel Richie
June 12: Lionel Richie
June 13: Lake Street Dive + The Wood Brothers
June 14: RSMI Jazz Grandstand (Bennett-Gordon Hall)
June 14: Buddy Guy + Blues Traveler + Shemekia Copeland
June 15: Lincoln Trio (Bennett-Gordon Hall)
June 16: Ko-Thi Dance Company (Martin Theatre)
June 18: Stile Antico (Martin Theatre)
June 19: Juilliard String Quartet (Martin Theatre)
June 20: Caroga Arts Ensemble + Kevin Coval + Patricia Frazier + Jacob Senz (Martin Theatre)
June 21: Tony Bennett + Antonia Bennett
June 22: Catskill Puppet Theater (Bennett-Gordon Hall)
June 26: The Stars of the Peking Acrobats
June 27: Miriam Fried and Friends (Martin Theatre)
June 28: Little Big Town + Jillian Jacqueline
June 29: Atlanta Drum Academy (Martin Theatre)
June 29: Counting Crows
June 30: Sugarland
July
July 1: Steve Miller Band + Matt Andersen
July 2: RSMI Program for Piano and Strings (Bennett-Gordon Hall)
July 2: T.I.
July 3: Robert Levin (Bennett-Gordon Hall)
July 3: Fred Hersch (Martin Theatre)
July 5: RSMI Program for Piano and Strings (Bennett-Gordon Hall)
July 6: Michael McDonald + Chaka Khan
July 7: The Music of Queen with Ravinia Festival Orchestra + Brody Dolyniuk
July 8: RSMI Program for Piano and Strings (Bennett-Gordon Hall)
July 9: Maxwell
July 10: Lady Antebellum
July 11: RSMI Program for Piano and Strings (Bennett-Gordon Hall)
July 12: Mihaela Martin (Bennett-Gordon Hall)
July 12: Chicago Symphony Orchestra performs West Side Story
July 13: RSMI Program for Piano and Strings (Bennett-Gordon Hall)
July 13: Chicago Symphony Orchestra + Jean-Yves Thibaudet
July 14: Chicago Symphony Orchestra + Jennifer Hudson
July 15: RSMI Program for Piano and Strings (Bennett-Gordon Hall)
July 15: Well-Strung (Martin Theatre)
July 18: Timothy Eddy (Bennett-Gordon Hall)
July 19: RSMI Program for Piano and Strings (Bennett-Gordon Hall)
July 20: RSMI Program for Piano and Strings (Bennett-Gordon Hall)
July 20: Chicago Symphony Orchestra + Paulo Szot + Chicago Children's Choir + Vocality + Highland Park High School Marching Band
July 21: Chicago Symphony Orchestra performs Ghostbusters
July 22: RSMI Program for Piano and Strings (Bennett-Gordon Hall)
July 22: Gautier Capucon + Jean-Yves Thibaudet (Martin Theatre)
July 23: Lyle Lovett & His Large Band
July 24: RSMI Program for Piano and Strings (Bennett-Gordon Hall)
July 25: Richard Goode (Martin Theatre)
July 26: RSMI Program for Piano and Strings (Bennett-Gordon Hall)
July 26: Chicago Symphony Orchestra + Chicago Symphony Chorus + Milwaukee Symphony Chorus + Chicago Children's Choir
July 27: RSMI Program for Piano and Strings (Bennett-Gordon Hall)
July 27: Chicago Symphony Orchestra + Jamie Bernstein
July 28: Renee Fleming + Emerson String Quartet (Martin Theatre)
July 28: "Weird Al" Yankovic + Ravinia Festival Orchestra
July 29: Spider Saloff (Bennett-Gordon Hall)
July 29: Matthias Goerne + Daniil Trifonov (Martin Theatre)
July 30: Marisol Montalvo +William Hobbs (Bennett-Gordon Hall)
July 30: ABBA the concert (a tribute to ABBA)
July 31: RSMI Program for Singers (Bennett-Gordon Hall)
July 31: Sweet Honey in the Rock (Martin Theatre)
August
August 1: Chicago Symphony Orchestra + Yefim Bronfman
August 2: Chicago Symphony Orchestra + Emanuel Ax
August 3: Ringo Starr & His All Starr Band + Beach Boys
August 4: RSMI Program for Singers (Bennett-Gordon Hall)
August 4: Ringo Starr & His All Starr Band + Beach Boys
August 6: Jennifer Johnson Cano + Matthew Polenzani (Martin Theatre)
August 7: Chicago Symphony Orchestra + Denis Matsuev
August 8: Angel Blue + Catherine Miller (Matin Theatre)
August 9: Angel Blue (Bennett-Gordon Hall)
August 9: Chicago Symphony Orchestra performs On the Waterfront
August 10: Chicago
August 11: RSMI Program for Singers (Bennett-Gordon Hall)
August 11: Chicago
August 12: Sarah McLachlan with the Ravinia Festival Orchestra
August 13: Nickelback
August 14: RSMI Program for Singers (Bennett-Gordon Hall)
August 14: Nickelback
August 15: Pentatonix + Rachel Platten
August 16: Shanghai Symphony Orchestra + Alisa Weilerstein
August 17: Laurie Berkner
August 17: RSMI Program for Singers (Bennett-Gordon Hall)
August 17: Chicago Symphony Orchestra + Itzhak Perlman
August 18: Chicago Symphony Orchestra (conductor Itzhak Perlman) + Kian Soltani
August 19: Lucerne Symphony Orchestra + Anne Akiko Meyers
August 20: RSMI Program for Singers (Bennett-Gordon Hall)
August 20: Lucerne Symphony Orchestra + George Li
August 21: Philippe Quint + Marta Aznavoorian (Bennett-Gordon Hall)
August 22: Chicago Philharmonic performing Bernstein's Trouble in Tahiti (Martin Theatre)
August 23: Sting
August 24: Opera for the Young + Super Storm (Martin Theatre)
August 24: Marie-Ange Nguci (Bennett-Gordon Hall)
August 24: Sting
August 26: The Knights + Gil Shaham
August 28: The Knights + guests
August 29: Michael Feinstein + Christine Ebersole
August 30: Jory Vinikour (Bennett-Gordon Hall)
August 30: O.A.R. + American Authors + Rozzi
August 31: Dan Tepfer (Bennett-Gordon Hall)
August 31: Dan Tepfer + Miguel Zenón (Bennett-Gordon Hall)
August 31: Queen Latifah + Common
September
September 1: Steely Dan
September 2: Mames Babegenush (Bennett-Gordon Hall)
September 2: Steely Dan
September 7: Yevgeny Kutik + Randall Hodgkinson (Bennett-Gordon Hall)
September 8: Alon Goldstein (Bennett-Gordon Hall)
September 8: Kesha
September 10: Francesca Dego + Francesca Leonardi (Bennett-Gordon Hall)
September 10: Sir James Galway + Lady Jeanne Galway + Members of the Aizuri Quartet + Welz Kauffman (Martin Theatre)
September 12: Conspirare (Martin Theatre)
September 14: The Performer's School Cinderella (Bennett-Gordon Hall)
September 14: Morrissey
September 15: The Performer's School Cinderella (Bennett-Gordon Hall)
September 15: Fiesta Ravinia, a daylong celebration of Mexican culture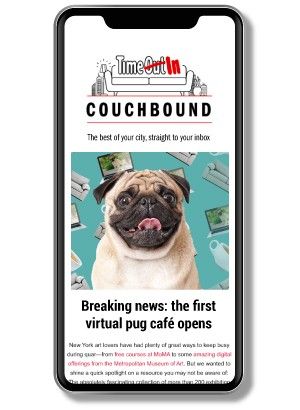 An email you'll actually love
Sign up to our Couchbound newsletter and bring the city to your sofa
Subscribe now