Ravinia Festival schedule and best concerts to see
Plan your summer on the lawn at the Ravinia Festival with the complete schedule and our guide to the best shows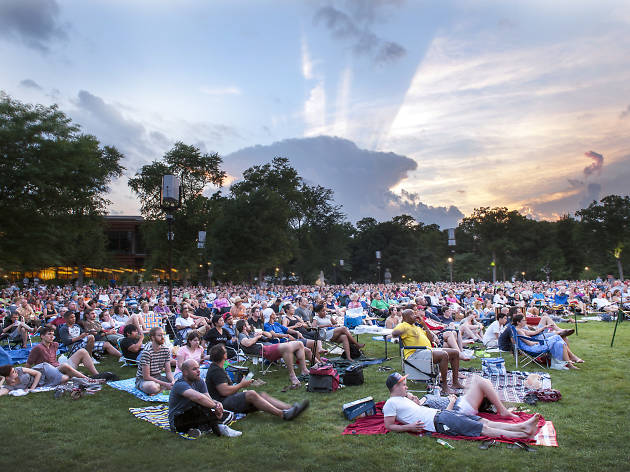 When you think of summer in the city, days spent on Chicago beaches or dinner at an outdoor bar or patio immediately come to mind. The warmer months are also the time for packing a picnic basket, hopping on the Metra and making an excursion to the suburbs for an evening of music at the annual Ravinia Festival. Think of it as a miniature weekend getaway that you can make on a weeknight.
This year's lineup includes some surprises, most notably a performance from early-aughts hip-hop star 50 Cent (Sept 6). There's also plenty of classic rock, including sets from the Who frontman Roger Daltrey (June 23, 25), the Beach Boys (Aug 24) and Yes (Sep 7), as well as an extremely nostalgic '80-themed mini-festival featuring A Flock of Seagulls, Wang Chung, Men Without Hats and more.
If you're more of a classical music fan, you'll want to dig into the lineup of soloists, many of whom are being accompanied by the Chicago Symphony Orchestra and the Ravinia Festival Orchestra. The CSO is also performing the soundtracks to classic movies like E.T. the Extra-Terrestrial, Raiders of the Lost Ark and Vertigo throughout the month of August.
Check out the full schedule and then take a look at some of the top concerts on the Ravinia Festival 2018 schedule.
When is the Ravinia Festival?
The Ravinia Festival 2018 runs from June 1 through September 16.
Where is the Ravinia Festival?
The Ravinia Festival takes place at Ravinia Park (418 Sheridan Road) in Highland Park, Illinois. The easiest way to make the trip from inside Chicago city limits is to take Metra's Union Pacific North Line to the Ravinia Park stop, which drops passengers off directly in front of the venue's gates.
How can I get tickets to the Ravinia Festival?
Go to Time Out's ticket page or the festival's official website to get tickets to each of the concerts listed below.
June
June 1: Los Lobos + Los Lonely Boys + Ozomatli
June 2: Diana Ross
June 3: Loverboy + Survivor
June 7: Stephen Marley + Matisyahu
June 8: Vladimir Feltsman
June 9: Live From Here with Chris Thile
June 10: Anita Baker
June 12: John Fogerty + ZZ Top
June 13: Flying Karamazov Brothers
June 15: Jackson Browne
June 16: Alison Krauss
June 19: Seal
June 20: Juilliard Quartet: Bartok Quartet 5; Dvorak Quartet 11
June 21: Well-Strung
June 22: Jill Scott
June 23: Los Luzeros de Rioverde
June 23: Roger Daltrey: Tommy w/ Ravinia Festival Orchestra
June 24: Janis Ian
June 25: Roger Daltrey: Tommy w/ Ravinia Festival Orchestra
June 26: Apollo's Fire
June 28: Miriam Fried & Friends: Schubert String Quintet; Mozart Piano Quartet 1
June 29: Bryan Adams
June 30: Vy Higginsen's Sing Harlem Choir
July
July 2: Snarky Puppy + Damien Escobar + Jacob Collier
July 3: Ksenija Sidorova
July 8: Buddy Guy + Jonny Lang
July 9: RSMI Piano & Strings: Brahms & more
July 10: Evanescence + Lindsey Stirling
July 11: Zukerman Trio: Brahms First Viola and Cello Sonatas
July 12: Chicago Symphony Orchestra + Marin Alsop + Joshua Bell
July 13: Alan Cumming
July 14: Chicago Symphony Orchestra: Beethoven's 9th Symphony
July 15: Chicago Symphony Orchestra + Audra McDonald
July 16: RSMI Piano & Strings: Timo Andres
July 17: Emerson Quartet
July 18: Chicago Symphony Orchestra + Gustavo Dudamel + Yuja Wang
July 19: RSMI Piano & Strings
July 22: Chicago Symphony Orchestra: "Tchaikovsky Spectacular"
July 23: Leon Fleisher: Bach & Brahms
July 24: Chicago Symphony Orchestra + Makoto Ozone: Gershwin's "Rhapsody in Blue"
July 25: Ray Chen + Julio Elizalde
July 26: Jorge Federico Osorio
July 27: "Late Night with Leonard Bernstein"
July 28: Chicago Symphony Orchestra + Marin Alsop: Bernstein MASS
July 29: A Flock of Seagulls + Wang Chung + Naked Eyes + Men Without Hats + Farrington and Mann + Animotion + Dramarama + Nu Shooz + Gene Loves Jezebel
July 30: Takács String Quartet
July 31: Chanticleer
August
Aug 1: Chicago Symphony Orchestra: E.T. the Extra-Terrestrial
Aug 2: Chicago Symphony Orchestra: Raiders of the Lost Ark
Aug 3: Whoopi Goldberg
Aug 4: Chicago Symphony Orchestra + Vasily Petrenko: Beethoven's Symphony 5
Aug 5: David Foster
Aug 6: Angélique Kidjo's Remain in Light + Femi Kuti & The Positive Force
Aug 7: Thomas Hampson + Luca Pisaroni + Kevin Murphy
Aug 8: Bonnie Koloc + Howard Levy
Aug 9: Chicago Symphony Orchestra + James Conlon: Mozart Piano Concerto 20
Aug 10: Nadine Sierra + Michael Fabiano + Kevin Murphy
Aug 11: Chicago Symphony Orchestra + James Conlon + Nadine Sierra + Matthew Polenzani
Aug 12: Steve Martin and Martin Short w/ The Steep Canyon Rangers + Jeff Babko
Aug 13: RSMI Singers
Aug 14: Michael Feinstein + Kristin Chenoweth
Aug 15: Chicago Symphony Orchestra: Vertigo
Aug 16: Frederica von Stade + Laurie Rubin
Aug 17: Earth, Wind & Fire
Aug 18: Chicago Symphony Orchestra + Marin Alsop + Igor Levit
Aug 19: Chicago Symphony Orchestra + Marin Alsop + Frederica von Stade
Aug 20: Miloš Karadaglić
Aug 21: Joshua Bell: The Red Violin
Aug 22: Cake + Ben Folds
Aug 23: Sugarland + Frankie Ballard + Lindsay Ell
Aug 24: The Beach Boys + The Righteous Brothers
Aug 25: Jason Mraz + Brett Dennen
Aug 26: Trombone Shorty & Orleans Avenue + Galactic + Preservation Hall Jazz Band + New Breed Brass Band + Walter "Wolfman" Washington + Cyril Neville + Kermit Ruffins
Aug 27: Dawn Upshaw + Gilbert Kalish + Sō Percussion
Aug 28: Lyle Lovett & His Large Band
Aug 30: John Hiatt & The Goners w/ Sonny Landreth
Aug 31: Culture Club + The B-52s + Thompson Twins
September
Sept 1: Culture Club + The B-52s + Thompson Twins
Sept 2: O.A.R. + Matt Nathanson
Sept 3: Jethro Tull by Ian Anderson
Sept 4: Sir James Galway
Sept 5: Peter Serkin: Mozart Sonatas K310 & K570
Sept 6: 50 Cent
Sept 7: Yes w/ Anderson, Rabin & Wakeman
Sept 8: Tony Bennett + Antonia Bennett
Sept 11: Lara Downes + Theo Bleckmann
Sept 12: Conspirare: Considering Matthew Shepard
Sept 13: Los Angeles Master Chorale
Sept 14: Gipsy Kings
Sept 15: Johnny Rivers + Jimmy Webb
Sept 16: FIESTA RAVINIA w/ comedian Joey Villagomez and Galli Lucha Libre wrestling
Sept 16: Los Tigres del Norte + Mariachi Flor de Toloache
Best shows at the Ravinia Festival 2018