Ravinia Festival schedule and best concerts
Plan your summer on the lawn at the Ravinia Festival with the complete schedule and our guide to the best shows to see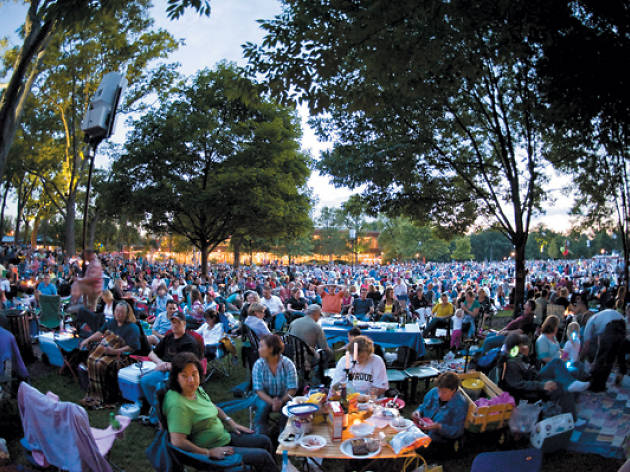 When you think of summer in the city, days spent on Chicago beaches or dinner at an outdoor bar or patio immediately come to mind. The warmer months are also the time for packing a picnic basket, hopping on the Metra and making an excursion to the suburbs for an evening of music at the annual Ravinia Festival. Think of it as a miniature weekend getaway that you can make on a weeknight. You'll find classical concerts, movie soundtrack performances (including La La Land and the entire Lord of the Rings trilogy) musical legends (Aretha Franklin, Willie Nelson, Tony Bennett) and contemporary favorites (Andrew Bird, Punch Brothers).
Check out the full schedule and then take a look at some of the top concerts on the Ravinia Festival 2017 schedule.
When is the Ravinia Festival?
The Ravinia Festival 2017 runs from June 10 through September 17.
Where is the Ravinia Festival?
The Ravinia Festival takes place at Ravinia Park (418 Sheridan Road) in Highland Park, Illinois. The easiest way to make the trip from inside Chicago city limits is to take Metra's Union Pacific North Line to the Ravinia Park stop, which drops passengers off directly in front of the venue's gates.
June
Jun 10 - John Legend + Gallant
Jun 14 - Pat Metheny
Jun 15 - Seu Jorge presents the Life Aquatic (A tribute to David Bowie)
Jun 16 - Willie Nelson and Family + Lukas Nelson and Promise of the Real
Jun 17 - Aretha Franklin
Jun 18 - Milwaukee Symphony Orchestra presents La La Land in Concert
Jun 19 - Sammy Hagar and the Circle
Jun 20 - Juilliard String Quartet
Jun 23 - Gipsy Kings
Jun 24 - Common
Jun 27 - Michael McDonald + Boz Scaggs
Jun 28 - Diana Krall
Jun 29 - The Stars of the Peking Acrobats
Jun 30 - The Moody Blues
July
Jul 1 - Lila Downs
Jul 2 - The Beach Boys + The Temptations
Jul 3 - Ryan Speedo Green
Jul 5 - Ravel & Mozart
Jul 6 - Booker T. Jones
Jul 7 - Sheryl Crow
Jul 10 - Dvorák Piano Quintet No. 2
Jul 11 - Yuja Wang + Chicago Symphony Orchestra
Jul 12 - Joshua Bell + Chicago Symphony Orchestra
Jul 14 - OneRepublic + Fitz and the Tantrums + James Arthur
Jul 15 - OneRepublic + Fitz and the Tantrums + James Arthur
Jul 16 - Tchaikovsky Spectacular
Jul 17 - Angela Hewitt
Jul 18 - Yefim Bronfman + Chicago Symphony Orchestra
Jul 19 - The Music of Dvorák
Jul 20 - Susanna Mälkki + Chicago Symphony Orchestra
Jul 21 - Susanna Mälkki + Chicago Symphony Orchestra
Jul 22 - Blondie + Garbage + John Doe and Exene Servenka
Jul 23 - Andrew Bird
Jul 24 - Emerson String Quartet + Calidore String Quartet
Jul 25 - Nikolai Lugansky + Chicago Symphony Orchestra
Jul 26 - Stephen Stills + Judy Collins
Jul 27 - Cleveland Baroque Orchestra plays Vivaldi's the Four Seasons
Jul 28 - Christoph Eschenbach + Chicago Symphony Orchestra
Jul 29 - Lang Lang + Christoph Eschenbach
Jul 31 - Pierre-Laurent Aimard
August
Aug 1 - Denis Matsuev
Aug 2 - Danish String Quartet
Aug 3 - Pinchas Zuckerman + Chicago Symphony Orchestra
Aug 4 - Tony Bennett
Aug 5 - Darius Rucker
Aug 6 - Sir James Galway and Lady Jane Galway
Aug 7 - Lady Jane Galway and Phillip Moll
Aug 8 - James Levine + Chicago Symphony Orchestra
Aug 9 - Morris Robinson
Aug 10 - Chicago Symphony Orchestra All-Russian Evening
Aug 11 - Santana
Aug 12 - Santana
Aug 13 - Leslie Odom Jr. + Chicago Symphony Orchestra
Aug 14 - Punch Brothers + Julian Lage
Aug 15 - Jonathan Biss
Aug 16 - Vladimir Feltsman
Aug 17 - The Knights + Susan Graham
Aug 18 - Chicago Symphony Orchestra plays Lord of the Rings: The Fellowship of the Ring
Aug 19 - Chicago Symphony Orchestra plays Lord of the Rings: The Two Towers
Aug 20 - Chicago Symphony Orchestra plays Lord of the Rings: The Return of the King
Aug 21 - Behzod Abduraimov
Aug 22 - Lucerne Symphony Orchestra
Aug 23 - Lucerne Symphony Orchestra
Aug 24 - The Naughton Sisters
Aug 25 - Alanis Morissete
Aug 26 - John Mellencamp
Aug 27 - John Mellencamp
Aug 28 - Pentatonix
Aug 29 - Lifehouse + Switchfoot
Aug 30 - John Butler Trio + The Waifs
Aug 31 - Inna Faliks + Daniel Schlosberg
September
Sep 1 - Michael Bolton + Gladys Knight
Sep 2 - Pacifica Quartet
Sep 3 - Pacifica Quartet
Sep 4 - Simón Bolívar String Quartet
Sep 5 - Bryan Wallick
Sep 7 - Concert Dance Inc.
Sep 8 - Frankie Valli and the Four Seasons
Sep 9 - Stevie Nicks
Sep 10 - Stevie Nicks
Sep 14 - Gustavo Dudamel + National Youth Orchestra of Venezuela
Sep 15 - Smokey Robinson
Sep 16 - TLC + Biz Markie + O-Town + Mark McGrath + All 4 One + Snap
Sep 17 - Los Tigres del Norte + Jiménez
Best shows at the Ravinia Festival