The best and worst #LollaMotto tweets
Lollapalooza asked fans to come up with a slogan for the music festival. These are our favorites responses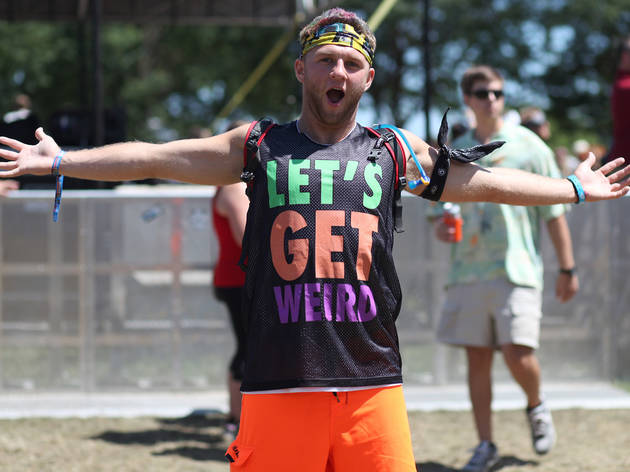 This morning, the folks from Lollapalooza took to social media to ask fans for a new motto. It's a contest, with the winning submission showing up on a T-shirt and garnering some free passes. Surprisingly, unlike most marketing hashtags of this ilk, the exercise did not completely backfire (as #AskVentra did). Though, anyone who rhymed "holla" with "Lolla" or blurted "Whole Lolla Love," you might want to try a little harder.
You have until June 9 to dream up a tagline. As the official site says: "It can be easy as, Shorts, Shades, Chitown! or Hot Jams & Hot Dogs." It can be, but should it be?
We culled our favorite responses below.
Just a reminder: The 45 Lollapalooza after-shows go on sale this Friday at 10am.
Lollatize me cap'n #LollaMotto @lollapalooza

— Brett Lawrence (@hevreezy) June 4, 2014
THERE'S GLITTER SMEARED ON MY BOOBS LETS INSTAGRAM ABOUT MUSIC #LollaMotto

— Jake Prizant (@Corn_Chex) June 4, 2014
Lollapalose yourself #LollaMotto #lolla

— Lexi Smolyar (@LexAndTheCity17) June 4, 2014
Don't be chi, come to lolla #lollamotto

— milo (@notorious_FIG32) June 4, 2014
I lost my phone at Perry's. #lolla #lollamotto

— josh (@jaywood18) June 4, 2014
lolla fast, chi young #LollaMotto #Lolla @lollapalooza

— (@hannahstonem) June 4, 2014
Pinch my areola cause I can't believe I'm at Lolla #LollaMotto #lolla

— Mae (@maelovesdorks) June 4, 2014
I came from England for this? #LollaMotto

— flabby abby (@chilebetch) June 4, 2014
"lollapalooza, where everything else comes before good hygiene" #LollaMotto @lollapalooza

— wawawanderling (@Hotel_Rwander) June 4, 2014
This lineup is mediocre at best #LollaMotto

— flabby abby (@chilebetch) June 4, 2014
Don't Take That Stranger's Molly #LollaMotto

— Julian Rose (@jurogibre) June 4, 2014
@lollapalooza I Scream! You Scream! We All Scream... That Is All. #LollaMotto #Lolla

— Tek Chung (@tek1231) June 4, 2014
​