The best Grateful Dead aftershows and parties
Jam bands and tribute acts invade Chicago music venues during the final Grateful Dead shows at Soldier Field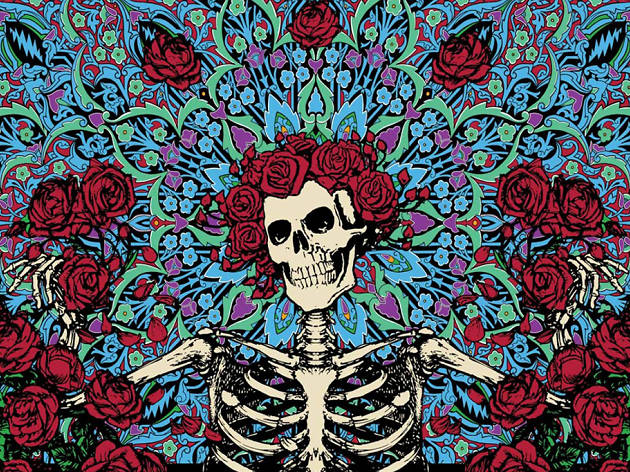 The Grateful Dead's upcoming Fare Thee Well concerts at Soldier Field will be the band's last, and a following that rivals the crowd at a summer festival is coming to celebrate. However, the Deadhead festivities don't end when the concerts finish each night—various Chicago music venues have booked aftershows and pre-parties, featuring jam bands, tribute acts and more. Whether you're going to the show, watching from home or looking for a miracle, you're sure to find a Grateful Dead aftershow worth checking out.
RECOMMENDED: Our complete guide to the Grateful Dead at Solider Field
Grateful Dead aftershows and parties
Longhaired North Carolina native Jonathan Wilson hosts three nights of City Winery's Wier World series of concerts. The acclaimed artist and producer has worked with a multi-generational selection of musicians at his Fivestar Studio in Los Angeles, including David Crosby, Father John Misty, Graham Nash and Conor Oberst.
Just before the Grateful Dead takes the stage for three final shows at Soldier Field, a group of affiliated musicians will gather for a two-set jam session at the Portage Theater. Featured players include Leo Nocentelli (The Meters), Rob Wasserman (RatDog), Stanton Moore (Galactic), Bernie Worrell (P Funk) and Bill Evans (Soulgrass).
While it's a continued bummer that the delightfully demented Ween is over, half of the duo continues to spread the gas-huffing gospel of Boognish. A stunning rock skill set has always hidden underneath the jokes, which would never have been that funny if Ween were not so slyly skilled at guitar shredding, soul and pop.
Fourth of July weekend in Chicago is officially a Deadhead holiday. Numerous venues around town are tapping into the influx of hippies for the Grateful Dead reunion show. Dark Star Orchestra is a long-running Dead tribute act—but really, without Jerry, isn't the "real" Dead a tribute act, too?
Among the rootsier acts on the jam-band circuit, veteran Boulder, Colorado, sextet Leftover Salmon blends bluegrass, country and zydeco sounds into its warm, organic and, yes, groove-friendly mix. The group headlines a three-night stand at Park West.
Real Estate member Alex Bleeker and his band the Freaks play through heady jams from the Grateful Dead catalog, joined by an indie all-star cast of musicians. Guests include Ira Kaplan of Yo La Tengo, Lee Ranaldo of Sonic Youth, Dave Harrington of Darkside and local guitarist Ryley Walker.
Karl Denson started his musical career under the rock & roll wing of Lenny Kravitz, picked up some Afrobeat influences along the way, and has now grown into a sax-funkster whose sound calls to mind James Brown and Parliament-Funkadelic. Here he leads his six-person band at the Concord Music Hall.
As featured on Treme, NOLA's Rebirth is the brass band for the hip-hop generation—the group can make century-old second-line marches sound like they were born about an hour ago. Here, RBB, which has also been known to bust out fierce Michael Jackson covers, brings its brassy bounce to pre- and post-Grateful Dead parties.
Purple Sage were either named after a strain of weed, or a strain of weed has been named in their honor. Who can remember? More of a chicken-egg thing. One thing is for certain: Every chooglin' hippie band of the 1960s is congregating in Chicago on Fourth of July to catch a commercial contact high off the massive Grateful Dead reunion/farewell. NROTPS shared a lot of members with the Dead, and leaned a little more country and bluegrass.
Just across the street from Soldier Field, where the Grateful Dead will play its final shows over Independence Day week, local jazz musicians will cover the Dead at the Field Museum. The performances are included in museum admission.
Matthew Paul Miller, a.k.a Matisyahu, is an alternative reggae artist who has made success by incorperating his Jewish faith into his music. His fusion of island vibes and biblical lyrics make him a trademark act in Crown Heights, Jerusalem and everywhere in between. He'll be joined by Marc Brownstein (Disco Biscuits), Chris Chew (North Mississippi Allstars) and DJ Logic.
Rocking New Jersey bluegrass outfit Railroad Earth introduces instruments like the bouzouki, Dobro and pennywhistle to jam band fanatics. In celebration of the Grateful Dead's final shows, the band takes the stage behind 2014's Last of the Outlaws. On July 4, Railroad Earth steams through Concord Music Hall before moving to City Winery on July 5.
A delicious cherry ice cream was not enough! As the massive Grateful Dead reunion shows wrap up at Soldier Field, guitarists Steve Kimock and Jackie Greene, pianist Melvin Seals, and more pay tribute to the godfather of the jam. There are two shows, at 3:30pm and midnight, so either they need a long nap or the solos are going to be looong.
It's the jam band lover's wet dream: A group that plays covers of songs by the Grateful Dead and Phish. Setlists at these pre- and after-parties will probably skew toward tracks by the former group, but we're sure Phish phans won't be left high and dry.
Members of the Trey Anastasio Band, the Allman Brothers Band, Lettuce, Snarky Puppy and Big Gigantic get together for a good old-fashioned jam session on the eve of the final Grateful Dead show at Soldier Field. The all-star group will be joined by The Main Squeeze.