Chicago World Music Festival 2018 lineup
Explore the World Music Festival 2018 lineup, which brings artists from around the globe to Chicago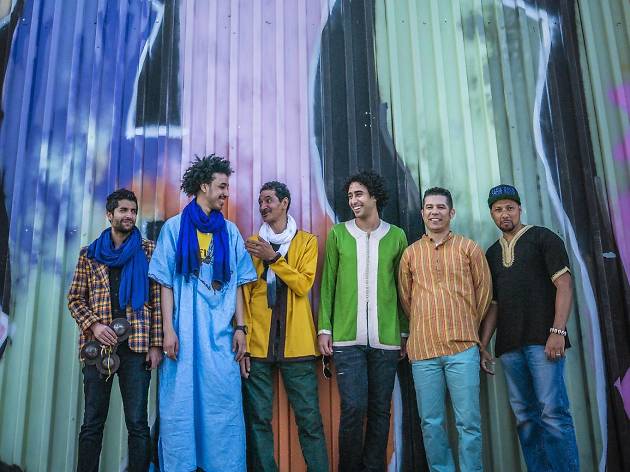 Every September, a lineup of performers from around the world comes to Chicago for the annual World Music Festival, playing free concerts that showcase everything from mariachi bands to Congolese funk outfits. You'll find shows at music venues throughout the city, including outdoor stages like Pritzker Pavilion and new destinations like Avondale's Sleeping Village.
Highlights of this year's lineup include the annual overnight Indian classical music concert at the Chicago Cultural Center (Sept 7), Argentinian electronic artist Juana Molina (Sept 8) and an El Grito celebration, featuring mariachi bands and other Mexican performers (Sept 15). The festivities conclude on September 23 at the World Dumpling Fest in Polk Bros Park, where attendees can purchase pillowy morsels while listening to music from Congolese funk band Jupiter and Okwess as well as Caribbean blues act Delgres.
Take a look at the full World Music Festival lineup below and begin planning your month of free concerts.
September 7
Ragamala: A Celebration of Indian Classical Music at Chicago Cultural Center, Preston Bradley Hall
Sept 7 at 6pm–Sept 8 at 8am, all ages
September 8
Juana Molina + Andreas Kapalis at The Promontory
7pm, 21+
September 9
National Arab Orchestra at Reva and David Logan Center for the Arts
3pm, all ages
September 12
Sona Jobarteh + Actores Alidos at Sleeping Village
7pm, all ages
September 13
Actores Alidos at Daley Plaza
noon, all ages
Sona Jobarteh + Chinese Mongolia Band at Chicago Cultural Center, Preston Bradley Hall
6pm, all ages
Altan at Irish American Heritage Center
7pm, all ages
September 14
Chinese Mongolia Band at Ping Tom Memorial Park
5pm, all ages
Chéjere at National Museum of Mexican Art
3pm workshop, 7pm performance, all ages
September 15
El Grito
Mariachi Herencia De México + Chéjere + Ceci Bastida + Quique Escamilla at Millennium Park
3pm, all ages
Orquesta Akokán + Rio Mira at Martyrs'
9pm, 21+
September 16
Global Peace Picnic
Rio Mira + Innov Gnawa + Combo Chimbita at Humboldt Park Boathouse
2–6pm, all ages
September 19
Spiro at Old Town School of Folk Music, Gary and Laura Maurer Hall
8:30pm, all ages
September 20
Spiro at Chicago Cultural Center, Preston Bradley Hall
6pm, all ages
La Dame Blanche + Cheick Hamala Diabate at Martyrs'
8pm, 21+
September 21
Lo Còr De La Plana + Emilia Amper at The Promontory
7pm, all ages
La Dame Blanche + H.A.T. + Pachanga DJs at Chop Shop
9pm, 21+
September 22
Beatdown Soundsystem ft. Kinky P + Chuck Dubshine and Friends at Loyola Park
1–6pm, all ages
Lo Còr De La Plana + Zhou Family Band at DePaul University Holtschneider Performance Center
7pm, all ages
Jupiter & Okwess + Delgres + Quantic at Concord Music Hall
9pm, 21+
September 23
World Music Festival meets the World Dumpling Fest
Jupiter & Okwess + Delgres + Zhou Family Band + East Meets Middle East at Navy Pier
1–6pm, all ages