Walk into Moonflower, a new cocktail bar in Portage Park, and you'll immediately notice the plants lining the walls and hanging in front of the windows. Co-owner Zach Rivera can't pinpoint exactly when he and his two partners decided on the bar's name and theme, but says that they all found themselves tending their own houseplants more often last year when they were stuck inside. According to Rivera, the decision to decorate the bar with greenery was on based on "vibe and ambiance," creating a welcoming place for locals and visitors to sit down for a drink and enjoy some lush sights.
Rivera and partners Marvin Boeving and Christina Chae officially opened Moonflower last week at 4359 N Milwaukee Avenue, inside the space that formerly housed craft beer bar Hops & Barley. The trio met years ago when they were working together at Headquarters Beercade in River North, before moving on to roles with Hogsalt Hospitality, 16" on Center and Celeste. Thanks to their continuing friendship, they've talked about opening up their own bar together for years and looked at possible spaces in Avondale and other Chicago neighborhoods. It wasn't until they were able to secure the space in Portage Park that going into business together became a reality.
"This neighborhood is great, full of blue collar, friendly people that don't have a lot of options [for cocktails] out here," Rivera says. "We figured it would be great to put roots down here and grow with this stretch of Milwaukee."
Located just across the street from Tone Deaf Records (which opened in 2019), Moonflower is a cocktail bar that was conceived with accessibility in mind. Rivera acknowledges that it'd be out of character for the area if the bar was charging $15 for a cocktail, which is why most of the drinks on the menu are priced at or around $10.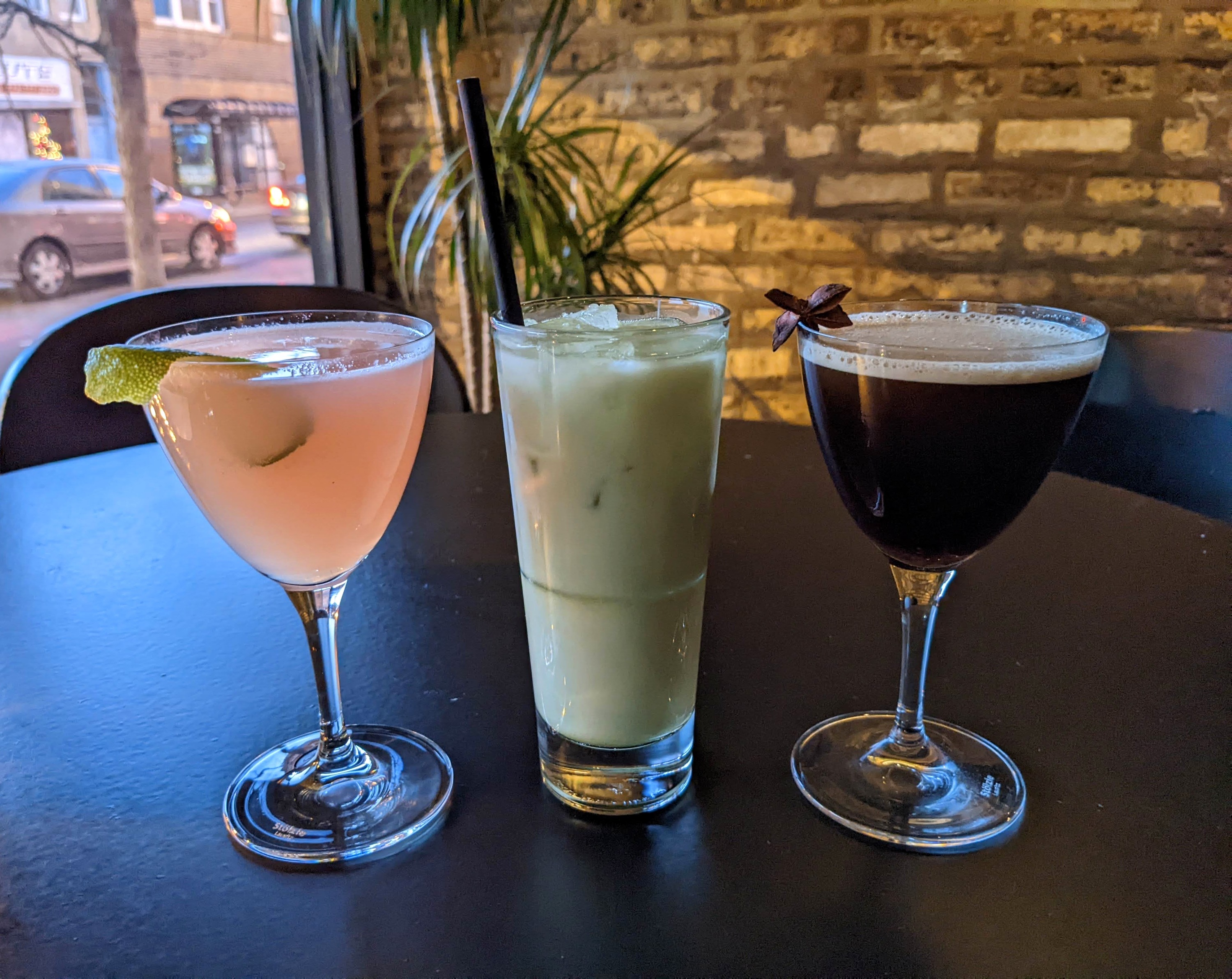 Split between classic cocktails and riffs on familiar drinks, the relatively affordable options at Moonflower aren't lacking in creativity. A watermelon-flavored tequila and mezcal drink called Kiss & Tell is augmented with a Korean soda called Milkis sourced from Jong Boo Market, adding "milk and yogurt flavor." Likewise, a riff on a Saratoga (a combination of rye whiskey and brandy) that goes by the name of Off The Record uses a German sugar beet syrup called Goldsaft in place of sweet vermouth. Even the classic cocktails provide the opportunity for experimentation; Rivera say he combined four different coffee liqueurs to come up with the flavor profile of the bar's nitro espresso martini.
If you're feeling peckish, the Moonflower kitchen boasts options for omnivores and vegetarians alike, with plenty of shareable dishes. The most unique dish on the menu might be the Bolo Fries, which cover an order of crispy potatoes with bolognese sauce, parmesan cheese and pickled jalapeños. There are also a couple of soups (potato leek or spinach and white bean), a hearty patty melt or a three-cheese grilled cheese sandwich if you need something more filling.
And if one of the plants in the bar catches your eye, you might be able to buy it—or at least find out where you can purchase it. Moonflower worked with local shops Sunnyside Plants and Plant Shop Chicago to fill the space with greenery, sourcing some of their favorite plants to display throughout the bar. A couple of shelves on either side of the space are lined with selections from Sunnyside Plants that guests can purchase at the bar. According to Rivera, Moonflower aims to be a gathering place for the city's plant-loving community, hosting meet-ups and auctions in the bar.
For now, Rivera, Boeving and Chae are hoping to meet some their Portage Park neighbors in the coming weeks and entice some cocktail enthusiasts to visit their stretch of Milwaukee Avenue.
"We don't want to take ourselves too seriously here," Rivera says. "We just want people to have a good time and relax."
Moonflower is open Wednesday through Sunday from 4:30pm–1am.