Growing up in Chicago's Avondale neighborhood near St. Hyacinth Basilica, Polombia chef Phillipe Sobon remembers devouring paczki made by his mother and grandmother every Tłusty Czwartek—a.k.a. Fat Thursday, when Paczki Day is traditionally celebrated in Poland—from early morning through the night.
"You would always have to eat as many as possible, because that actually brings you good luck for the remainder of the year, as well as money," he explained, recalling an all-time record of some 13 paczki eaten in one sugar-fueled, five-hour span during his childhood.
There's no need to gorge yourself on filled doughnuts on Fat Tuesday this year (unless you want to—it's good luck, after all!), but if you're looking for somewhere to order paczki in Chicago over the next few days, Polombia has got you covered. The Polish-Colombian fusion concept—which Sobon runs out of Time Out Market with his wife, Cynthia Orobio—will whip up five varieties of the pastry during the weekend leading up to Fat Tuesday, with flavors inspired by Poland, Colombia and beyond.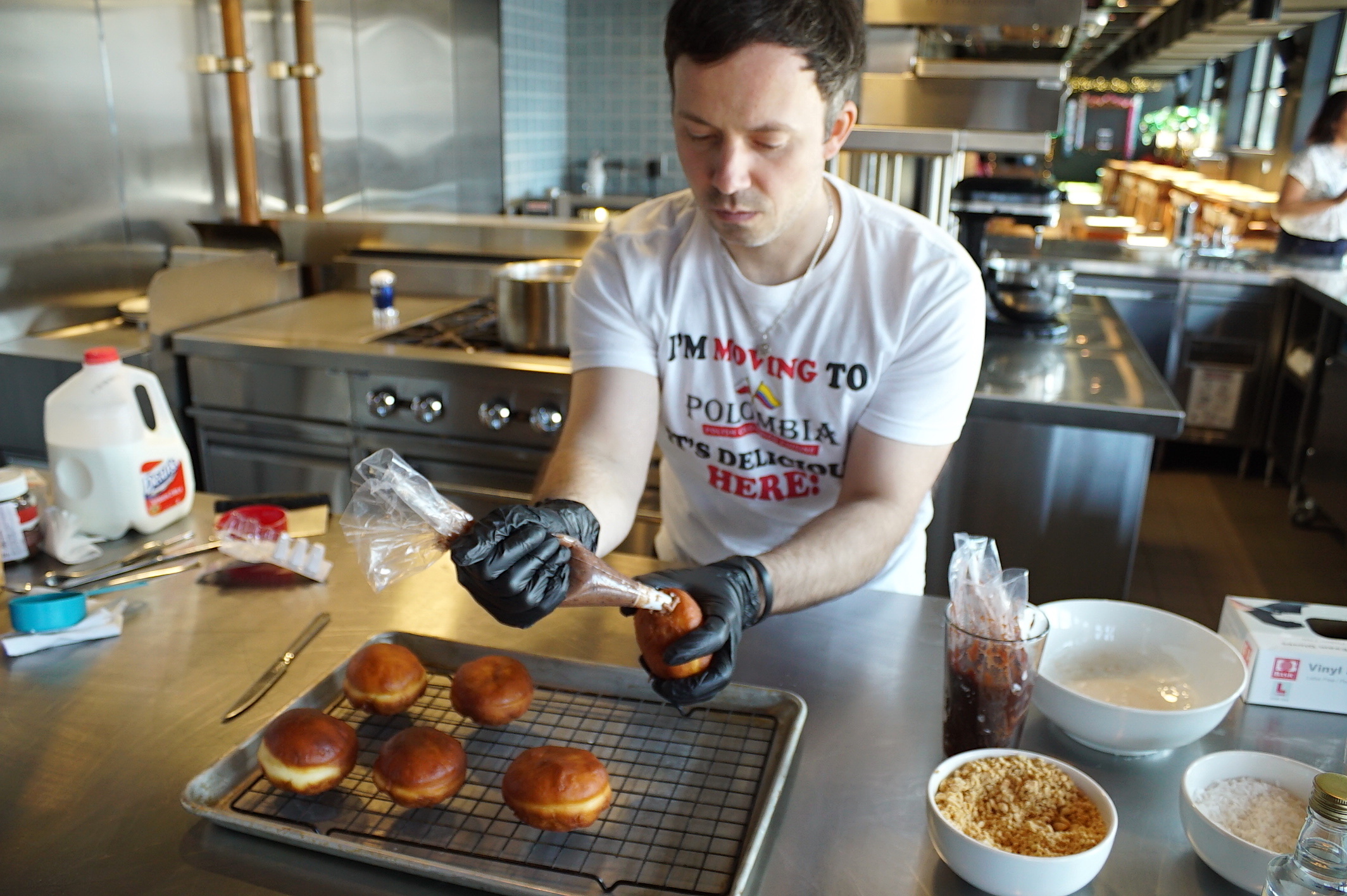 Sobon first started making paczki around five years ago while working as a private chef, crafting his first batch with his mom and gradually tinkering with the process until he'd achieved paczki perfection. Traditionally, paczki are made with lard and a bit of vodka—a trick that helps the dough from absorbing too much grease—and deep-fried in oil, then piped with sweet filling and dusted with powdered sugar or glaze. Sobon's recipe uses the same base, but he bakes the paczki for a slightly healthier take on the pastry. He also branches out from classic fillings, like apricot or plum, to more out-of-the-box flavors like PB&J and cafe con Nutella. The end result: Polombia's recipe isn't just like Sobon's mother or grandmother would make them, but it's pretty close (and just as delicious).
"It's [my mom's] recipe, and it's something that I follow," Sobon said. "I put my own fillings in them, and I do my own glazes. But the dough recipe is something that I feel we've perfected, and something that we want to continue to use."
Think that it's blasphemous to mess with a classic recipe? Take a bite out of Polombia's paczki and we're pretty sure you won't miss the fried dough. The PB&J paczek—that's the singular word for paczki—is piped full of peanut butter and three different types of marmalade, then glazed and sprinkled with a healthy spoonful of toasted peanuts and pistachios for added crunch. The guava coconut variation, a hat tip to traditional Colombian flavors, packs a sour punch with pureed guava filling and a sweet coating of icing and coconut flakes. You won't find doughnuts like these in a traditional Polish bakery, and Sobon says that's part of the beauty of living in one of the world's premiere destinations for paczki-making.
"Here what ends up happening—not only the Polish bakeries participating, but because it became so big, the entire city is doing their variation and their version," he said. "Outside of Poland, Chicago has by far the most varieties of paczki."
You can taste some of that variety yourself this weekend, as Polombia's paczki will be available for pre-order through Saturday, February 26 for pickup at Time Out Market from Sunday, February 27 through Tuesday, March 1—check out a full list of flavors below, and head to Polombia's online venue page to place an order. Paczki are $27 per half dozen and $54 per dozen.
Cafe con Nutella with coffee-infused Nutella and coffee glaze
PB&J with peanut butter, marmalade and crumbled peanuts and pistachios
Guava coconut with pureed guava and flaked coconut
Krowka caramel with dulche de leche
Glazed Wildberry with assorted berries