Places to find paczki in Chicago
From traditional paczki to versions stuffed with booze, these are the best Polish pastries to scarf down before Lent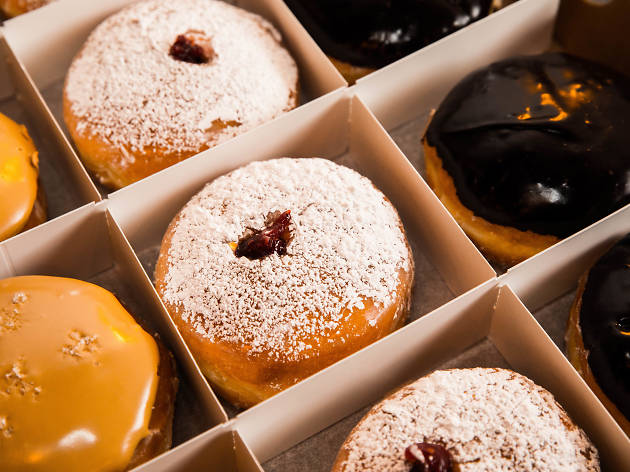 By

Time Out Chicago editors
|
It wouldn't be Fat Tuesday without a paczki (pronounced "poonch-key" or "punch-key"), the yeasty, sugar-dusted Polish doughnuts that are filled with sweet jelly, cream, custard, pudding or fruit. This year, Paczki Day will be celebrated on Tuesday, February 13, and good Chicagoans know that if you want to get your hands on this messy treat, you must plan ahead. Most area bakeries suggest ordering in advance to ensure availability (yes, these doughy delights go quick!). Take a look at the bakeries listed below to figure out where you'll pick up your paczki order on February 13.
Where to find paczki
It's worth taking a ride out to this snug, old-school spot for its seriously tasty take on paczki. Choose from 12 varieties including blueberry, rosehip, cheese and poppy. If you want a taste without committing to a full-sized paczki, four popular flavors (raspberry, custard, apricot and rosehip) will also be available in miniature versions.



Shopping, Specialist food and drink
This nearly century-old Jefferson Park mecca for Polish meats also happens to have a great bakery department up its sleeve. Whether it's Fat Tuesday or any old Tuesday, pop in for super fresh, pillowy paczki in flavors like rose, marmalade and custard.
Starting Thursday, February 8, this bastion of Polish deli fare, imported sweets and Eastern European breads enriched with sprouted grains and other good-for-you ingredients is expanding its year-round paczki lineup with some decidedly non-traditional offerings. Look for quirky flavors like chocolate-chili, tiramisu, strawberry cheesecake and banana cream.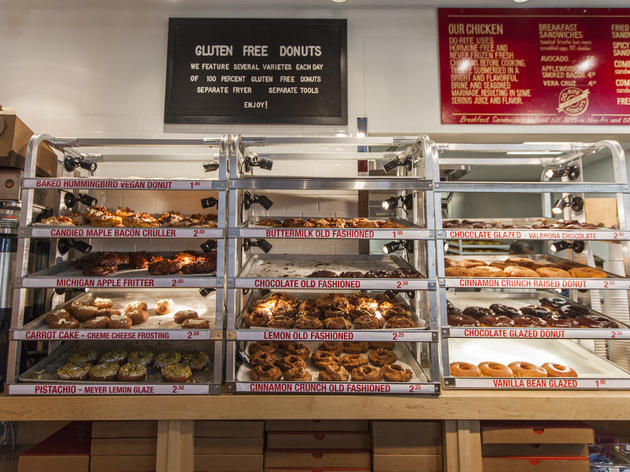 Doughnut darling Do-Rite will serve packzi from its three Chicago locations February 10–13. Like all of its delectable dough, these filled treats will go fast and advanced online orders are encouraged. We recommend going with an assortment so that you can try all three flavors: salted caramel with vanilla custard, raspberry and Nutella.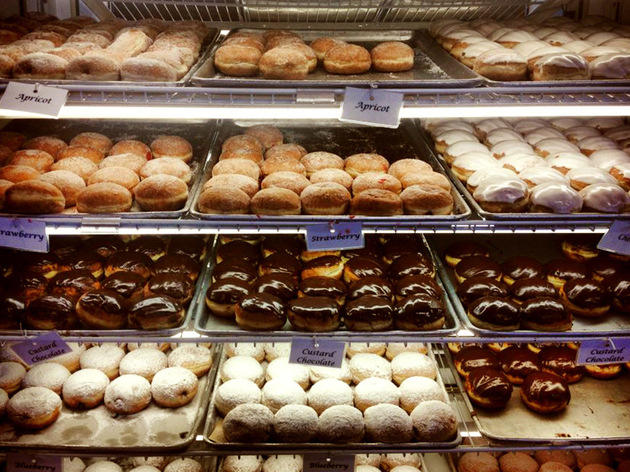 This family-owned bakery kicks off its paczki celebration on Thursday, February 8. Head in to choose from 12 delicious flavors including chocolate custard, apricot, apple-cinnamon and fresh strawberries.
You missed your chance to pre-order paczki from this bakery's two locations, but if you're hoping to score some walk-in dough, we're told they'll have of filled pastries on hand for Fat Tuesday on February 13. Indulge your sweet tooth with the usual suspects (strawberry, blueberry, chocolate and raspberry) or try a special coffee cream-filled paczki.
With five locations throughout the Chicagoland area, there's bound to be a branch of this European-style bakery (founded by a Polish expat) nearby when Paczki Day rolls around. This year, the special menu will available from February 8 to 13. New flavors for 2018 include peanut butter and jelly, red velvet and cream cheese and black currant.
The Evanston bakery is known for its paczki-eating contest, hosted Saturday, February 10, but you don't have to participate to indulge in the Polish treat. Starting February 8, paczki will be available in-store, but customers are encouraged to call ahead for large orders. Same-day orders will not be accepted on February 12 and 13. Enjoy a mix of old-school and contemporary flavors like prune, lemon curd, praline chocolate mousse and German chocolate.
Indulge your paczki cravings from February 8 to 13 at Dinkel's, where online orders must be placed by February 11 at noon. Last year the Lakeview bakery sold over 22,000 paczkis—so you know it's good. Try apple-cinnamon, blueberry, cherry, chocolate silk and lemon.
Come Fat Tuesday, lines stretch down the block and paczkis fly off the shelves at this South Side institution, so call ahead or stop by to place your order. You can choose from a whopping 19 flavors like peach, lemon, custard with chocolate and blueberry.
This Lincoln Park café enlisted the help of Naha pastry chef Craig Harzewski to elevate the Polish pastry. Due to limited quantities, guests can pre-order up to four raspberry- or chocolate-stuffed doughnuts. Advanced orders will be accepted until Friday, February 9 at 5pm, and paczkis can be picked up on Tuesday, February 13 from 8 to 10am.
This quaint, Polish-owned Jefferson Park bakery offers prune, raspberry, apricot, custard and fresh strawberry-filled pastry during Mardi Gras. Our pick is the paczki filled with rose hip jam.

This year, Polish pastry specialist Delightful Pastries is bringing back its three "drunken" paczki—named for their fillings like Jameson-spiked chocolate custard—as well as gourmet selections like guava, passion fruit and peanut butter and jelly. Just be sure to place your order by February 10.