As a massive derecho storm barreled its way toward Chicago last month, employees at Uptown's historic Graceland Cemetery worked to clear out visitors before taking shelter in the windowless, weather-proofed vault that houses cemetery documents and other archives. They emerged 30 minutes later to find damage so bad it was, in the words of one employee, "insane."
"It was like a dinosaur came through and had a temper tantrum," says Jensen Allen, Graceland's associate director. The cemetery's flat, 119-acre expanses—unprotected by tall buildings and other barrier structures—had been devastated by the storm, lifting healthy trees as heavy as 15 tons from the ground and flinging them sideways. Massive oaks lay suspended by clumps of sod and broken roots; branches littered the tops of headstones and century-old mausoleums. In total, 52 trees were entirely uprooted, with an additional 15 partially uprooted, following two paths of destruction flanking the sides of the cemetery.
"It almost seems like there may have been two small tornadoes or funnel clouds that came on the outer eastern portion of the cemetery and then on the western side as well," Allen says.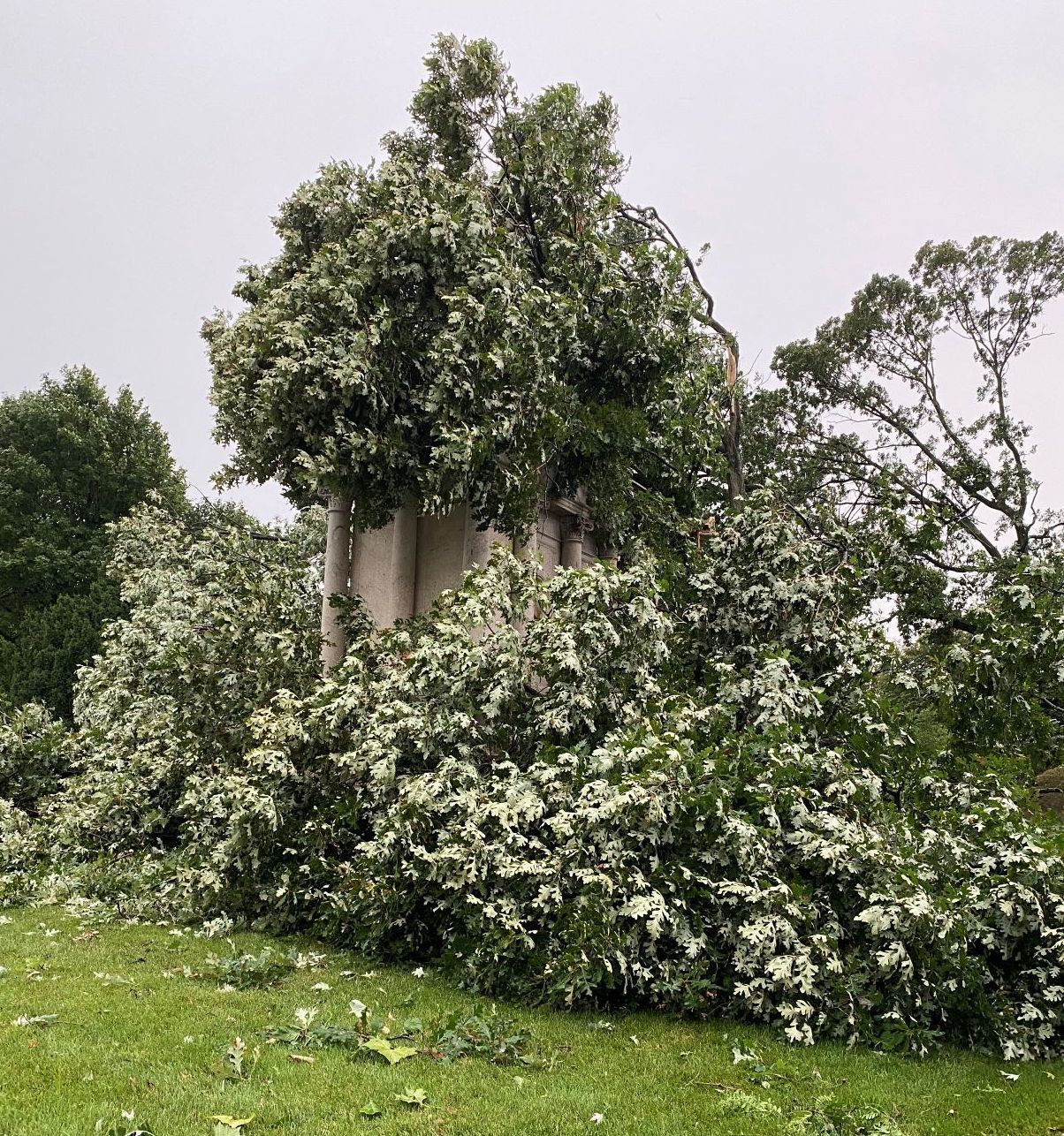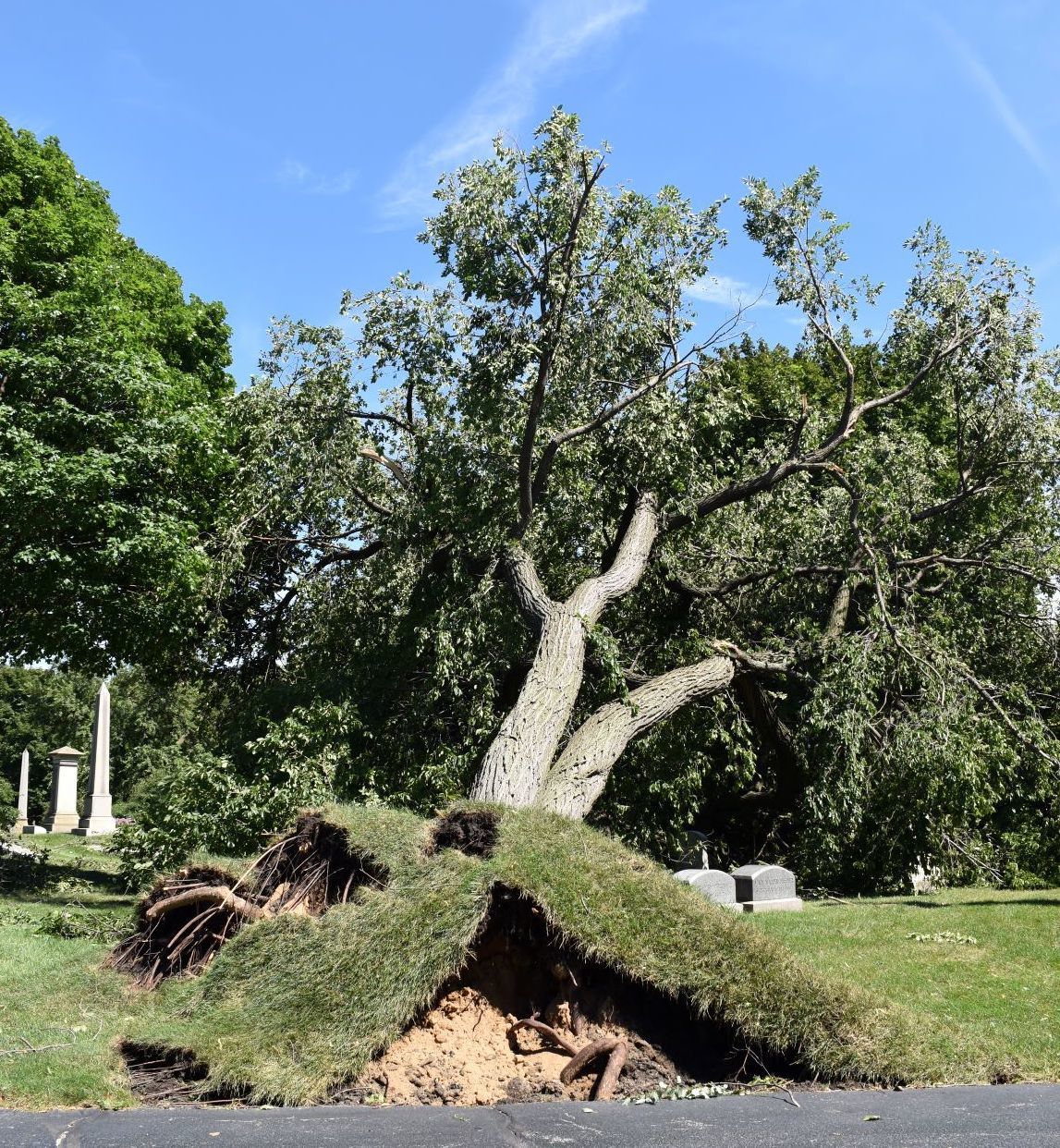 Though no one was injured and none of the buildings were damaged, Graceland staff knew the cemetery would have to shut down until the debris could be cleared away. They closed visitor access beginning August 10 and didn't reopen until last week, on September 9, marking the longest closure since a similarly destructive storm struck in 2007.
Having to shut down during the last two months of summer was especially difficult, Allen says. In addition to being the final resting place for scores of famous Chicagoans, the cemetery is also a certified arboretum and one of the neighborhood's largest green spaces. "So many new people had discovered the cemetery [during the pandemic]," she says. "To have to close for that amount of time during such a nice part of the year was really difficult."
During the closure, Graceland's tree removal company combed through the grounds of the cemetery to dispose of the largest downed trees, grinding up their stumps and hauling away chunks of debris, among other safety-oriented tasks. Then the cemetery's landscapers worked to clear away smaller branches, chop roots and add a layer of straw to protect new seeds.
It's difficult to project the total cost of damages because certain aspects of the cleanup (such as minor monument restoration) are still in process, but Allen believes the final number is estimated to hit around $250,000. The Graceland staff credits community members and other enthusiasts, many of whom offered donations and volunteer labor, for boosting morale during the shutdown.
"That was really comforting for us, because it was difficult for us to be hit by the unexpected, especially in 2020," Allen says. "Everyone has been going through a lot, and it wasn't something we needed to have added to our plate, but we really do cherish the people who cherish Graceland."
Visitors will find the cemetery largely back in order now that it's reopened, minus a few dozen trees. Eventually, they'll plant new trees in the areas hit hardest by the storm, Allen says, though the process will have to be staggered to ensure the saplings don't siphon nutrients from one another as they grow. The biggest trees should reach their former size in around 150 years, "which none of us will be around for," Jensen said, "but future generations will be able to enjoy them."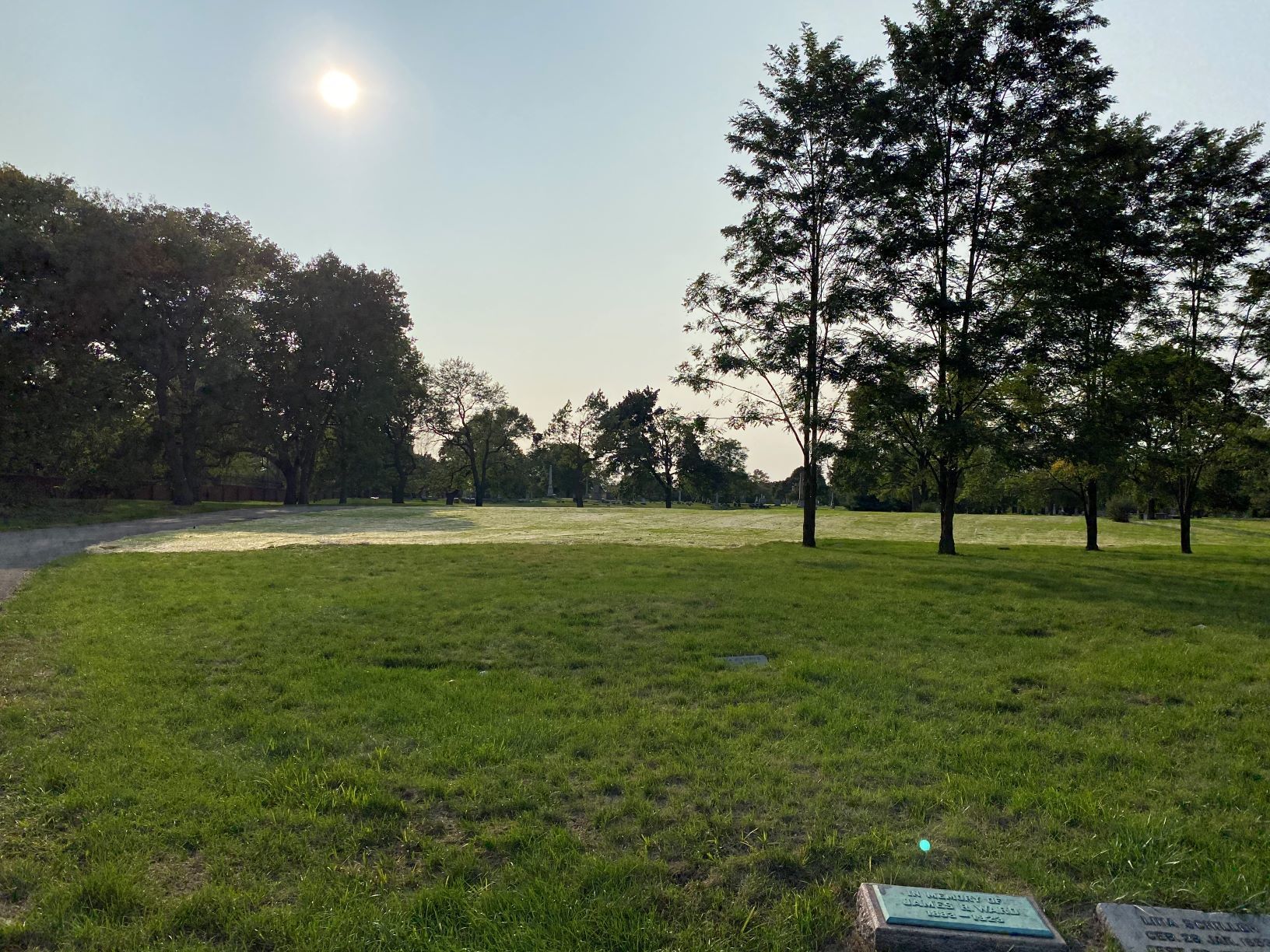 Most popular on Time Out
- Beloved bar Southport Lanes to close after 98 years in Lakeview
- ZooLights will still illuminate Lincoln Park this year, but you'll have to pay admission to get in
- Chicago shares more than 600 weird and wonderful ideas for winterizing outdoor dining
- 24 ways to still have an amazing fall in Chicago
- 6 places in the Midwest that look like they could be in Europe