If you spot a jet-black Divvy bike in a dock or zooming through the streets later this week, it's not another promotional set of wheels. The Chicago Department of Public Transportation and Lyft (the current operators of Chicago's bike-share system) announced yesterday that e-bikes will officially join the Divvy fleet on July 29, as the system works toward a citywide expansion. The e-bikes use a small electric motor to boost the rider's pedaling power, reaching speeds of up to 18 miles per hour, though you'll need to continuously pedal to keep moving—these are not fully motorized bikes.
According to CDOT, the introduction of e-bikes will begin with roughly 100 bikes spread throughout the city, with Divvy slowly ramping up the number of e-bikes in the fleet as riders are educated about the new option.
You'll be able to find e-bikes in regular Divvy docks, but the battery-assisted rides also come with a built-in cable lock, making it possible to end your ride by locking the e-bike to a regular bike rack. Lyft is also planning to introduce a handful of Divvy E-stations throughout the city, which are essentially branded bike racks meant to be used to park Divvy e-bikes. You'll be able to track down the e-bikes using the Divvy and Lyft apps, which can also be used to scan a QR code on the bikes to unlock them—similar to the system used for scooter rentals.
The e-bikes are accompanied by a complex new pricing structure that will charge additional fees for the use of the high-tech rides depending upon where you start or end your ride. In areas of Chicago and Evanston where there is a high density of Divvy stations, e-bike usage will come with a per-minute fee (from $.05 to $.20, depending on whether you're a member or not) and a parking fee if you lock the bike to a regular bike stand instead of using the Divvy docks or the new Divvy E-stations. In areas of the city where Divvy coverage is not as dense (mostly the West and South Sides), use of an e-bike won't come with additional fees.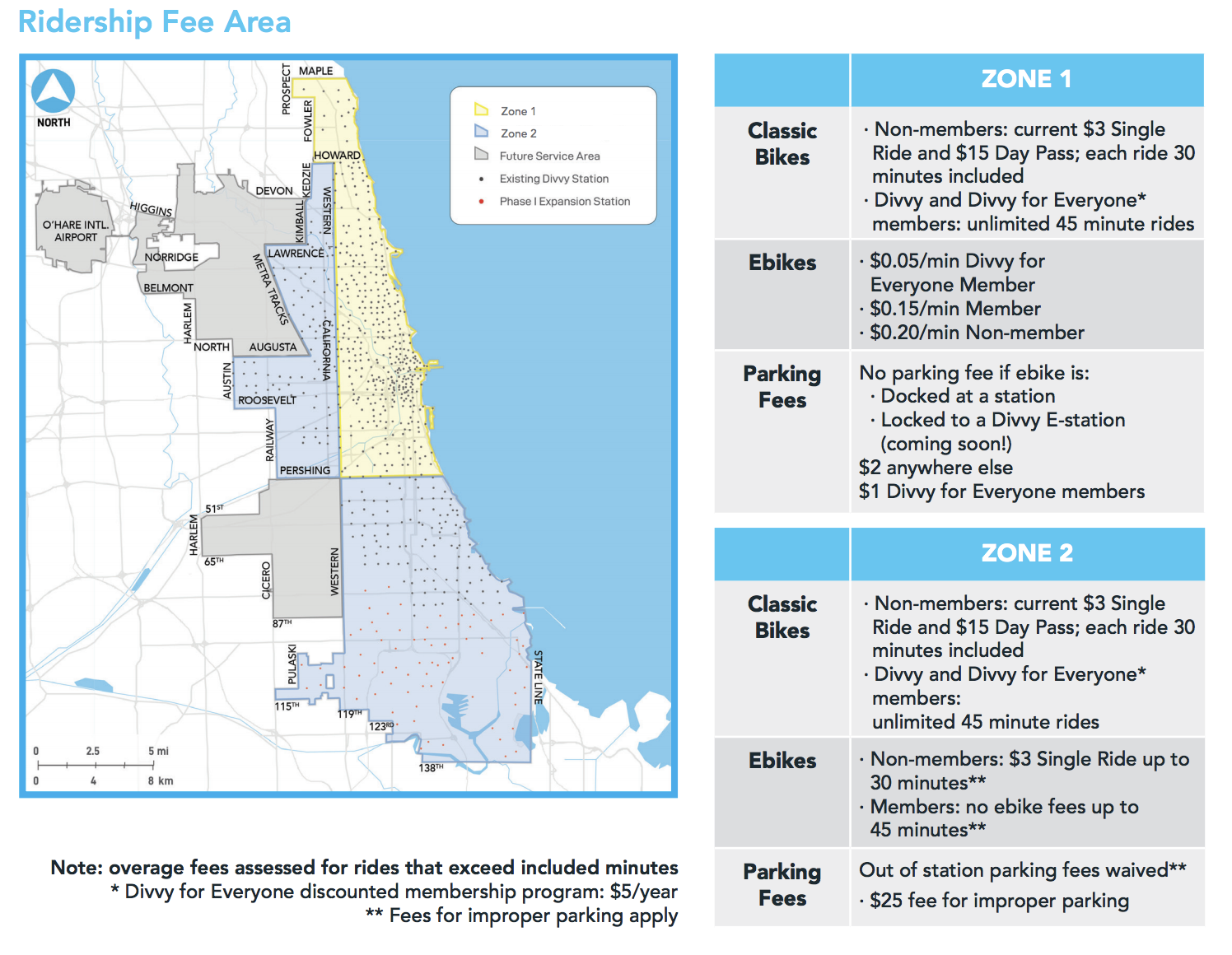 Lyft first experimented with e-bikes when it introduced them into New York City's Citi Bike system (which it also owns and operates) in 2018. Reports of injuries caused by the e-bikes' braking system spurred Lyft to pull thousands of the e-bikes from the streets of New York, San Francisco and Washington in April of 2019. Earlier this year, Lyft reintroduced a small number of redesigned e-bikes into the Citi Bike system—presumably, these are the same model of e-bike that will be used in the Divvy system.
Between Divvy's e-bike launch and Chicago's second scooter pilot beginning sometime in August, there are going to be plenty of new electric vehicles on the city's streets in the coming months—be careful out there.
Most popular on Time Out
- Wisconsin joins Chicago's emergency travel quarantine order this week
- Chicago's newest pizzeria serves Sicilian-style slices from an alley in Ukrainian Village
- Chicago's beloved Tamale Guy is opening a restaurant
- Lollapalooza's four-night virtual event features sets from Paul McCartney and OutKast
- 15 lakefront Airbnbs to rent for a summer getaway from Chicago