You may be able to dine out in a miniature cabin or at a Japanese-style heated table this winter, thanks to the three winners of the city's Winter Design Challenge.
City officials announced today that the designs for Cozy Cabins, Block Party and Heated Tables had been chosen as the winners of the challenge, which the city debuted in August as a way to garner ideas to continue outdoor dining through the cold months. A jury of architects, designers, chefs, restaurant owners and servers selected the winners from 26 finalists after two rounds of judging and more than 600 total entries. Netting $5,000 each, the three winners were chosen based on a roster of criteria that included points for feasibility, innovation, cost efficiency, safety and functionality.
Curious about how each idea works? Cozy Cabins, proposed by Amy Young at the architecture firm ASD|SKY based in Atlanta, suggests using a series of adjoined, parking-space–sized "cabins" warmed by radiant floor heating and inspired in part by ice fishing huts. The structures would also be transparent to help create a sense of community with other diners, since they only service one dining party at a time.
Similarly, Block Party—proposed by urban designer and Northwestern University professor Neil Reindel—would fill parking spaces and other outdoor areas with a series of combinable two-person block modules, which could be placed together to seat larger parties. The blocks are designed to be heated by a thermal mesh system and would not be fully enclosed; instead, restaurants could attach curtains to help trap heat.
Lastly, Heated Tables, proposed by Chicago graphic designer Ellie Henderson, is a riff on the Japanese kotatsu. Like its inspiration, each outdoor table would include a heating element attached to its underside and be covered by a long blanket or duvet that diners could drape over themselves.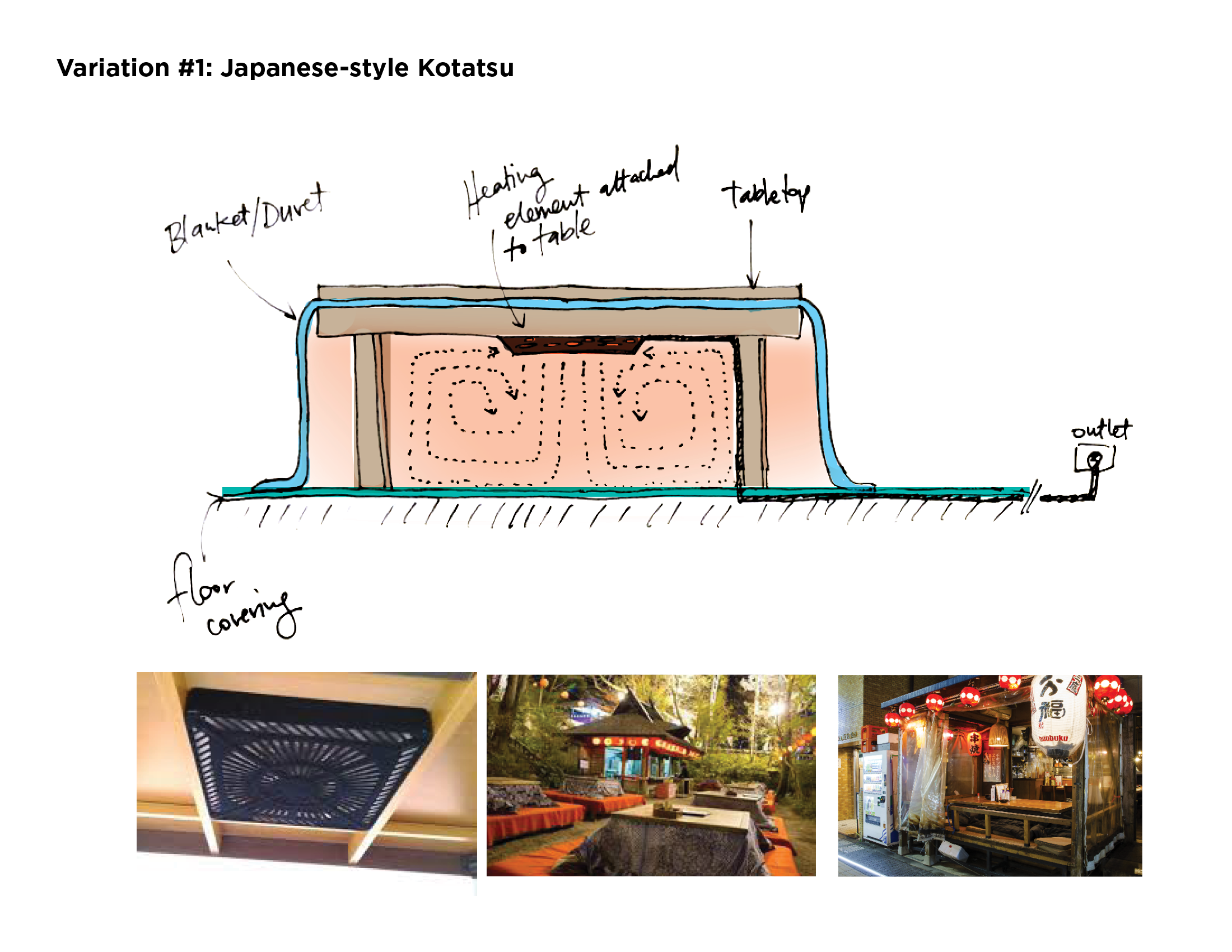 While there's no denying the creativity and thoughtfulness behind these concepts, Chicago restaurant owners are understandably concerned about what's feasible—especially those who don't have permitted outdoor space to work with this winter. With bottom lines tighter than ever, there's also the issue of cost for a temporary seasonal setup. For too many, it's not a realistic fix for the winter months ahead.
A lucky few restaurants selected by the Illinois Restaurant Association (IRA) will get to pilot these design ideas. The IRA will also work with local construction companies to create prototypes of each idea, according the the city's release. Regardless, if and when each concept is implemented, city officials stressed that restaurants will still need to operate in compliance with existing outdoor dining guidelines.
Most popular on Time Out
- A glittering tunnel of lights will illuminate the Chicago Botanic Garden this winter
- This Lincoln Park arcade bar is hosting a drive-thru haunted house in its alley
- Kevin Smith's Mooby's pop-up restaurant arrives in Chicago this month
- Owners of the The Second City are trying to sell the comedy institution
- A three-step guide to voting by mail in Chicago