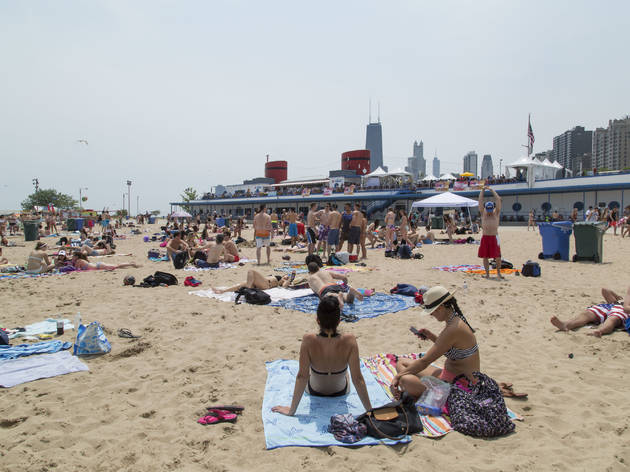 Chicago beaches may reopen in July, according to the Chicago Department of Public Health
Dr. Allison Arwady went on the record, stating that beaches could reopen "shortly after" the Fourth of July.
Posted: Friday June 26 2020, 1:04pm
You won't be able to sit on the beach over the Fourth of July weekend, but Chicago's lakeside stretches of sand could reopen to the public shortly after Independence Day, according to the commissioner of the Chicago Department of Public Health. Yesterday, Dr. Allison Arwady told FOX 32 that the city has been coordinating with the Chicago Park District to reopen beaches, stating, "likely shortly after the Fourth of July holiday is when we will formally be opening the beaches, assuming we continue to make progress."
While the Lakefront Trail reopened to the public on Monday after being closed since late March, Chicago's beaches have remained officially off limits to visitors (though, thanks to sporadic enforcement, plenty of residents have found their way to the shore). Mayor Lori Lightfoot has mentioned the possibility of welcoming visitors back to the beaches several times as Chicago has moved through its reopening plan, but Dr. Arwady's comments mark the first time that a possible timeline has been established.
When Chicago's beaches eventually reopen, they're likely to come with a new set of rules and restrictions. Many states have asked beachgoers to maintain 6 feet of distance between groups, which could limit the capacity of popular stretches of sand on particularly popular days. In addition to lifeguards, beaches might also have social-distancing ambassadors—like the ones that patrol the Lakefront Trail and the 606—encouraging visitors to keep their distance from one another and use face coverings.
If the city's beaches reopen in the coming weeks, it will be thanks to the fact that Illinois and the city of Chicago are currently on a downward trend in terms of confirmed cases. But during a press conference yesterday Gov. J.B. Pritzker warned that spikes in cases could cause regions of the state to move back a phase in their reopening plans. "Illinois will not be a state that does nothing in response to a surge," Pritzker stated.
So, by all means, get outside and enjoy public facilities like the Lakefront Trail, the 606 and—eventually—Chicago's beaches, but make sure that you're doing it safely to ensure that these spaces can remain open.
Most popular on Time Out
- These notable Chicago restaurants and bars have now permanently closed
- Here's what will reopen when Chicago moves into Phase 4 on Friday
- Where to find drive-in movie theaters near Chicago
- These Chicago breweries and bars have reopened their patios
- Supporting Chicago's Black-owned restaurants is a lifelong commitment
Share the story