'Tis the season to cozy up at home with a pile of cookies and a jug of spiked eggnog. Chicago restaurants can help with anything else you might be craving—from prime rib and yule log to togarashi fried chicken and shrimp ceviche. Step away from the stove this holiday season and shop local when you order a takeout feast for Christmas Eve and Christmas Day.
Take a look at some of the most festive menus in town, and check back often—we'll update this list as new offerings arise.
The Bristol
In addition to the B@Home Christmas dinner package ($125)—which stars prime rib au jus and honey-glazed pork belly—The Bristol is also packing up all the alcohol you'll need to survive the holiday season in its monthly Booze Box ($99). Order via Tock.
5 Loaves
Mix and match your holiday supper from 5 Loaves' festive menu, which starts with complimentary salad and broccoli soup for every order. Entrees like BBQ bourbon chicken and braised beef short ribs are made even tastier with sides like garlic-ranch mashed potatoes and corn pudding. For dessert, it's all about the peach cobbler. Order via 5 Loaves.
Dos Urban Cantina
Prefer tamales to prime rib? Dos Urban Cantina has you covered with its holiday dinner kits for four ($159–$179), which include everything you need to stay stuffed through the end of 2020. In addition to 12 assorted tamales, you'll also find mashed potatoes, salad, pumpkin seed hummus, sticky date pudding and more. Order via Tock.
Maple & Ash
In addition to hosting outdoor dining in its courtyard on Christmas Eve and Christmas Day, Maple & Ash is pulling out the stops with its splurge-worthy takeout feast ($395–$895). Nosh on wood-fired filet mignon, black truffle potato puree, shrimp cocktail and more. For dessert, it's all about chocolate bourbon pecan pie from Aya Pastry. Order via Tock.
El Che Steakhouse
Chef John Manion dresses up his tenderloin dinner for four ($150) with green chimichurri, twice-baked potatoes and creamed kale. End the meal on a sweet note with your choice of white chocolate-peppermint cake, French silk pie or caramel and spiced pear cheesecake. Order via Tock.
Bayan Ko
Filipino-Cuban restaurant Bayan Ko is teaming up with cocktail bar Ward Eight on its Noche Buena feast ($55 per person), a smorgasbord of lechon asado, seafood paella, beef short rib, salted caramel flan and more. Toss in cocktail pairings like the Lion's Tail ($24), which is crafted with bourbon, lime, allspice dram and angostura bitters. Order via Tock.
Etta
Etta's River North and Bucktown locations will host outdoor dining on Christmas Eve, but you can also get the meal packed up to go. The festive feast ($240) includes a bottle of wine and enough food for four, like filet mignon, bubbling shrimp, cacio e pepe mac and cheese and chocolate peppermint cake. Order via Tock (Bucktown or River North).
Vajra
A Christmas Eve spread for four ($220) finds classic Nepalese and Indian dishes adapted for the holidays. A Himalayan roasted chicken is accompanied by samosas, duck seekh kebabs, methi paratha, baked plum pudding with brandy sauce and more. You can (and should) add cocktails or a bottle of wine to your order before checking out. Order via Tock.
Alinea
Still haven't tried takeout from Chicago's only three-Michelin-starred restaurant? End the year with Alinea's Christmas menu ($85 per person), which starts with truffle-infused chestnut soup and ends with a burning yule log cake. The main course—a flaky pie stuffed with duck confit, pheasant and poussin stew—is accompanied by cheesy potato gratin, honey-glazed carrots and a crunch salad. Order via Tock.
The Duck Inn
Chef Kevin Hickey wants to help you indulge in the good stuff. His Christmas dinner for four ($250) features prime rib, mulled red wine sauce, duck fat yorkie pudding, creamed kale, Irish cheddar potato casserole and sticky toffee pudding with whiskey cream. Order via Tock.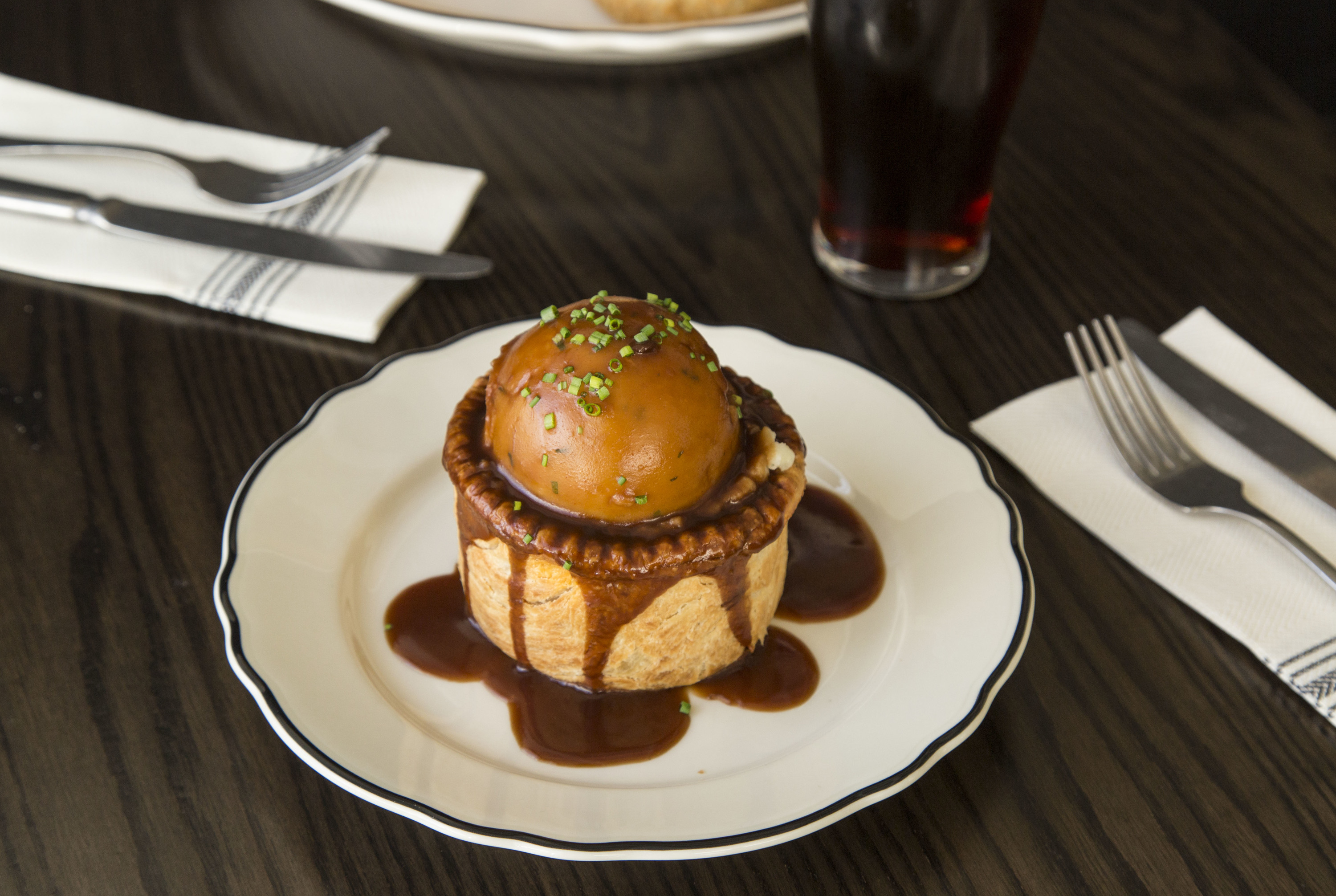 Pleasant House Pub
Pretend you're in the UK with Pleasant House Pub's holiday pie feast ($32 per person). Your choice of savory pie is served with cranberry chutney, roasted root vegetables, spiced sweet potato mash, salad and sticky toffee pudding with custard sauce. Order via Tock.
Nana
There's something for everyone at Bridgeport favorite Nana. The chicken limón and baked glazed ham dinners ($45 per person) are served with lobster bisque, salad, cream garlic mashed potatoes, roasted winter vegetables and layered chocolate cake. For vegetarians, there's spinach lasagna ($36) with truffle mushroom bisque, salad, garlic bread and chocolate cake. Order via Toast Tab.
Lula Cafe
This beloved Logan Square restaurant offers two dinners for Christmas: Choose from beef tenderloin with horseradish cream, juniper and sage ($75) or winter squash stuffed with arborio rice, raclette and sunchoke ($65). Both are served with focaccia, an endive salad, sumac-roasted carrots and a mont blanc tart with clementine and vanilla. Order via Tock.
Daisies
Dinner for two? Daisies' Christmas feast ($175) includes prime rib, potatoes au gratin, marinated beets, creamed swiss chard, and your choice of pie from Brite Bakery. All you have to do is put the finishing touches on the meal at home. Order via Tock.
Sushi-San
Create a new tradition this year with Sushi-San's Christmas Eve togarashi fried chicken dinner for two ($75), which is accompanied by mashed potatoes and yakitori gravy, wrinkled green beans and okinawa sugar pie. Make it boozy with whiskey, sake and wine. Order via Tock.
Frontier
Chef Brian Jupiter's holiday meat shop includes carnivorous delights like smoked prime rib ($145), whole turkeys ($79–$99) and smoked beef tenderloin. Up the ante with sides like mac and cheese, mashed potatoes and cornbread stuffing. Order via Frontier.
Virtue
Chef Erick Williams offers two holiday feasts that feed four ($198 each): Choose from glazed ham or braised short ribs, both of which are served with mac and cheese, collard greens, corn pudding, rolls and honey butter and red velvet cake. Still hungry? A half-gallon of gumbo or a vegetarian lasagna should do the trick. Order via Virtue.
Tzuco
You may not be able to travel to Mexico right now, but chef Carlos Gaytan will transport you there with his Christmas menu ($325), a beautiful tasting of Acapulco-style shrimp ceviche, braised short ribs, roasted cod with salsa caribeña, brussels sprouts with dried chorizo, buche de noel and more. Order via Tock.
Mott St.
Step away from the crockpot and let the folks at Mott St. spoil you with braised short ribs, yuzu-ginger smashed potatoes, everything garlic noodles, salad, asparagus with umami ssam gribiche and a shrimp cocktail ($75 per person). Order via Tock.
Pisolino
Choose from roasted ham with a balsamic-brown sugar gastrique or a stuffed New York strip with spinach and sautéed mushrooms—both of which are served with cauliflower and potato puree, gnocchi alla romana, fennel-sausage stuffing, sautéed rapini and pecorino parker rolls. Order via Pisolino.
Most popular on Time Out
- The high-tech 'Immersive Van Gogh' exhibition is coming to Chicago
- Where to see dazzling Christmas lights in Chicago
- The best things to do during the holidays in Chicago
- 10 things real Chicagoans don't know but are too afraid to ask
- Amazing Airbnb cabins for the perfect Midwest getaway