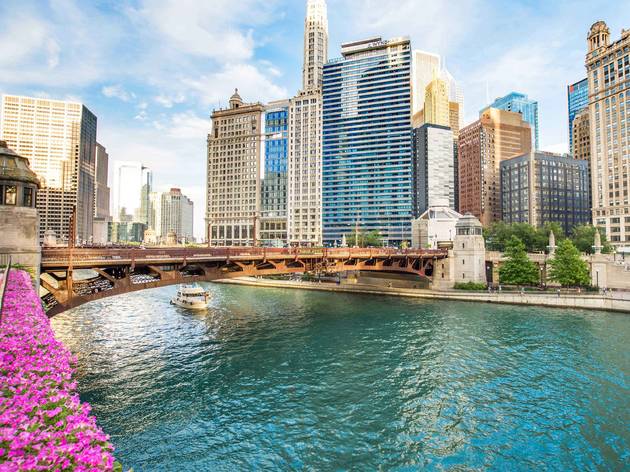 Downtown Chicago reopens today, with CTA service restored and bridges lowered
After limiting access to the Loop on Sunday, the reopening restores access to all Chicagoans and visitors.
Posted: Wednesday June 3 2020, 11:20am
Over the weekend, the city cut off CTA service to the downtown area and set up checkpoints that restricted access to the Loop, as well as parts of River North, the West Loop and the South Loop to residents and employees of essential businesses. As of 5am this morning, the area is opening back up to all Chicagoans as the city moves into Phase 3 of its reopening plan, with CTA service partially restored, Lake Shore Drive reopened and many of the bridges across the Chicago river lowered. Here's a complete list of what has reopened today, according to a release from the city.
Lake Shore Drive is open, but exits at Michigan Avenue, Chicago Avenue, Grand Avenue, Lower Wacker Drive and Randolph Street remain closed.
All entrance and exit ramps on 290 and 90/94 are open.
CTA train and bus service is restored, however, some train stops located in the area will remain closed. Closures impacting the morning rush will be posted at 5am on Wednesday and will be updated regularly throughout the day at the CTA's website.
The following bridges will be lowered over the Chicago River: Clark Street, Dearborn Street, Lake Street, Randolph Street, Wells Street and Washington Street.

Additionally, after being shut off on Sunday, the Divvy bike system was reactivated at 6am this morning and will allow bike rentals through 8pm this evening. Chicago's 9pm curfew is still in effect and there has been no announcement made about when it will be lifted.
Most popular on Time Out
- These local resources connect Chicagoans to black-owned businesses
- Access to downtown Chicago is being limited, following a day of protests
- How to support Black Lives Matter and other groups protesting in Chicago
- Goose Island collaborated with a 'RuPaul's Drag Race' star on a beer for Pride month
- One of Chicago's top chefs launches a delivery-only chicken shop this weekend
Share the story