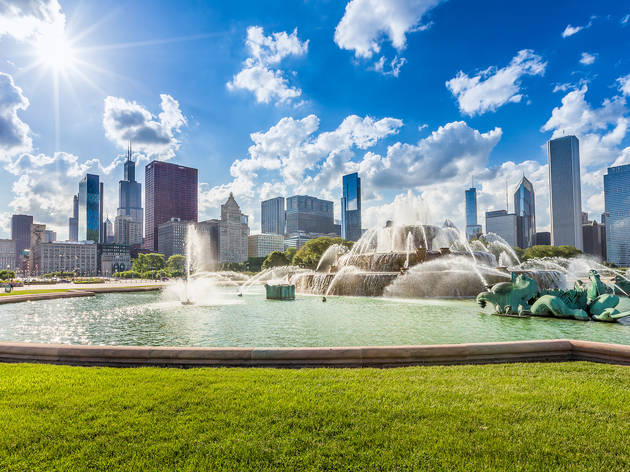 Grant and Union Parks will open this weekend for protesters
Lightfoot provides new details on what protesters can expect this weekend.
Posted: Friday June 5 2020, 7:30pm
For nearly a week, Chicagoans have hit city streets to protest the death of George Floyd, a Minneapolis man who was publicly killed by police on May 25. Tonight Mayor Lori Lightfoot announced that Grant Park in the Loop and Union Park in West Town will open over the weekend to ensure that protesters have the space they need to demonstrate and "express their outrage and righteous pain over the murder of George Floyd," Lightfoot said.
"We want to make sure that you have the space to lift your voices and make yourselves heard," she added. "And we will be taking a number of other precautionary measures to make sure that we're supporting and protecting neighborhoods."
Lightfoot also mentioned some measures to come regarding downtown bridges and public transportation, though she would only point folks to the CTA's website for more details. Downtown residents and those passing through the area can expect to see some road restrictions in place to help minimize the number of cars and protect protesters from oncoming traffic. Additionally, the city's curfew is still in order, stretching from 9pm to 6am.
Protesters will likely encounter the 100-plus security providers that the city has contracted to keep neighborhoods on the South and West sides safe this weekend. More than 300 trucks from various city departments such as Streets and Sanitation will also be deployed to commercial corridors throughout the city to provide added traffic support.
Most popular on Time Out
- These local resources connect Chicagoans to black-owned businesses
- What you need to know about riding the CTA as Chicago enters Phase 3
- How to support Black Lives Matter and other groups protesting in Chicago
- Everything you need to know about Phase 3 of Chicago's reopening plan
- These Chicago restaurants have reopened for outdoor dining
Share the story