When co-owners D'Andre Carter and Heather Bublick speak about the creation of their barbecue and comfort food concept Soul & Smoke, it sounds anything but intentional. The couple left their jobs at defunct fine-dining institution Moto to focus on hosting underground tasting dinners in their apartment. As demand for their cooking grew, they established a catering company called Feast & Imbibe to create menus for events. And when customers began requesting food for drop-off, they developed a comfort food-focused menu that formed the underpinnings of the Soul & Smoke concept, built around chef Carter's love of barbecue.
"It was always part of me already. It was part of what we did on a weekend," Carter says, explaining his passion for barbecue. "It was the way you would celebrate any occasion that happened."
Carter's love of cooking was fostered by his grandmother—as her oldest grandchild, he'd often help her prepare Sunday meals for his extended family at her home on Chicago's South Side. He landed his first job at an Olive Garden restaurant and fell in love with the adrenaline rush of working in a kitchen. Eventually, he attended culinary school at Le Cordon Bleu and secured an internship at chef Homaro Cantu's Moto, where he worked his way up to executive sous chef.
Moto is where Carter first crossed paths with Bublick, a Rogers Park native who also interned at the fine-dining restaurant (before joining the front of house stff) while attending culinary school at Kendall College. By the time they founded Feast & Imbibe together in 2013, they were a couple, working hand-in-hand on menus and the logistics of their business.
"When we started Feast & Imbibe we didn't know we were going to turn into caterers," Bublick says. "We were so obsessed—especially in the very beginning—with making sure that whatever food we made didn't have the hallmarks of catered food."
For years, Soul & Smoke was merely a drop-off-friendly menu option that Feast & Imbibe offered, but Carter and Bublick always had ambitions to begin offering their barbecue at farmers markets and other public events. Those plans were accelerated when the pandemic hit and months of catering business instantly disappeared.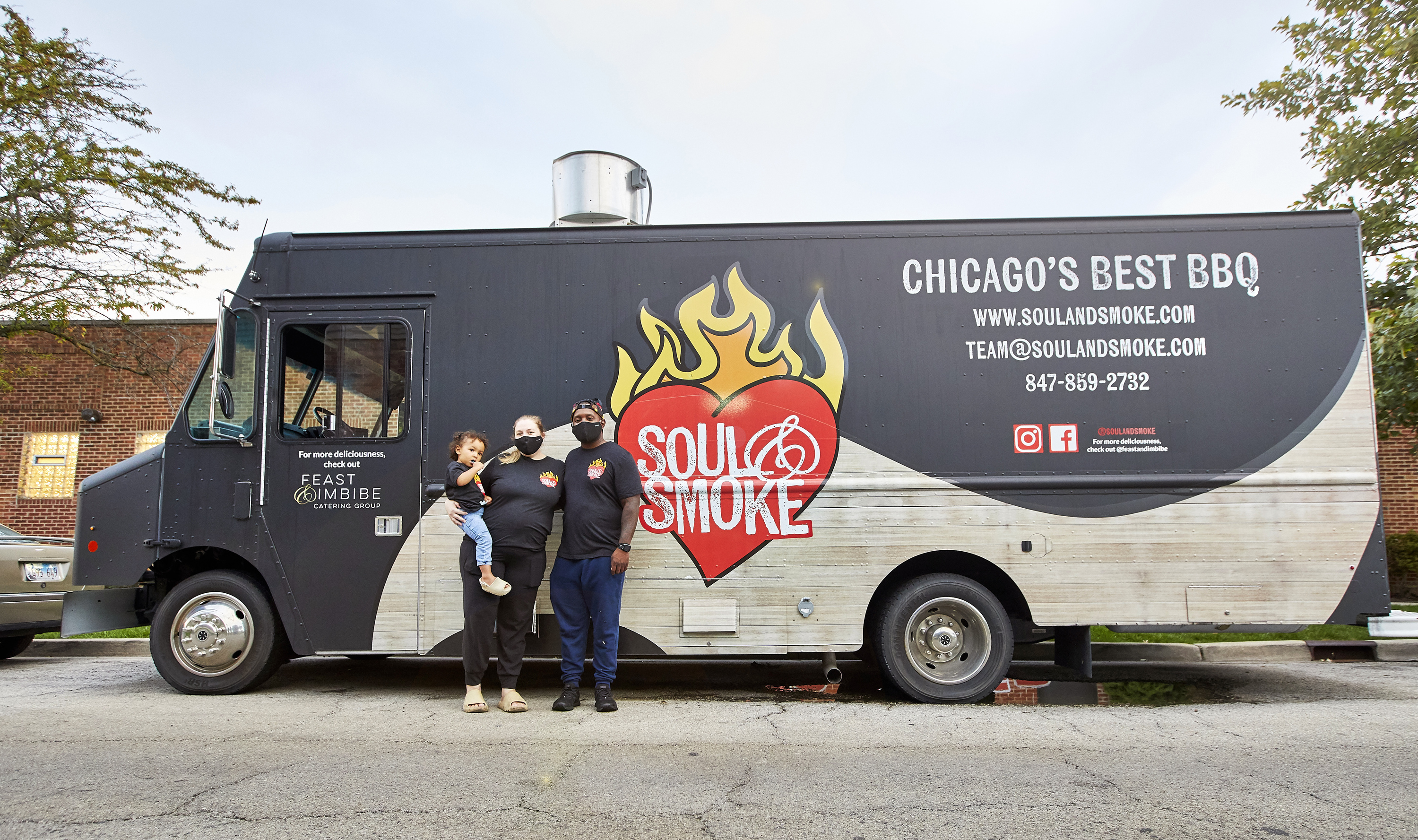 As Soul & Smoke became one of the first Chicago-area vendors to provide free community meals for José Andrés' World Central Kitchen, Carter and Bublick also began offering takeout from their small kitchen in Evanston. In September, a Soul & Smoke-branded food truck began hauling ribs, mac and cheese and other comfort food to diners in Chicago and the surrounding suburbs. By the beginning of 2021, Soul & Smoke was offering delivery from ghost kitchens in Avondale and the South Loop.
If you taste a few bites of Soul & Smoke's tender brisket or its gooey mac and cheese, it's easy to see why Carter and Bublick have been able to expand their business beyond Evanston so quickly. But even after spending years developing his recipes, Carter's perfectionist tendencies have lead to continual changes, from developing a smoked turkey stock that's used in his collared greens to switching out the noodles used in his mac and cheese no less than three times.
"The day that the Tribune review [of Soul & Smoke] was published, D'Andre decided that he needed a new smoker because the ribs and pulled pork weren't good enough—the article only talked about brisket," Bublick says, describing her husband's belief that Soul & Smoke's food always has room for improvement.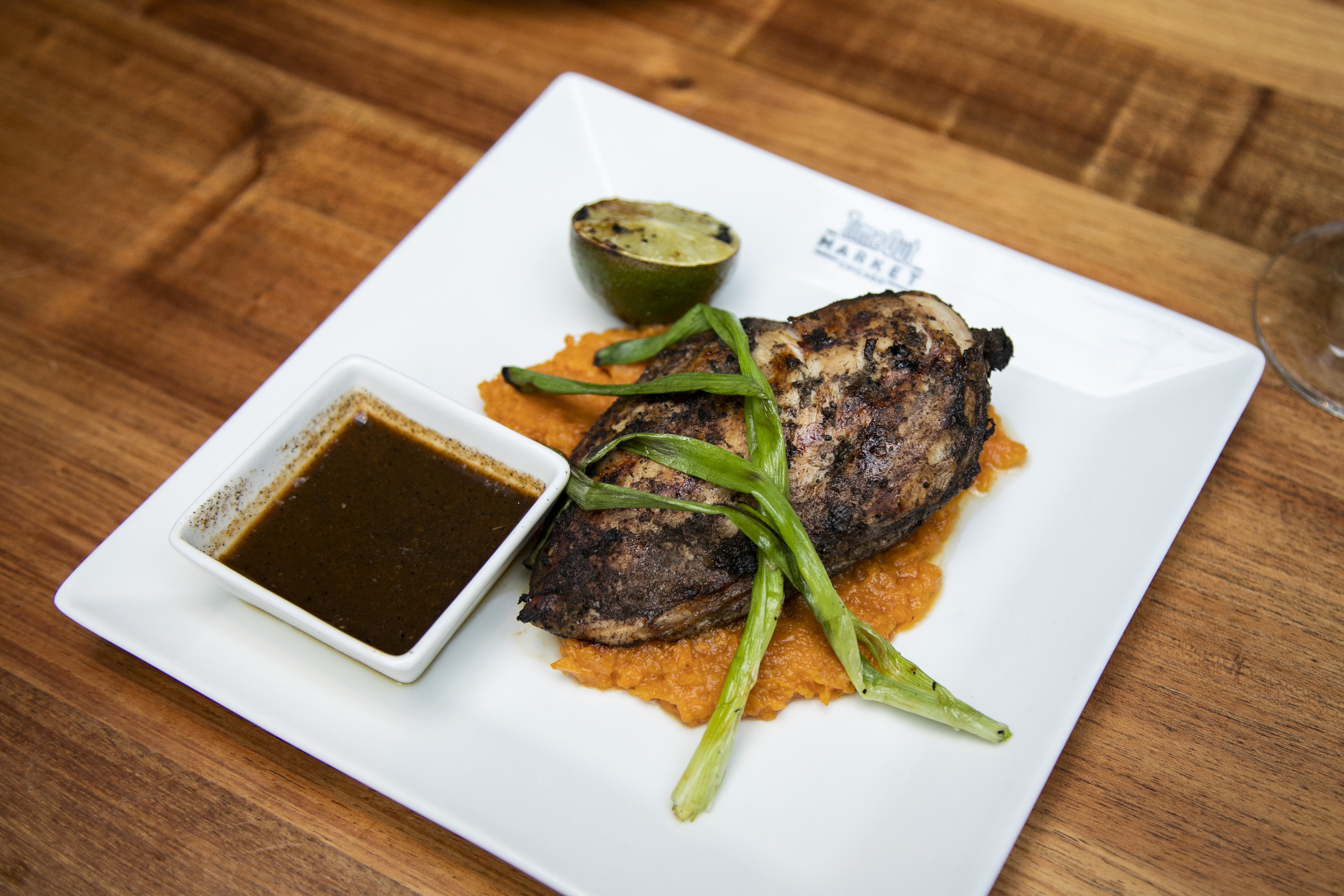 Chef Carter's latest tweaks to his dishes trickle down to every Soul & Smoke location, including a kitchen at Time Out Market Chicago, where you'll find brisket, pulled pork and hot links served alongside dishes like shrimp and grits or grilled jerk chicken. The recent expansion to the Fulton Market food hall is the latest step in Carter and Bublick's plans for their business, which include the purchase of a second Soul & Smoke food truck and the eventual opening of a dining room in the same building that houses their kitchen in Evanston (pending approval by the city).
Chicago's reopening has allowed Carter and Bublick to resume a limited catering schedule through their Feast & Imbibe business, but the couple is pouring more and more of their time into operating their Soul & Smoke kitchens, allowing Carter to continue perfecting his barbecue techniques while cooking some of the same dishes that he used to help his grandmother prepare.
"Feast & Imbibe was challenging myself, but Soul & Smoke was very easy to me," Carter says. "It's just the food I grew up eating perfected."
Order Soul & Smoke from its kitchens in Evanston, Avondale and the South Loop, keep an eye on its food truck schedule or stop by its location at Time Out Market Chicago, open Wednesday through Sunday.