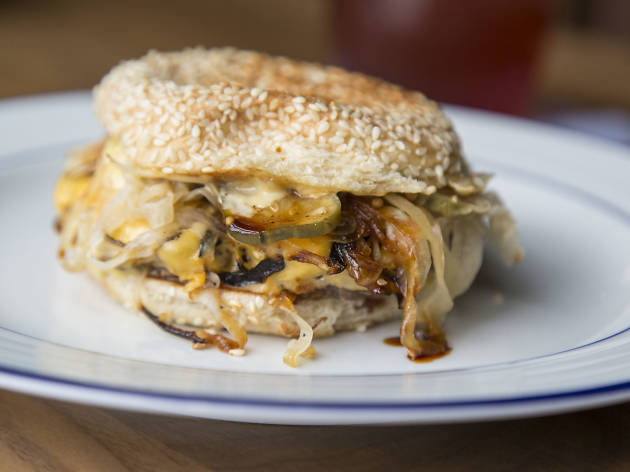 One of the best burgers in Chicago is available for takeout this weekend only
Posted: Tuesday March 31 2020, 4:22pm
If you've been leaning on comfort food to get you through the last couple of weeks, you're not alone. We have one more delicacy to add to your bucket list of indulgent Chicago eats: the cheeseburger from the Loyalist, which, for the first time ever, is available for pickup this weekend.
What makes this burger so special? For one thing, it's got its own Instagram account that's loaded with seriously saucy photos. But more importantly, it's a study in balance and all things delicious. The patty—a blend of chuck, ground bacon and short rib—is nestled inside of a pillowy sesame seed bun and topped with a blanket of American cheese, house-made pickles, a mess of onions and onion-infused mayo. We're drooling just thinking about it.
The Loyalist is offering this iconic cheeseburger for takeout through Tock from Friday, April 3 through Sunday, April 5. Each meal includes a Loyalist cheeseburger, deviled egg iceberg salad with buttermilk dressing, chips and a whoopie pie—all priced at $28 per person. Hopeful diners can reserve the bundled dinner deal and select a pickup time from 4 to 8pm each day.
And hey, if you can't make it to the West Loop restaurant to pick up a cheeseburger this weekend, consider donating to the Loyalist's staff support fund, with every cent benefitting the staff during this difficult time—and ensuring the Dirty Burg will be around long after this is over.
Share the story