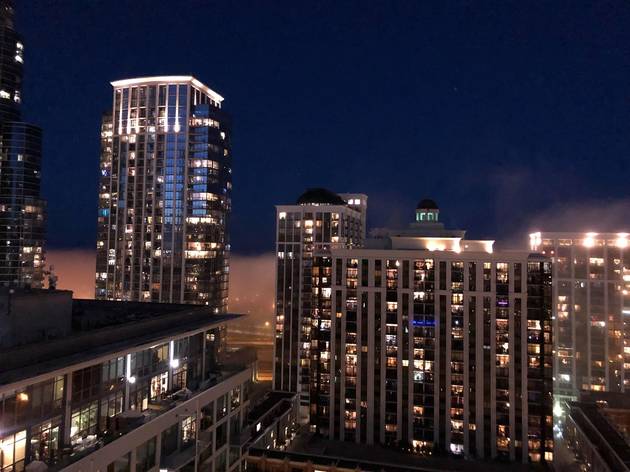 South Loop residents are saluting healthcare workers with nightly balcony celebrations
Flashing lights and joyous sing-alongs punctuate this neighborhood gathering in a time of social distancing.
Posted: Friday April 3 2020, 8:03am
Communities across the nation are coming together to support healthcare workers and other first responders who are still leaving their houses to provide much needed help as an increasing number of people stay at home and practice social distancing. Dubbed "Solidarity at 8," the nightly displays of support has brought residents to their porches and balconies in cities like New York, Paris and Barcelona for sing-alongs, light displays and rounds of applause.
In Chicago, one of the largest and most flashy "Solidarity at 8" celebrations takes place every evening at 8pm amid the high rises of the South Loop, where neighbors camp out on their balconies brandishing flashlights, noisemakers and stereos blasting triumphant songs. The events are being organized with the help of a Facebook group called Hello South Loop, which has named the gatherings "Chicago Unite At Night." On Friday, March 27, local radio station 97.1 The Drive broadcasted a playlist tailored for the occasion, featuring the National Anthem as well as Queen's "We Will Rock You" and "We Are the Champions."
"Every night seems like more folks join in," South Loop resident Charlyn Tara told us. "I live for 8pm each night."
Check out some footage from a couple of recent South Loop celebrations below and feel free to take to your porch (or just open up a window) to make some noise in support of Chicago's brave healthcare workers and first responders.
Share the story