After months of delays and venue changes, "The Art of Banksy" finally opened at 360 N State Street over the weekend—the same building that houses the Museum of Broadcast Communications. Proudly touting its "unauthorized" status, the show has previously popped up in cities like Melbourne and Miami, always presenting a collection of more than 80 privately-owned works created by the enigmatic street artist. While I can't speak to the previous iterations of the show, the version that has arrived in Chicago leaves much to be desired, presenting little more than a barrage of images without much in the way context—and often willfully contradicts the themes that underpin Banksy's work.
Set amid an often cramped labyrinth of hallways and galleries, "The Art of Banksy" is never able to transcend the limitations of an exhibit based around the relatively small catalog of prints, paintings and other objects that were sold to collectors (or otherwise made commercially available). As such, the collection on view is somewhat limited (you won't see any fragments of brick walls or much else that represents Banksy's infamous public art) and its organization is haphazard. The first few sections of the exhibit present an exceedingly abridged timeline of Banksy's career, tracing his origins as the member of a Bristol graffiti crew and briefly touching on career highlights, including works snuck onto the walls of museums and the large scale theme park installation Dismaland. Subsequent galleries group together works made in collaboration with bands and publications (there's a Time Out London magazine on the wall) and pieces featured in Banky's 2006 Los Angeles show, "Barely Legal."
Of course, you'll find plenty of iconic Banksy images on display throughout the exhibit, including multiple renditions of "Flower Thrower" and no less than three prints of the "Girl with Balloon" stencil, all hung next to each other on a single wall. In fact, much of the works on display are pieces that you've likely seen before—because of the ways in which Banksy creates and sells work, there's no art in "The Art of Banksy" that was previously unseen. The majority of original prints on the gallery walls were likely originally purchased during Banksy's I can't believe you morons actually buy this sh*t sale through Christie's, which included signed prints of the artist's signature "Pulp Fiction" and "Love Rat" images.
During my trip through "The Art of Banksy," the novelty of seeing endlessly reproduced Banksy art on the walls of a gallery quickly wore off. And there was little else in the exhibition to hold my attention: wall text is sparse and unremarkable, a handful of video interviews with one of Banksy's street artist contemporaries are difficult to hear over the background music and the audio guide device that visitors are handed plays about 10 short audio clips throughout the entire show.
What "The Art of Banksy" is most lacking is a sense of context—anything that would add some meaning and a sense of history to the images that line its walls. The omission is especially glaring when you consider that Banksy is a politically- and socially-conscientious artist, creating work that is imbued with a point of view. Still, the prints featured in the exhibit depicting English figures like Winston Churchill and Queen Victoria lack any background for those unfamiliar with British politics, while anti-war pieces like "Napalm" and "Happy Choppers" are similarly divorced from the conflicts that inspired them. Great exhibitions tell a story, but the narrative of the "The Art of Banksy" seems to be solely based on the viewer's preexisting familiarity with Banksy's iconography.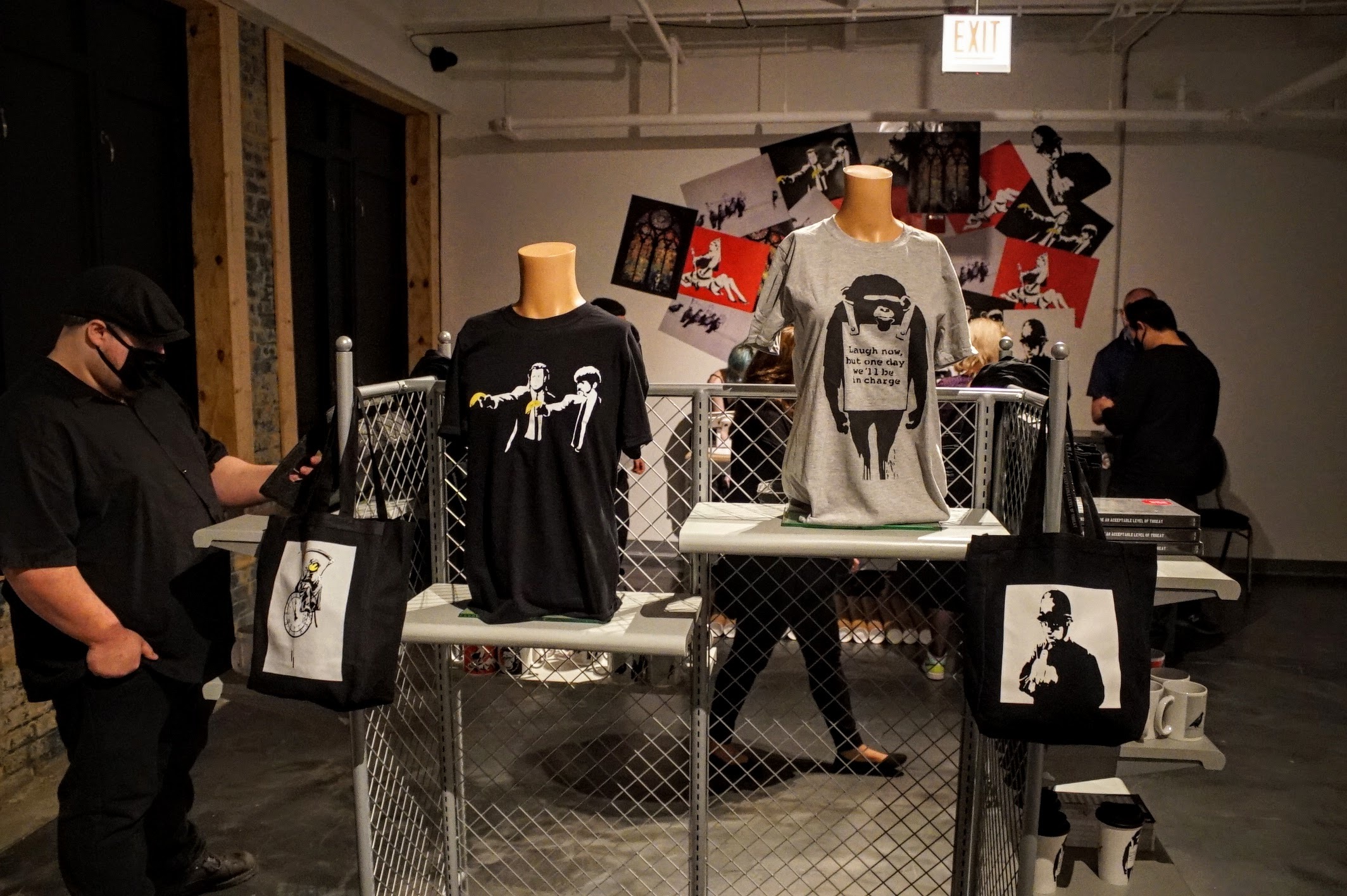 "The Art of Banksy" saves its most tone deaf moment for last, allowing attendees to "exit through the gift shop" without a hint of irony. Accentuating the artist's stance with its title, the 2010 Banksy documentary Exit Through the Gift Shop criticized the practice of reducing the work of artists to T-shirts and tchotchkes that museums can sell for profit. But "The Art of Banksy" is unabashed in its commitment to bleeding a few extra dollars out of guests who already dropped as much as $50 on a ticket—and since this show is admittedly unauthorized, one can only assume that the shop's tote bags and T-shirts bearing replicas of Banksy's artwork are as well.
It's a fitting conclusion to an exhibition that seems intent on contradicting its subject through its mere existence. A section on Banksy's website acknowledges the proliferation of exhibits displaying the artist's work ("none of which are consensual," it reads), but "The Art Of Banksy" shamelessly flaunts its unauthorized status, clumsily justifying the display by noting that "none of the works have been taking from the streets." And whereas Banksy's career has been centered around creating art that is public and accessible to anyone, "The Art of Banksy" is charging double the Art Institute of Chicago's price of admission to see a handful of works. The entire exhibit is little more than an exercise in the sort of opportunistic capitalism and vapid culture that Banksy's graffiti might lampoon. And unless you're a consummate Banksy devotee, you're probably better off skipping this show and flipping through Banksy's coffee table book, instead.