The weekend (and the Weeknd... and Vampire Weekend) arrived as Lollapalooza entered its third day
on Saturday
, accompanied by sweltering temperatures and a relentless sun. If you were brave enough to venture out of the air conditioning and into Grant Park, there were lots of acts worth seeing—preferably from a shaded vantage point. Here are the five things we enjoyed the most at Lollapalooza
on Saturday
.
RECOMMENDED: Our complete guide to Lollapalooza
1. A St. Vincent set that deserved top billing
Back when Lollapalooza's lineup was announced, organizers received some valid criticism for not booking any female artists as headlining acts. St. Vincent's late-afternoon performance—as compelling and visually arresting as anything that's graced the main stage so far this weekend—only called more attention to the glaring lack of women among the upper echelons of the lineup. Digging into the intimate electro-pop of her recent album, MASSEDUCTION, Annie Clark unleashed gut-wrenching lyrics and towering guitar melodies from atop a riser, leading her masked band as strange imagery flashed behind her. It felt like a headlining set, and it probably should have been.
---
2. Vampire Weekend's delightfully weird setlist
Attendees had a choice between two Weekends (or Weeknds)
on Saturday
night, but Vampire Weekend proved to be the stranger, and therefore more interesting, headlining option in the park. The group inexplicably kicked off the evening by playing it's buoyant single "A-Punk" three times in a row, before launching into a set that included a short but apt cover of Chicago's "Saturday in the Park," a mid-bass-solo rendition of the Seinfeld theme and an encore that featured Dusty Springfield's "Son of a Preacher Man." Of course, the New York outfit also found the time for songs like "Diane Young" and "Cousins"—in fact, the only thing missing from the career-spanning setlist was a preview of Vampire Weekend's long-rumored fourth record.
---
3. Any shaded area in Grant Park
Saturday brought 96-degree temperatures and sunny skies to Grant Park, so patches of shade were at a premium. Since Lollapalooza still hasn't invested in a fleet of drones to hover above the festival with a giant canopy, most attendees resorted to finding trees, fences and anything else that cast a shadow—whatever it takes to stay cool in this increasingly dusty urban desert.
---
4. Carly Rae Jepsen's sunny sing-along
Canadian singer Carly Rae Jepsen may have been a last-minute replacement for English singer-songwriter Jessie Ware, but her fans got the memo (presumably before Saturday tickets sold out) and showed up in force. Turning the Lake Shore stage into a glitzy Vegas-style lounge, complete with backup singers, a tinsel backdrop and a bandstand, Jepsen's appearance didn't stray far from her performance at Pitchfork two summers ago, filled with slick pop hooks, endearingly on-the-nose lyricism and enthusiastic prancing across the stage. While a portion of the crowd showed up exclusively to sing along to "Call Me Maybe" (which arrived near the end of the set), anyone who stuck around probably discovered a few infectious anthem to add to their latest playlist.
---
5. Revival Food Hall's outpost in Chow Town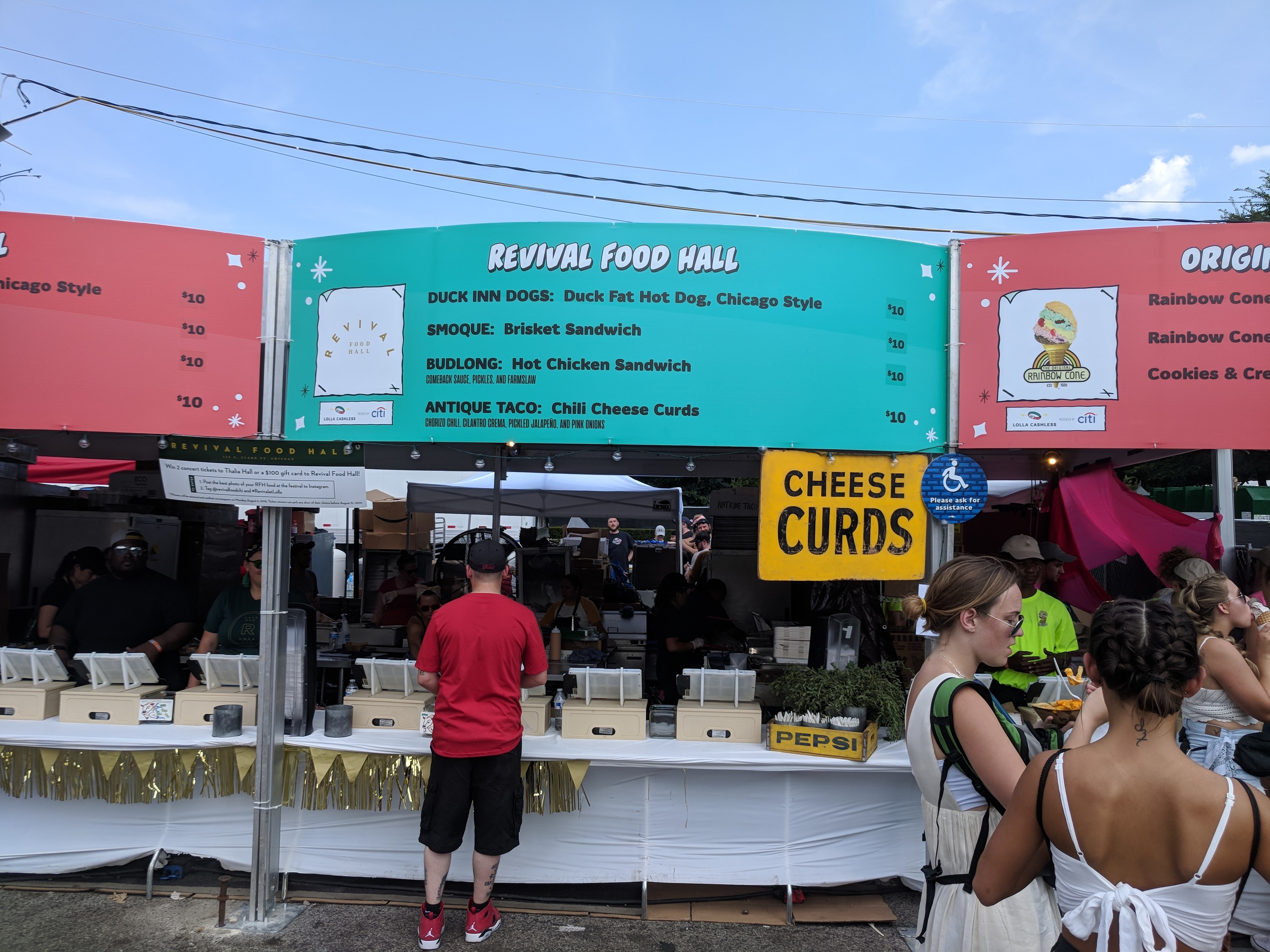 There's no shortage of food vendors inside the gates—so long as you have an appetite for pizza, burgers, fried chicken and lobster corn dogs. If you're looking for even more variety, Revival Food Hall's stand (just south of Buckingham Fountain) offers dishes from four of the vendors located within the Loop lunch destination. Our favorite option is Antique Taco's chili cheese curds: fried cheese smothered in chorizo chili. We're not sure why it took this long for fried cheese curds to debut at Lolla...
Want more? Sign up here to stay in the know.