If you pop by the new patio at Uptown's Baton Show Lounge for a drink after 6pm, you'll be treated to a spectacle fit for 2020. Every 15 to 25 minutes, one of the iconic drag club's performers weaves through a crowd of masked patrons—all seated at tables spaced 6 feet apart—and makes their way to a small stage for a performance, complete with professional lights and glamorous costumes.
The outdoor performances, an addition this summer to Baton's regular repertoire of drag revue shows, has made it possible for the club to get back into the business of entertainment after a three-month shutdown earlier this year, coaxing reluctant patrons back out with the promise of rigorous safety standards and open-air shows—and ensuring jobs for its owners and performers.
"It's going very well," says Jim Flint, who's owned Baton since its inception in 1969. Baton reopened its doors on June 26, and the patio was ready a week later. The club doesn't have any kind of special outdoor performance permit, but they can serve drinks, desserts and food from neighboring restaurants on the patio.
The outdoor performances have proven crucial to Baton's relaunch. As patrons began acclimating to the club's 42-seat patio, they've become increasingly comfortable—excited, even—about the prospect of seeing full shows indoors, Flint says. The patio will probably shut down sometime in October, but he's already seeing more folks interested in the indoor theater, which could help carry them through the season even with restricted capacity levels.
Baton isn't the only Uptown venue making changes to accommodate COVID-19 safety restrictions. The neighborhood, long known for its entertainment district off the Lawrence Red Line stop, is home to some of the city's most iconic music spots—all of which have been hit hard by pandemic-related financial blows. And with government funding still off the table for now, many have had to get creative to survive.
Carol's Pub, the beloved honky-tonk pub on Clark Street known for its cheap beer and rollicking live country music shows, has slowly reintroduced performances back to its evening repertoire. It took four weeks after reopening in June—and being denied an outdoor performance permit—before resuming live music on Friday and Saturday; even now, the bar still isn't hosting full bands or paying full rates. Instead, local artists have been performing acoustic solo or duo sets for a crowd seated at socially-distanced tables.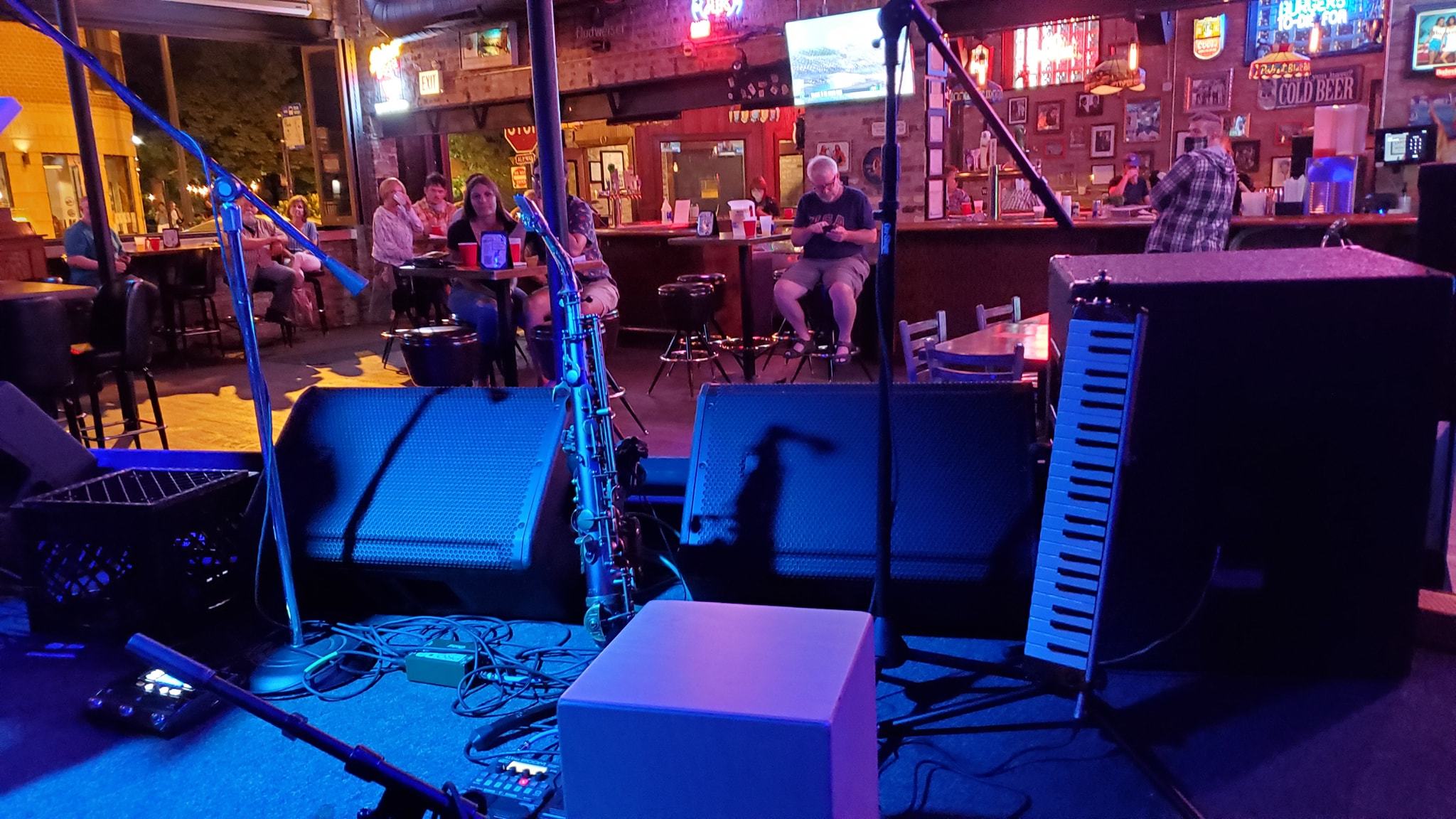 Most patrons at Carol's over the past few months are neighborhood residents—Ed Warm, who owns Carol's and Joe's on Weed Street, says the community has supported the pub reopening wholeheartedly.
"All we were getting on social media is, 'When are you doing music?'" Warm says. "I think people are happy to see us doing it as cautiously and safely as possible."
Others have faced insurmountable difficulties. Larger venues like the Aragon Ballroom and Riviera Theatre remain closed, as does The Neo-Futurists theater in Andersonville (though you can still tune into online performances). Green Mill Cocktail Lounge, the neighborhood's stalwart jazz club, resumed shows indoors at 25 percent capacity when Chicago entered Phase 4 at the beginning of July, but was forced to stop when the city banned indoor bar service without food on July 24.
Dave Jemilo, who's owned Green Mill since the 1980s, expressed frustration about how long it took for the club to get a patio license in the first place. He applied in June but wasn't approved until September 1, close to the end of patio season. Since the club reopened on September 3, bands have been rehearsing—with windows open—in an adjacent space during business hours; patrons are free to tip them.
"I pay rent and I own the business, but there's nothing there," Jemilo explains. "So I let bands rehearse and I open the windows because it's too hot in there."
For places like the Green Mill, there's also the question of Chicago's impending winter. The sidewalk permit runs until November 30, but Jemilo doesn't think he'll be able to have folks outdoors as temperatures dip. He bought some heat lamps, but the patio will only stay open as long as people keep showing up.
Still, some think there's reason to be optimistic. Flint, a longtime resident of Uptown, moved Baton to the neighborhood from its original location in River North last year; he says the community has been "so welcom[ing], it's unbelievable." Nearby businesses hang up flyers for Baton shows—some even make their way over to watch a performance or two after closing time—and Flint does the same for them. That spirit of community, he says, will be what propels the neighborhood's venues over the pandemic hurdle.
"If we're full, I tell people, 'Why don't you head down to the Green Mill until our next show until we have some vacancy?'" Flint says. "Because we're all fighting this together, and the more we help each other, the better we are."
Additional reporting by Zach Long.
Most popular on Time Out
- Loop food hall Wells Street Market will permanently close this week
- A hidden walk-up window in Lincoln Park deals in decadent desserts
- A drive-through lights display is coming to Morton Arboretum this fall
- 24 ways to still have an amazing fall in Chicago
- 6 places in the Midwest that look like they could be in Europe