When the concert cancelations began rolling in at the end of March, laser artist Will Kent and his company Coherent Designs were left without any business. After designing dazzling light shows for the likes of Porter Robinson, Illenium and Aerosmith, Kent was considering setting up some of his gear in parking lots throughout the city and hosting pop-up laser light shows. Instead, he was introduced to the owners of Wicker Park bar Whiskey Business, who were looking for a way to spice up their rooftop as bars and restaurant were given the go-ahead to reopen outdoor spaces—and Kent had just the lasers for the job.
Coherent Designs mounted eight laser projectors (the equivalent of 27,600 conventional laser pointers) to the front of Whiskey Business's rooftop, creating a colorful canopy of lights that criss-cross over guests' heads. The lasers all hit the back wall of the rooftop space, so there's no need to worry about a stray beam somehow blinding someone standing on a Wicker Park rooftop to the east of the bar. According to Kent, the lasers have been synced to tracks by the likes of Justin Bieber, Journey, Kaskade, Zeds Dead, DNCE and Walk The Moon—he also has plans to manipulate the lasers live to a soundtrack of tropical house music.
The laser light show will be the centerpiece of Whiskey Business's new Neon Reef Nights party, which will welcome guests to the rooftop on Thursday, Friday, Saturday and Sunday nights. A reservation will be required to snag a table for a group of up to 10 people, with a $50 deposit that will be applied to your table's bill (on Friday and Saturday nights, groups will also pay a $15 cover charge). There's also a 2.5-hour time limit on each table, so you won't be able to stick around and stare at the lasers all night long.
Neon Reef Nights begin at Whiskey Business on Friday, June 26 and reservations are currently being accepted via Tock. Check out an aerial video of the laser light display below.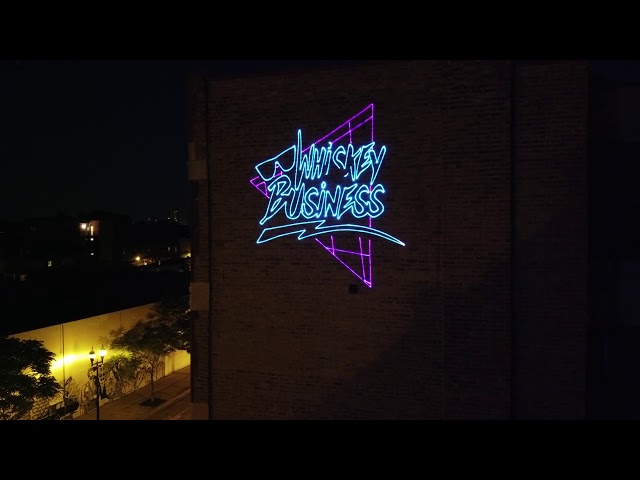 Most popular on Time Out
- These notable Chicago restaurants and bars have now permanently closed
- Here's what will reopen when Chicago moves into Phase 4 on Friday
- Where to find drive-in movie theaters near Chicago
- These Chicago breweries and bars have reopened their patios
- Supporting Chicago's Black-owned restaurants is a lifelong commitment