The best iced coffee drinks to try in Chicago
Cool down with one of these iced coffees, including a horchata iced coffee, nitro blends and rose-spiked lattes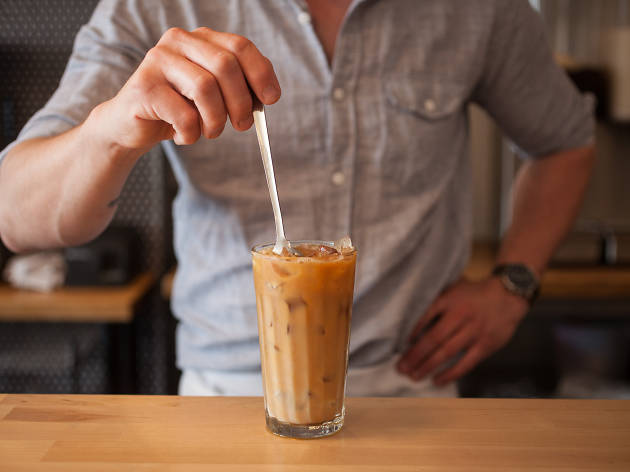 Nothing is stopping us from drinking iced coffee year-round, but it's especially hard to pass up during the hot, sweaty summer season. Chicago's got fantastic coffee shops and brunch places putting out stellar versions, too, so put down the frozen cocktails and frosé and grab one of these great drinks to perk you up in the morning.
RECOMMENDED: Best coffee in Chicago
The best iced coffee drinks in Chicago
Restaurants, Coffee shops
Ipsento's nitro coffee is served at exactly 39 degrees, rather than over ice. The nitrogen adds slight bubbles to the Ipsento brew, so while the flavor is the same, there's a nice bit of effervescence from the nitrogen.
Drink your dessert with this caffeinated confection that pairs perfectly with brunch favorites. Rich, creamy Dark Matter Chocolate City Nitro is upgraded with a scoop of the diner's coveted cajeta (caramelized goat's milk) ice cream. Consider it a grownup float your 5-year-old self would be very envious of.
Beyond its menu of spectacular cocktails, veg-forward Bad Hunter offers a handful of no-ABV beverages, including a super smooth nitro draft coffee from Four Letter Word. If you haven't had a chance to try anything from the boutique roastery—with locations in Istanbul and Chicago—this refreshingly rich sipper is a great introduction.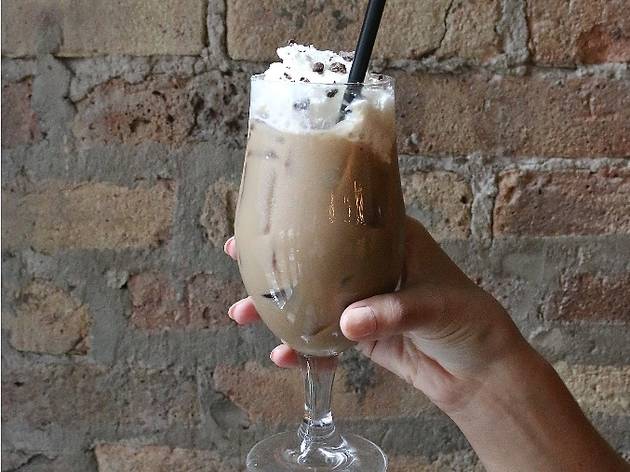 For those mornings when you crave the hair of the dog and caffeine, get your fix with this boozy iced coffee. Spiked with RumChata, Absolute Vanilla and chai, the Hangover Helper is designed to kill two birds with one stone—but no, it can't undo any questionable decisions you made the night before.
Restaurants, Coffee shops
This ginger-curry latte might be our new favorite thing, making us excited to drink it year-round. It's warm from a bit of curry and ginger, but it's still iced. It brings in spices that remind us of Christmas, but it's light and refreshing enough to be a perfectly fun summer drink.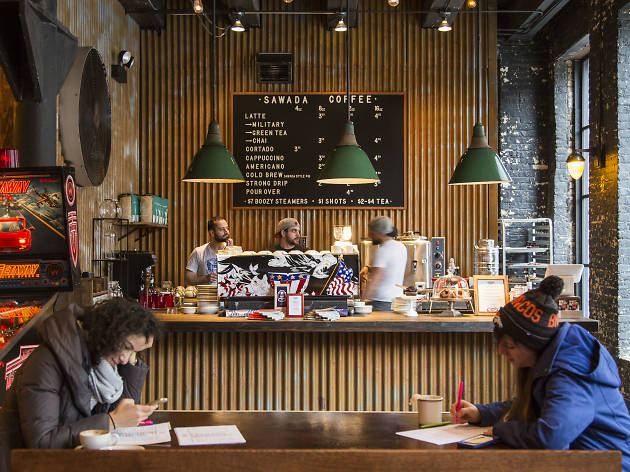 Restaurants, Coffee shops
You can get the military latte at Hogsalt's Sawada Coffee all the time, but you can also get it iced. With matcha, espresso and white chocolate, it's gorgeous and green on top, white on the bottom (until you stir it up, at least) and is refreshing in the way that matcha is a refreshing drink with a bit of creaminess just right to start your day.
Sammy Faze
The Main Line at Slightly Toasted
For the ultimate morning pick-me-up, this shaken 12-ounce sipper combines nitro cold brew, espresso and half and half. Fair warning: The creamy, jacked-up concoction is not for the caffeine-sensitive.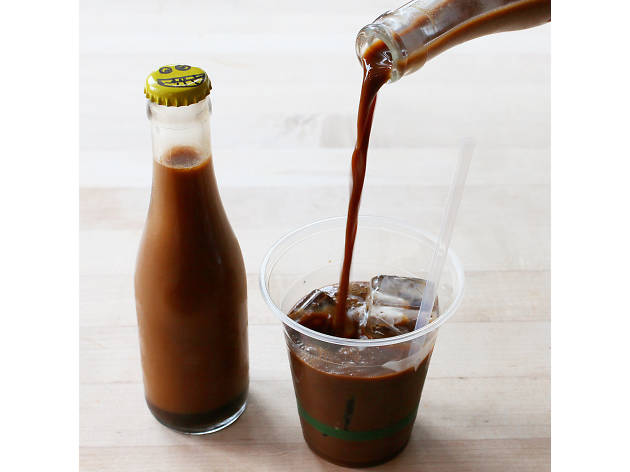 Xoco serves a velvety bottled iced coffee drink that's based on chef Alonso Sotelo's grandmother's recipe. Piloncillo, Mexican cinnamon, brown sugar, allspice, clove, star anise, black pepper and orange zest are cooked down and then cold-brewed with Intelligentsia's El Diablo coffee. After 48 hours, it's strained, bottled and capped with a bright yellow cap featuring a tiny design drawn by server Miguel Cotorra.
If you've had nitro beer, you understand the idea—nitrogen is added to a liquid to make it smoother and creamier—and now the same technique is being applied to coffee. At Beatrix, the nitro coffee is made by adding nitrogen to La Colombe coffee in a keg, then dispensing it on tap. There's a foamy head, and it doesn't taste as acidic, which means you really don't need to add cream.
Probably the sweetest coffee on the list, the cafe con leche will only look the faintest color off of what you'd expect a glass of milk to look like, but don't worry about it. It's still a great, sweet drink—just perfect for a mid-afternoon jolt and sugar rush.
Show more
Best coffee shops in Chicago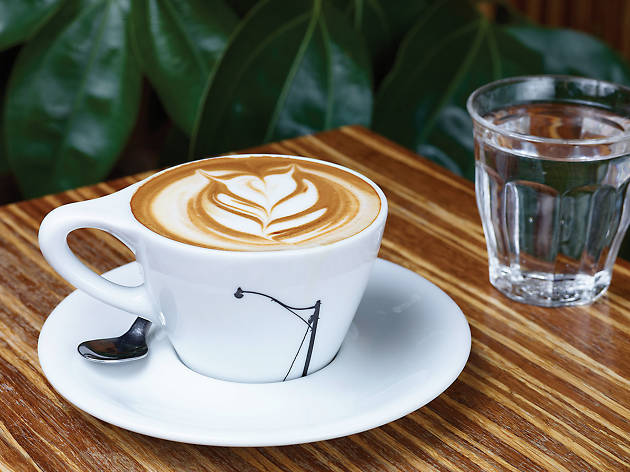 It wasn't until we compiled this list that we realized what a great coffee city Chicago is. There are numerous spots that appeal to coffee nerds and other places to just grab a cup on the way to work. Whether you want a spot in the Loop, a neighborhood joint in Logan Square or a Bridgeport spot that roasts its own beans, you won't go wrong at any of the best coffee shops in Chicago.