Bohemian House brunch review
The Czech restaurant serves an outstanding brunch, with doughnuts, schnitzel and good cocktails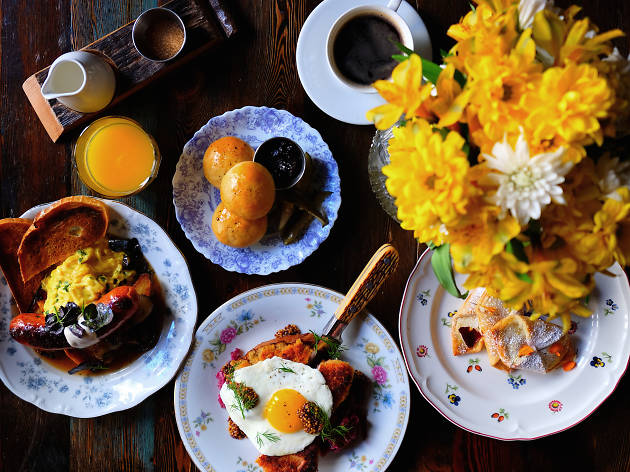 I've been a big fan of Bohemian House since the restaurant opened, but hadn't checked out the brunch menu until recently. The brunch, which debuted over the summer, mashes up favorites from the dinner menu with morning fare for dishes like the egg-topped schnitzel open-faced sandwich. With a big piece of crispy pork, a fried egg and sauerkraut piled atop a slice of rye bread, it's an unbelievably hearty dish that could easily serve two. Two, that is, if you also share an order of the doughnuts, which are pretty much required eating—the warm sugar-tossed orbs of dough are light, fluffy and served with raspberry jam and Bavarian cream for dipping.
RECOMMENDED: Full guide to brunch in Chicago
Chef Jimmy Papadapoulos' kitchen consistently handles proteins well. The smoked beef tongue hash has tasty nubs of tongue tossed with potatoes and topped with a poached egg and greens, while the tender steak and pair of fried eggs come with spaëtzle, mixed with mushrooms, peppers, onions and aged gouda. Non-meat dishes also fare well, like a simple omelet packed with veggies and served with a potato pancake, while the langos, fried potato bread slathered with garlic butter, sour cream and aged gouda, is a nice sharing dish carried over from the dinner menu.
For drinks, a mimosa flight is made with three different fruit purees, and it's fun, though I'm partial to the Pick Me Up, Bow Truss coffee spiked with rye, sweetened with maple and capped with Fernet whipped cream. I'd call it unexpected, but I always expect to find delightful things at Bohemian House.
Bohemian House brunch is available Saturdays and Sundays from 10am-2pm.
Read more about Bohemian House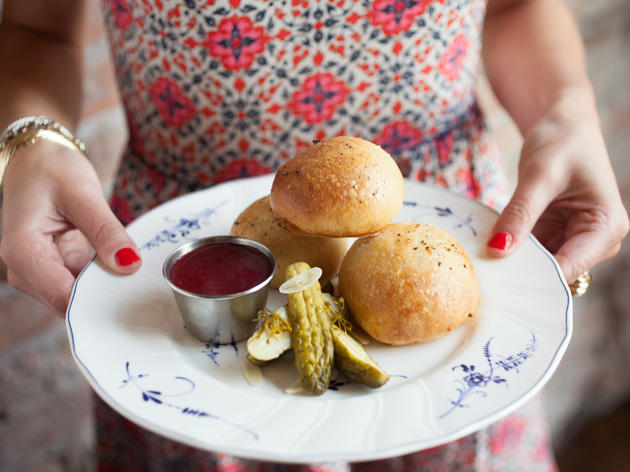 Led by chef Jimmy Papadapoulous, the outstanding Czech restaurant shines a light on a cuisine we don't see a ton of in Chicago. The restaurant, replete with grandmotherly china and a back bar built from wooden tables, has a funky aesthetic and it's a comfortable spot for tucking into the soulful chicken paprikash with potato dumplings and pickled sweet peppers, crispy, tender pork schnitzel with charred lemon, and the beef cheek pierogies, a perfect starter.