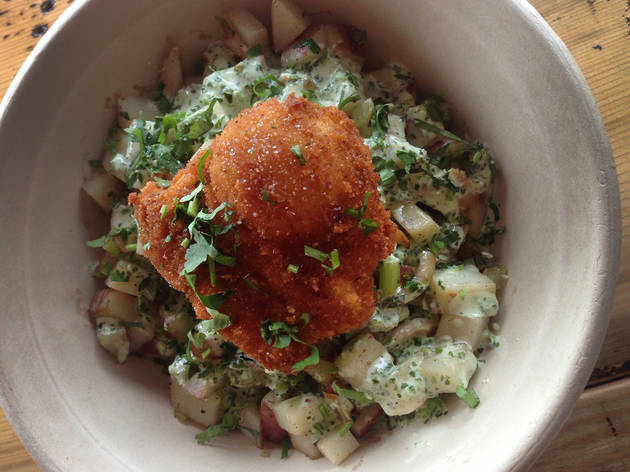 1/4
Photograph: Honey Butter Fried Chicken
Honey Butter Fried Chicken's brunch menu includes a deep fried poached egg with chicken conift hash and cilantro crema.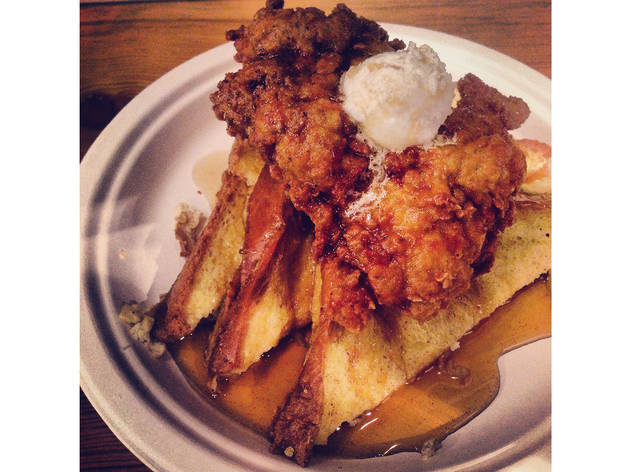 2/4
Honey Butter Fried Chicken's new brunch menu includes fried chicken and French toast.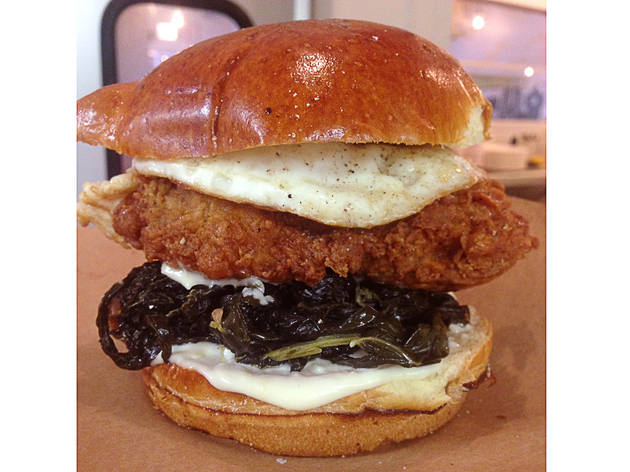 3/4
Honey Butter Fried Chicken's new brunch menu includes a fried chicken sandwich with a fried egg, braised kale, bacon and garlic aioli.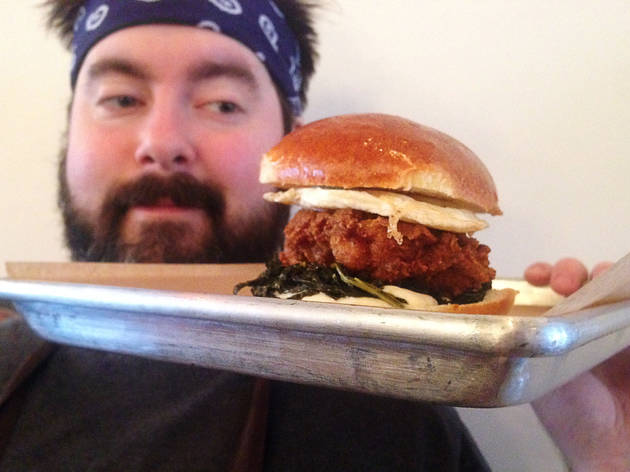 4/4
Honey Butter Fried Chicken's chef, Josh Kulp, eyes the new fried chicken and egg brunch sandwich.
Brunch review: Honey Butter Fried Chicken
Fried chicken gets more morning-friendly with a new brunch menu of sandwiches, grits, and muffins and gravy
With the exception of chicken and waffles, I don't think I've ever had chicken for brunch, something I fixed last weekend at Honey Butter Fried Chicken (3361 N Elston Ave).
RECOMMENDED: Full guide to brunch in Chicago
At 1:30pm on Sunday, the restaurant was mostly full, and everyone was eating some variation of fried eggs and chicken. There's a chicken and grits dish and peanut curry with fried chicken nuggets, but we opted for the breakfast sandwich, with a fried chicken thigh, a layer of braised kale cooked with nubs of bacon, garlic aioli and a fried egg. There's a lot going on here and the yolky egg makes it very messy, but there's a nice balance of flavors (and I dig braised greens on sandwiches). But I preferred the fried chicken sandwich served at lunch and dinner, which has crunchy slaw that adds some texture.
The muffins and gravy dish, however, is the kind of brunch dish I dream about. The kitchen already has terrific corn muffins, honey butter and fried chicken, and it makes sense to tie them all together along with Andouille sausage and chicken fat gravy. The whole thing is topped with a fried egg, and it's a smart take on chicken and biscuits. The regular menu is available during brunch hours, so I also got a side of my favorite kale and cabbage slaw, plus garlic grits that we doused in Co-Op Hot Sauce.
I found the cocktails I had during dinner at Honey Butter weak and unexciting, but at brunch, the blood orange mimosa, made with blood orange juice, pomegranate syrup and cava, is sunny and refreshing.
Brunch is served each Saturday and Sunday from 11am-2pm.