Heads up! We're working hard to be accurate – but these are unusual times, so please always check before heading out.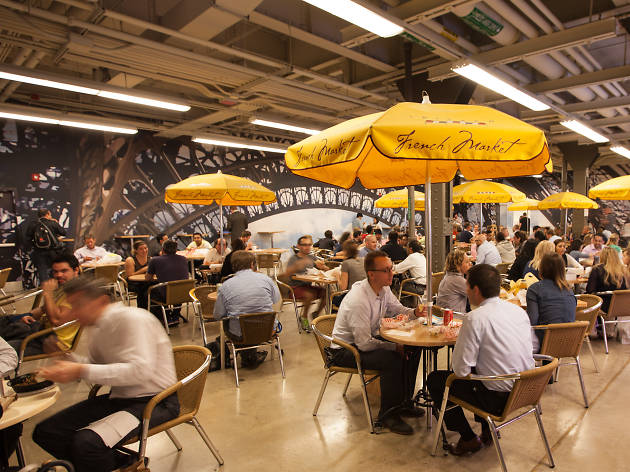 A complete guide to the Chicago French Market
Overwhelmed by the twenty-something options in the Chicago French Market? We ate at every single food stall. Here's what you should get
With more than two dozen different food vendors (not counting an olive oil purveyor and flower shop), the Chicago French Market is a beast. Over the past couple months, we've tried every stand in the Ogilvie Transportation Center eatery to determine where you should go on your next lunch break—or where to pick up dinner before heading home on the train. In the mood for crepes? Banh mi? Burgers? Pretzels and beer? The French Market has it all.
But all stands are not created equal. We've also picked our five favorites overall—Frietkoten Belgian Fries & Beer, Fumare Meats, Pastoral, RAW and Vanille Patisserie. Read on for our reviews. Even if you are not a Metra commuter, there are plenty of reasons to hit this West Loop food hub.
RECOMMENDED: Our complete neighborhood guide to the Chicago Loop
Chicago French Market restaurants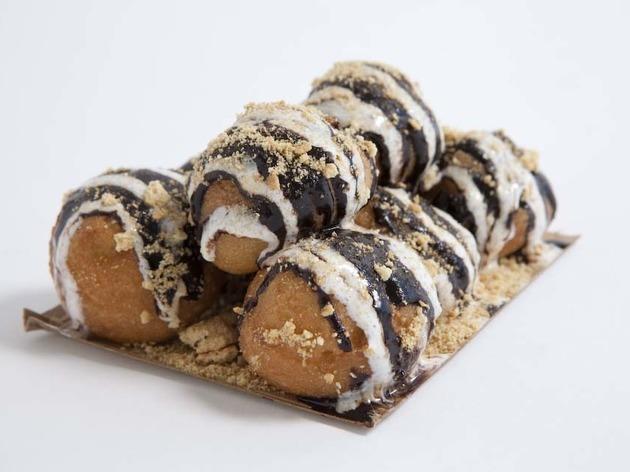 Photograph: Erica Gannett
Simple is best at Beavers Coffee + Donuts, which serves up mini rounds of fried dough with your choice of toppings. At $2 for four warm, freshly fried mini doughnuts topped with cinnamon or powdered sugar, you've got one of the best breakfasts in the French Market. These toppings are better than the elaborately dressed doughnuts, like the turtle, which comes weighed down with chocolate sauce, caramel sauce and chopped pecans. As for whether you should get the milkshake, which blends doughnuts and ice cream, we'll let you decide how healthy you feel like being.—Amy Cavanaugh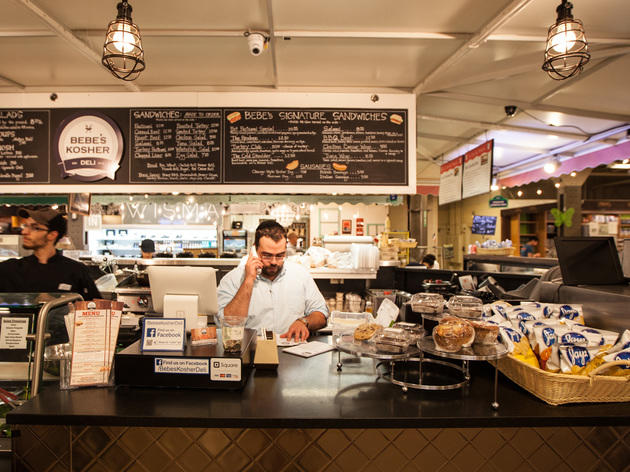 Photograph: Martha Williams
Deli classics are available at Bebe's, which is known for its hot pastrami sandwich and reuben. The reuben is a bit of a misnomer though, as it was cold and featured rubbery corned beef, sauerkraut, cole slaw and Russian dressing. Skip it in favor of a couple of dough-wrapped, potato-filled knish, which are served hot with a couple packets of mustard on the side.—AC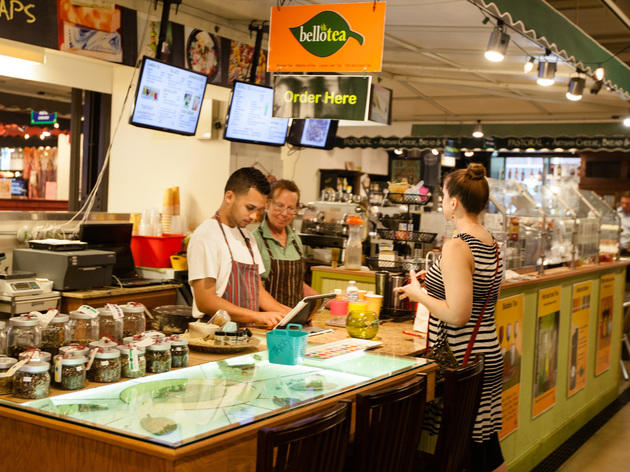 Photograph: Martha Williams
This semi-recent addition to the French Market is one of the Loop area's sole purveyors of bubble tea. Bello serves up nine flavored milk teas and 18 smoothie-like freezes, as well as a range of traditional teas that you can add boba to on request. Many of the drinks here can also be made vegan-friendly and, as Bello specializes in Japanese matcha, customers can jazz up their freezes with a shot of the green stuff. Both the hand-shaken almond milk tea and the rich coconut freeze are solid bets.—Cate Huguelet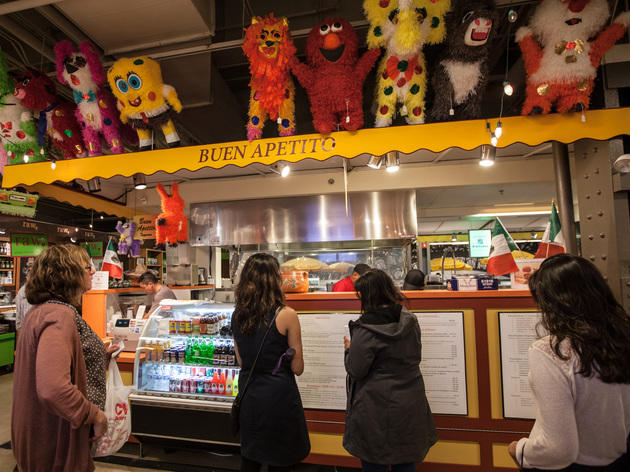 Photograph: Martha Williams
This stand makes for a quick to-go option at the market, but both the enchilada and tamale we ate were bland and slightly dry. The creamy, chunky homemade guacamole, however, was the highlight of our lunch and made up for the fact that our entree left a lot to be desired.—Erin Delahanty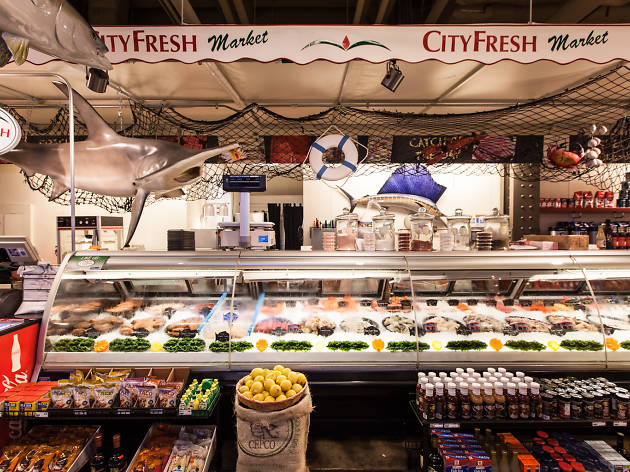 Photograph: Martha Williams
The grocery store section of the French Market has a meat and seafood case and groceries, so you can tackle food shopping on your way to the Metra. But there's also a case with items like sandwiches and salads designed to grab and go. A container of creamy penne pasta salad is packed with chunks of smoked gouda and roasted red peppers, while a turkey wrap with cheese and lettuce is sliced up into rounds. Both are decent and at just a couple bucks per item, this is one of the better deals at the French Market.—AC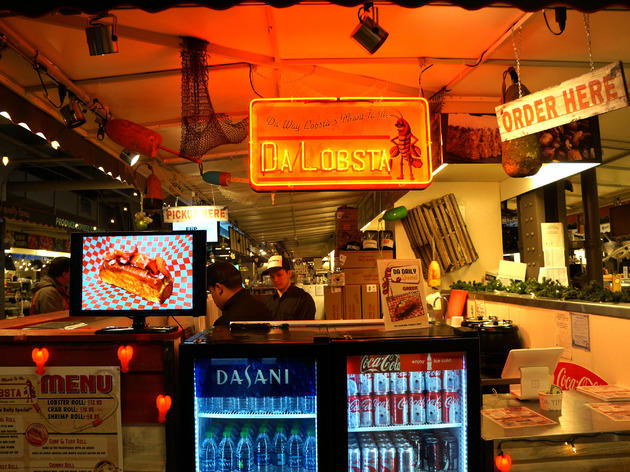 Courtesy of Da Lobsta
When lobster roll cravings strike, Da Lobster makes a perfectly serviceable version for $12.95. There's a generous amount of lobster, with warm butter drizzled over the top and a vinegary coleslaw on the side. If you're not in the mood for lobster, they also serve shrimp and crab rolls.—Martha Williams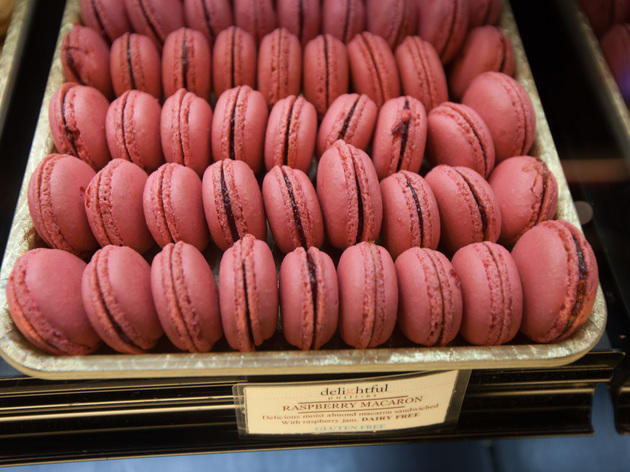 Photograph: Martha Williams
With both savory items and pastries, you can get both lunch and dessert at this stand. The Thanksgiving, a turkey sandwich with Swiss, horseradish, mayo, mustard, greens and cranberry sauce, was well-balanced, but it was packed to go on top of a pickle, so the bread was soggy by the time I returned to the office. The macarons aren't quite as good as Vanille Patisserie's, but we'd recommend the pierogi and paczki.—AC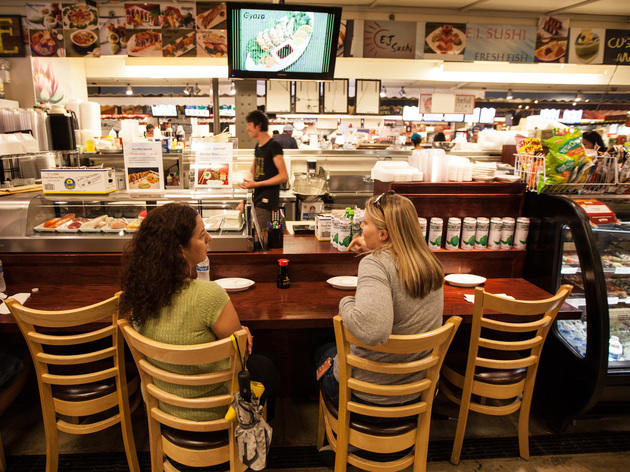 Photograph: Martha Williams
Sushi is supposed to be expensive (discount sushi should come with a Surgeon General's warning), but spending $24 for a sushi combo ($11), two salmon nigiri pieces ($5), and one seaweed and squid salad ($4.95) seems hefty considering I was still hungry afterward. Add the fact that I waited 10 minutes for my sushi—which, to its credit, was fresh and delicious—and I probably won't be going back.—Laura Baginski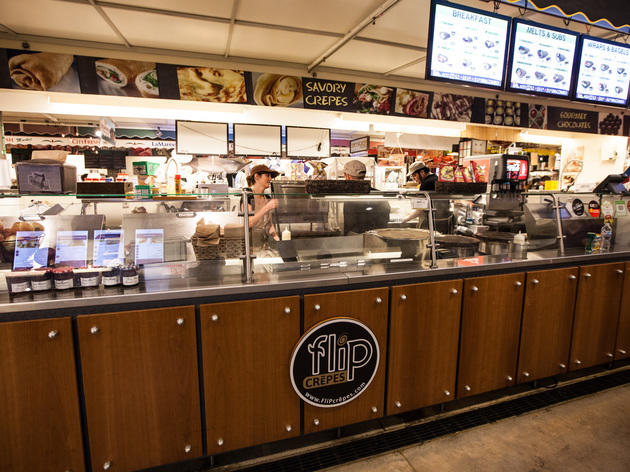 Photograph: Martha Williams
Crepe sandwiches are the specialty at this French Market vendor, where you can find both breakfast and lunch versions. The crepe is thick and made with buckwheat, so it's hearty, but the turkey club, with cheddar, avocado, tomatoes, bacon and spinach, featured too much drippy chipotle mayo. You're better off with thicker toppings, like the ham, egg and cheddar breakfast crepe.—AC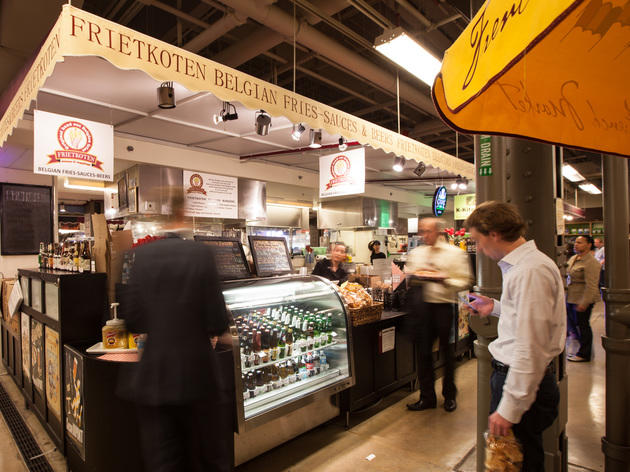 Photograph: Martha Williams
Frietkoten Belgian Fries & Beer
Three reasons why this is one of our favorite French Market vendors: 1. Crisp fries, which come with dipping sauces. 2. Burgers, like the well-cooked gouda and caramelized-onion topped patty. 3. Belgian beer. Take a long lunch break today.—AC
Show more