Decent Beef - Time Out Market Chicago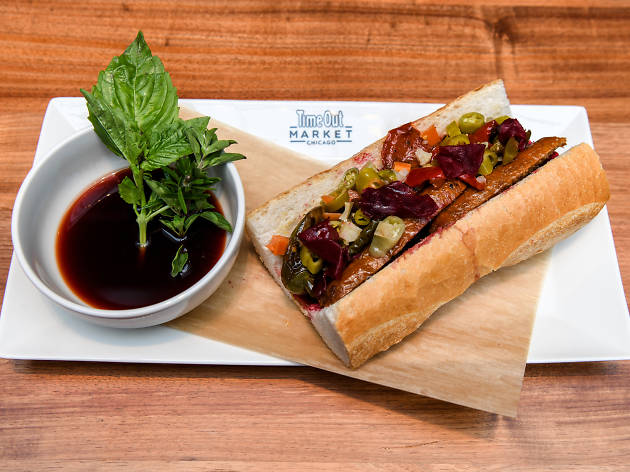 Time Out says
You didn't think we'd open Time Out Market Chicago without an Italian beef, did you? The iconic delicacy is a deliciously messy rite of passage for locals and out-of-towners alike. At Decent Beef, chef Kevin Hickey (The Duck Inn) elevates the handheld classic with juicy shaved prime rib, a rich beef jus, hot giardiniera and sweet peppers—all tucked inside a crusty roll. Pro tip: Vegans and vegetarians will love Hickey's ingenious Beet Street sammie, which subs meat for delicately sliced roasted beets and umami jus. Save yourself the return trip and grab some napkins now.
MENU:
Chicago-style Italian beef
Decent
Shaved prime rib, beef jus, crusty sub roll
Double Decent
2X shaved prime rib, beef jus, crusty sub roll
Mad Decent
Shaved prime rib, Italian sausage, shaved roasted beets, giardiniera, sweet peppers, aged provolone, crusty sub roll
Beet Street
Spiced and roasted shaved beets, umami jus, crusty sub roll (vegan)
Gravy Sticks
Garlic bread sticks with choice of gravy: beef, umami or red
STYLE IT OUT
Hot - Giardiniera
Sweet - Sweet peppers
Dipped - Dipped in jus
Shot - Side of jus
Melted - Aged provolone
Combo - Italian sausage or Beyond Meat sausage
Maxed - Everything
Details
Address:
Time Out Market Chicago
916 W Fulton Market
Chicago
60607

Price:
$$
Contact:
Do you own this business?
Users say