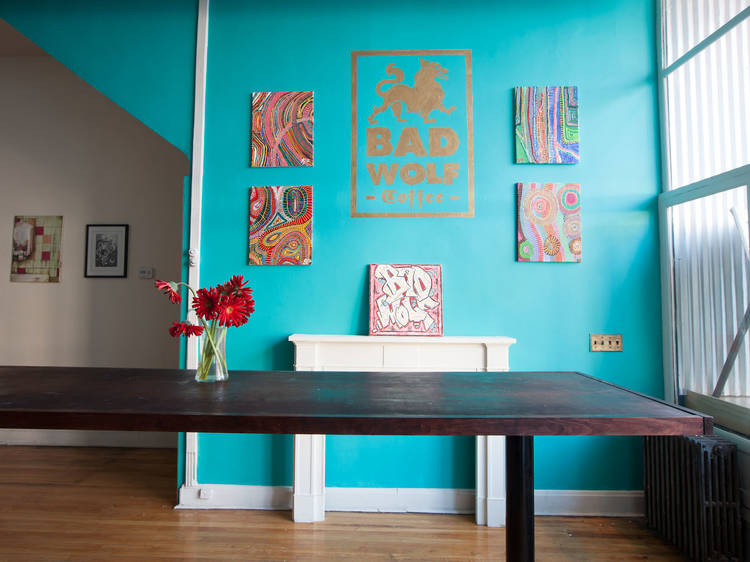 3422 N Lincoln Ave
First Impression: It's bright and sunny and feels like the antithesis of Starbucks. There are no seats, just one standing table, and the walls feature band posters and paintings. Whovians will appreciate a couple Doctor Who references, including a Tardis mural and Bad Wolf art. The overall vibe is chill; this is a place to come and enjoy a cup of coffee and a conversation, not a place to work on your laptop for hours.
Coffee: The menu here is small, featuring a selection of espresso drinks, Counter Culture Coffee and Rishi Tea. The cappuccino was smooth, bold and strong, packing quite a punch. It's small for the price, but it's just the right amount of caffeine and flavor.
Food: Jonathan Ory, formerly of Schwa and Momofuku Ko in New York, opened Bad Wolf and he's making a remarkable selection of made in-house pastries. The kouign-amann, a sweet pastry with a croissant-like texture, is flaky, buttery and sweet, with a hint of crystallized sugar on top. The pasteis de nata, a small custard cup, has a creamy texture and a slight lemon flavor and paired well with the cappuccino.
Service: Ory and his lone employee provided great service, making recommendations on what to try and indulging us in a discussion about Doctor Who.
Tab: Coffee, $3; cappuccino, $3.50; pastries, $2–$3 each.—Emily Gilmer